We hear this a lot when it comes to our user interface product solutions. The name, or names of these products, vary depending on who is talking. From membrane switches, silicone rubber keypads, keyboards, and touchscreens, these are all considered human-machine interfaces, aka HMI.
Below is an example of some conversations I've overheard.
"Question, what kind of Human Machine Interface (HMI) is best?"
"That's a ridiculous question."
"False- keypads."
"That's debatable. There are basically two schools of thought."
"Fact: keypads are HMIs. Keypads. HMIs. Capacitive Touchscreens…"
While the office workers may have opinions on the matter, the truth is that a company like Epec with thousands of active customers, and hundreds of thousands of keypads built is the best choice to recommend HMI solutions for your project.
Factors To Consider
The best type of HMI for your application depends on many factors. The operating environment should be noted first since the requirements of a mil-spec keypad differ considerably when compared to something used for industrial machinery. Still, cost, timeline, quantity, and performance are among the most important considerations that should be weighed by the appropriate decision-makers.
To that point, who are the decision-makers for this project? Ask an engineer about what makes the best HMI? Ask purchasing managers what makes the best HMI? Now, ask an industrial designer the same questions and compare the results.
Different stakeholders from separate parts of an organization will have different goals and expectations for a new keypad. To some, delivery is most important, and to others, cost. From a design perspective, there are so many options to make a functioning keypad. How do you make it the best? Look, feel, and ease of use are not easily quantifiable, and because of this, opinions begin to override requirements muddying the requirements about what is and is not an important design feature.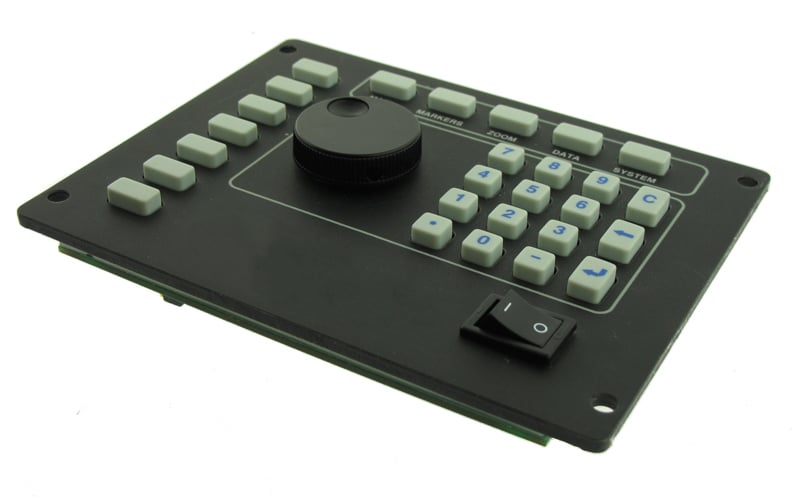 HMI with buttons, rotary dial, and rocker switch.
Speed is Most Important
The best HMI is the one that is done, shipped, and ready for use. What good is a complex HMI design if it takes six months to build and test the first piece, and then another four months for a re-spin? Moving fast is important during development and will be especially critical when the economy slows and cashflows are tightened.
3D printing is an option, but rarely will these prototypes exhibit the proper button functionality to give stakeholders meaningful feedback. Tactile sensation, color, waterproofness, and button stiffness will all be affected as the 3D-printed items are not representative of a production-worthy part. Instead, investing in a 2-part silicone compound and some 3D printed molds could be the quickest way to test and prove out a design.
Still, if you can wait 4 or 5 weeks and have a budget of a few thousand dollars, the best option remains for Epec to manufacture production-worthy keypads and membrane switches and solicit meaningful feedback from all stakeholders.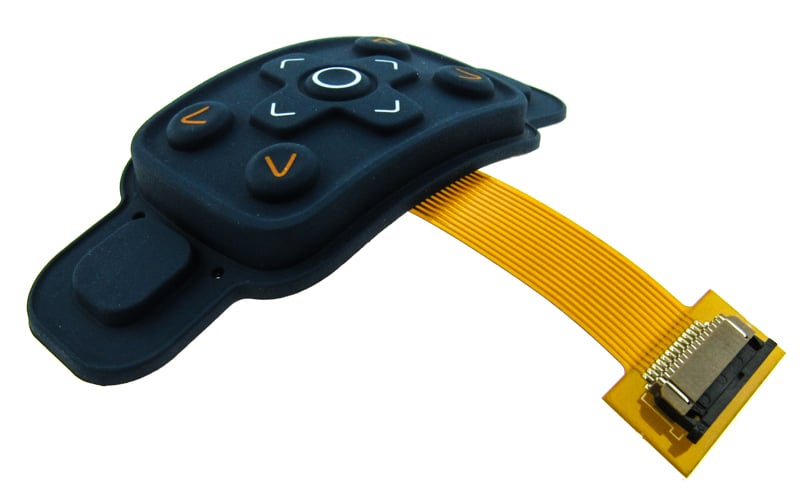 FPC circuit membrane switch paired with silicone elastomer keypad.
Reliability Matters
A reliable HMI is arguably the best since it always works. High reliability is a relative term, with many HMI and keypad technologies being classified as such. Mean-time-between-failure, useful life, and other similar terms help quantify the expected life of these assemblies. Made of silicone elastomer, switches, and a circuit board, these simple design elements are wildly robust and can survive for years while achieving 100,000 to 5,000,000 actuation cycles.
Stainless steel dome switches are one of the best design options because the dome itself acts as a load path and carries most of the mechanical force when pressed. If you remember the Goodman Diagram (unfortunately no relation to me) from engineering school, then you may recall the relationship between stress and the number of cycles to failure. And if you were truly paying attention, you would remember how well steel behaves against cyclic bending and fatigue. Because of this fact, and when designed correctly, a keypad that uses stainless steel dome switches can withstand millions of cycles and is one of the best HMI design options in terms of reliability, not to mention that domes cost pennies each.
The key-web area of a silicone elastomer keypad is the area of concern when it comes to design risk and reliability. With most being made from material that has a durometer of roughly 50 Shore A to 70 Shore A, the best way to optimize the keypads force rating and expected life is to properly design the key-web. The key-web wall thickness and shape will impact the perceived tactile sensation as well as the force it takes to press a switch. Testing is needed to assess the risk of a premature key-web failure. And some say the only failure there is, is the failure to test. That is wrong. Keypad failure of any kind is failure.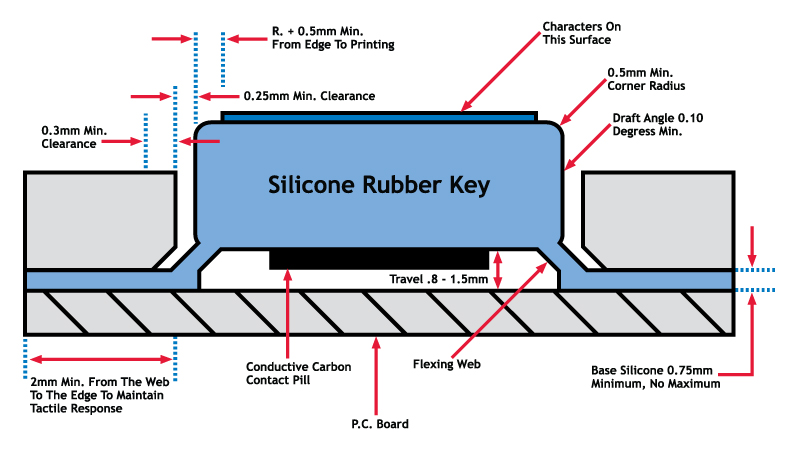 Key-web cross sectional view showing "flexing web".
Getting Started - Go With What Works
With all the keypad and HMI options that exist today, keeping it simple and going with what works is the best approach. Look at past designs or projects for ideas, there is no sense in reinventing the wheel as this adds costs and risk. Find a keypad laying around and spend time studying how it works. Whether it's a remote control laying around the office, a touchscreen on the paper machine at the mill, or the controls for the automated harvester at your family's beet farm, figure out what you like in terms of features and functionality, and apply those concepts in your new project.
Some of the best design concepts in development today have been harvested from older-generation keypads, and reconfigured using today's technologies. It's agreed that imitation is the sincerest form of flattery, and there is no shame in this when it comes to keypad design. However intellectual property theft is not a joke! Millions of designers suffer every year.
Summary
Before starting, engage key stakeholders and ask them what options are most important. Is cost most important? What about reliability? Is the best option a combination of the two? Much of the industries product expertise is from tribal knowledge, and companies with generations of experience bringing keypads to market. It's a real shame because studies have shown that more information gets passed through water cooler gossip than through official memos. Which can put some at a disadvantage because they don't work with a full-service manufacturer like Epec.