Over the last 25 years, the evolution of touch screen technologies has brought sweeping changes to how society uses human-machine interface (HMI) products. Originally touch screens were small, monochrome, and required a stylus and single touchpoint to operate.
Today we use touch screens everywhere- to access ATMs, order our lunch, and to surf the web. Today's touch screen technologies are more economical while also being water resistant, viewable in sunlight, and can be operated with precision accuracy further enabling their widespread use. LCDs and touchscreens for user interfaces are literally everywhere.
These increases in HMI technology and functionality are staggering and are directly related to the developments in touch screen technologies. However, touch screens aren't alone in driving innovation in HMI design technologies.
Advancements in Light Guide Technologies
Advancements in light guide film technologies have also enabled user interface technologies to be where they are today. Selective backlighting, the process of illuminating certain areas of the overlay at one time, is possible when using a light guide panel.
For example, we can illuminate separate icons of a different color all at the same time. This is not possible when using traditional discrete LEDs, EL (electroluminescent), or fiber optic panels.
By using cutting edge imaging processes on commercially available materials such as polycarbonate and acrylic, today's light guide panels can better control the path of light in complex geometries and thin profiles.
The process produces disturbances on the surface using microdots that refract light upwards to the viewing surface of the display. These microdots help produce a uniform backlighting effect and can be fabricated using electronic image transferring, which allows for images to be digitally passed to the panel.
Backlighting Logos and Artwork
Complex logos and artwork now can be backlit in a truly custom configuration that helps guide the user. Light guide technologies also allow for small package size side firing LEDs to be paired with thin polycarbonate light guide panels to be used for sunlight readable applications.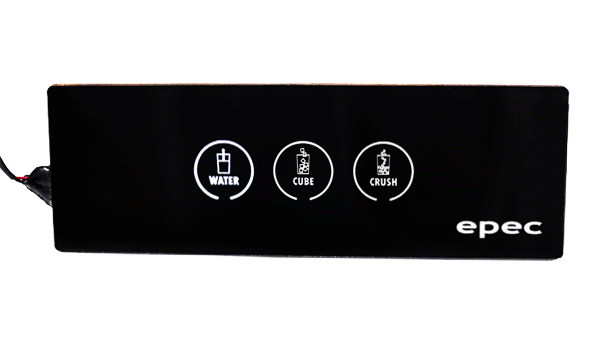 Example of an HMI Backlighting Using Light Guide Film Technology
Light guide panels can also be designed to pass light around curved surfaces using fewer LEDs, which allows for a reduction in components and saves cost.
All of these innovations in light guide technologies allow for improved experiences for the user.
Using Silver Ink on Polyester
Silver ink on polyester is a proven and cost effective circuit technology. It's everywhere.

Silver ink is a simple and perfect for low profile membrane switches- but the catch is it's only ideal for dome switches and simple components. But as you add more complex and smaller components to the design, how important is reliability?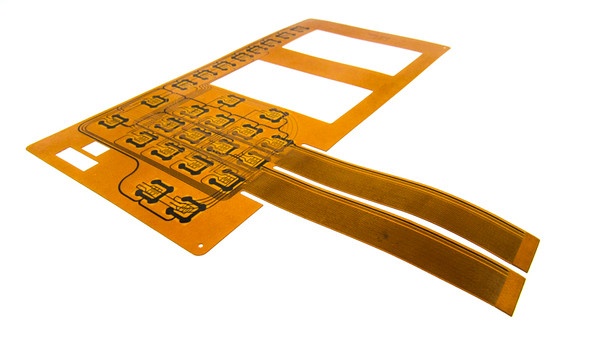 HMI Circuit Technology Built with Flexible Polyimide
This is when the benefits of polyimide take over. Membrane switch flexible circuits using polyimide are inherently stronger, more reliable, and can achieve a better mechanical bond with surface mounted components.
Since polyimide can withstand higher attachment temperatures vs polyester circuits, solder can be used in place of silver paste. Solder can be multiple times stronger than a silver paste (conductive epoxy) attachment and has a direct relationship to open circuit failure modes.