Our nation's warfighters demand the highest reliability vehicles, weapons, and communication systems that exist. Lives depend on these products working the first time and every time. They rely on the quality and reliability of the electronics behind their state-of-the-art systems.
Many of these systems are still controlled by trained personnel using simple keypads, pushbuttons, and other types of switches to pilot or command. But what good is a cutting-edge tactical radio system if exposure to sand or dust jams up the keypad? Or, what good are night vision goggles if the navigation buttons on your front panel are not NVG compatible?
These products all require complex human-to-machine interfaces that are robust enough to survive a wide range of environmental conditions. While not all products are created for combat-specific purposes, the user must be able to confidently and without error operate critical equipment in theatre.
Performance Requirements
Military and defense applications have strict performance requirements that apply to both system-level products as well as subassemblies such as keypads or touchscreens. To safeguard against the extreme operating conditions they will face, prototypes are built and tested to the various military specifications and standards that define their respective performance requirements. Some tests that are performed will expose front panels to salt fog, simulating long-term exposure to a high-humidity marine environment. Other tests mimic the frequent temperature swings an aircraft may face with repeated missions. For example, the temperatures experienced while landing an aircraft in the desert can range from -50°C at 40,000 feet in altitude, to +40°C on the tarmac. This temperature gradient can be experienced over the course of a few minutes inducing a thermal shock. Other tests will simulate wind-driven rain, sand, and dust to replicate the varying and extreme conditions faced all over the world.
A careful review of the various military standards that exist is critical before launching any development activity for subassemblies such as rubber keypads, membrane switches, or touchscreen front panels.
Front and rear view of ruggedized keypad PCBA assembly.
Mil-STD 810 Requirements – Environmental Stress
By contract, the Department of Defense cannot legally procure hardware that does not comply with established military performance specifications. One of the most notable environmental test standards is Mil-STD-810 which covers the method, performance limits, and pass/fail criteria for all types of equipment. Mil-STD-810 is used as a basis to create other more specific military and commercial test standards such as RTCA/DO-160. Pertaining to military-grade electrical test equipment, elements of MIL-PRF-28800 are derived from MIL-STD-810.
Typical MIL-STD 810 tests include temperature variation, salt fog, altitude, wind-driven sand, and rain, as well as mechanical tests such as shock and vibration. These tests are intended to simulate a lifetime's worth of wear and tear to prove that a ruggedized keypad assembly can withstand the conditions. When in doubt, defaulting to Mil-STD-810 for performance guidance is highly recommended if program requirements are still being ironed out.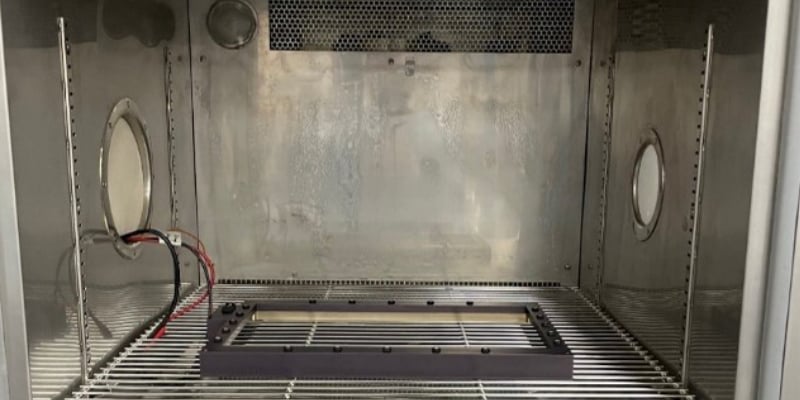 Temperature cycling - keypad bezel assembly.
MIL-STD 461 Requirements - Electromagnetic Interference
In the late 1960s, as the electronics industry was growing, the Department of Defense created Mil-STD 461 to consolidate the various electronics standards that were in circulation and used to regulate electromagnetic interference. Their performance requirements were scattered until Mil-STD 461 first established a baseline for military-grade electromagnetic emissions and susceptibility testing.
Since then, Mil-STD 461 has ballooned from 80 pages to 280 pages covering more than a dozen distinct test setups. MIL-STD 461 defines the limits of what your device can emit, and what it can survive. Many of these requirements will not apply to keypad level assemblies that consist of rubber and a few dome switches, but once these items are integrated within a larger assembly, MIL-STD 461 becomes a critical spec that can impact development timelines.
HMI Design Considerations
Many projects are matured without ever going through a formal suite of environmental qualification tests. While this can be risky, a methodical approach to mechanical and electrical design can help mitigate risks before environmental testing is performed. Still, formal qualification tests are required to sell final production hardware to the Department of Defense. During the development of your front panel, keypad, or other human-machine interface, following a few general principles will greatly improve the likelihood of an ALL PASS when test day comes.
| Item | Mil-STD 810 Category | Design Tip |
| --- | --- | --- |
| 1 | Test Method 500.6 Low Pressure (Altitude) | Silicone keypads can balloon with large pressure differentials |
| 2 | Test Method 503.6 Temperature Shock | Use low temperature rated components to at least -40°C |
| 3 | Test Method 506.6 Rain | Follow IP ratings of IP65 to IP67 |
| 4 | Test Method 509.6 Salt Fog | Coat bare metals and use corrosion resilient materials |
| 5 | Test Method 510.6 Sand and Dust | Consider rubber boots and sealed switch assemblies |
| 6 | Test Method 511.6 Explosive Atmosphere | Conformal coat PCBAs and limit high potential for arcing |
| 7 | Test Method 514.7 Vibration | Use locking hardware, thread locker, and hardened components |
| Item | Mil-STD 461 Category | Design Tip |
| --- | --- | --- |
| 1 | CS101 (Conducted Susceptibility) | Shield and wrap exposed cabling for proper grounding |
| 2 | CE102 (Conducted Emissions) | Include EMI line filters and chokes as required |
| 3 | RE102 (Radiated Emissions) | Avoid notoriously noisy components |
Ingress Protection
Watertight enclosures are widely known to be required for military applications. Depending on the materials involved, and whether the test condition is for water, sand, or dust, it's agreed that a unit that is 100% sealed will not allow contaminants inside.
How to achieve this seal on a complex keypad or front panel is another question, especially with the multitude of other design constraints that exist. Some front panels have integrated cooling fans, others have unique cabling needs, but all have some unique design challenge that must be overcome before system integration.
One simple approach is to combine outdoor-rated keypad materials with a high-strength acrylic adhesive. For other designs, a handful of mechanical fasteners paired with a silicone gasket will suffice. Potting mixtures such as RTV can be used to fill large voids within the assembly to prevent contaminants from damaging delicate connections. These details are important, and time must be spent to thoroughly investigate all high-risk design features.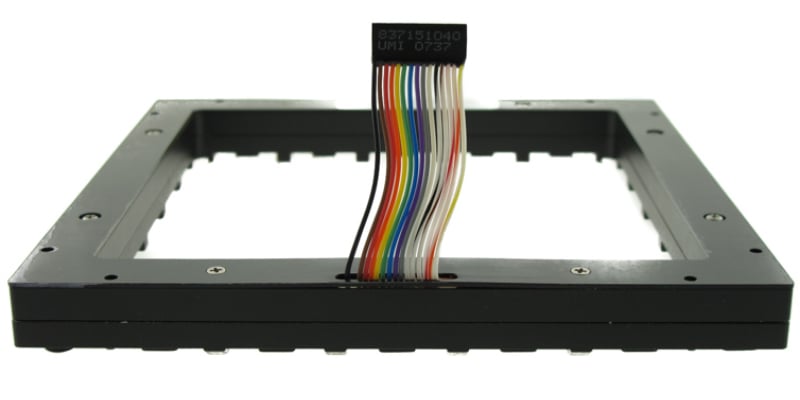 HMI with cable exit locations represent a potential leak path.
Temperature Variation
Frequent and rapid temperature swings can cause several issues for keypads, front panels, and touchscreen assemblies. Prolonged exposure to extreme low temperatures can induce performance anomalies such as decreased LED brightness, button stiffening, and sluggish LCD pixilation.
Rapid temperature cycling can brick commercial-grade hardware, forcing engineers to specify mil hardened electronics such as SBCs (single board computers). To safeguard against performance loss at extreme-cold, low-profile heaters can be integrated within display assemblies to warm the electronics back within their optimal temperature range, thus improving an LED's or LCD display's function while soaked at subzero temperatures.
Simple testing can be performed in ordinary thermal chambers to study the effects of temperature swings on newly developed keypad and bezel concepts. Investigating these design options before it's too late can save months of schedule later in qualification.
Shielding Designs
Shielding provisions are included throughout military and defense equipment to safeguard against the ill effects of electromagnetic interference, and ESD (electrostatic discharge). Shielding designs can be applied to the exterior of cable jackets or incorporated as a metalized layers within a keypad or touchscreen. Adding a foil layer within a rubber keypad assembly can impact both backlighting and button tactile response- plan for time to thoroughly evaluate how each button works and if performance is negatively impacted by the shielding.
Summary
Design engineers should select low-temperature hardened materials and electrical components to coincide with the storage thermal limits required for the application. Depending on the type of equipment and where it is used, the temperature requirements may vary from below -40°C, to above 65°C, and may also require functional testing at these extreme temperatures.
Combining these design requirements with waterproofing and shielding provisions is standard for the majority of military and defense applications. A careful review of the environmental and electrical qualification requirements is necessary before critical milestones are reached, and your human-machine interface design is frozen. Early engagement with a full-service manufacturing partner like Epec can help reduce risk in your development activities allowing for your project to get to market faster.