Around the world, battery pack manufacturers are dealing with supply chain issues. These issues are impacting lead times when they gain battery cell chemistry and battery management system materials.
While the COVID-19 pandemic exacerbated supply chain issues, higher demands in lithium-based battery cells in the electronics and automotive sectors have also become contributing factors slowing down supply chains.
Battery Cell Chemistry Shortages
Battery cell chemistries are made from a wide range of raw materials. Lithium-based chemistries contain the metals lithium, cobalt, nickel, magnesium, and graphite. These raw materials are considered critical minerals by the United States Department of Interior as they are the fundamental building blocks to power and store energy in batteries.
These minerals must be mined as the ores go through further processing. Most of these minerals are mined in other countries. For example, 50% of the cobalt used for lithium batteries in the United States comes from mines located in the Democratic Republic of Congo and Chile. Extracting these minerals, shipping them to refineries, and then moving the refined materials to suppliers and manufacturers becomes a complicated and expensive supply chain process. Currently, the United States only operates one lithium-producing mine and nickel mine, and the nickel mine is slated to close in 2025. The country also has tight mining restrictions.
In addition, many of the components to build batteries, such as cathodes and anodes, are done outside the United States. China produces roughly 63% of cathodes and 83% of anodes for global manufacturers. China and Russia are the global leaders for producing nickel.
Major factors that are leading to supply chain shortages around the globe hinge on continued Covid-19 lockdowns in China. With factories cutting back on operations to deal with rising Covid cases, this issue has caused a slowdown in production. Another factor impacting battery cell chemistry production is the continued war between Russia and Ukraine. With nickel supplies disrupted in Ukraine, it has created limited supplies for manufacturers.
When lower supplies are available, prices rise due to demand. Lead times in receiving deliveries of these supplies could be months for manufacturers, which throws off the production lead times for customers who require lithium-based batteries for electronics and electric vehicles. Also, many car manufacturers are slowly moving more of their productions into building EVs as global sales are expected to hit $7 trillion by 2030. Mining restrictions, bottlenecks in supply chains due to war and Covid-19 lockdowns, higher demand, and higher prices have all contributed to supply shortages.
When looking at other battery chemistries, the lead-acid battery shortages have dwindled in 2022. China has a surplus of lead and has reduced its demand for this metal, helping to offset some of the market demand for the United States and Europe. While there is expected to be a surplus of 78,000 tons of refined lead, exporting that material quickly from China remains a supply chain transportation issue.
Battery Management Systems and Lead Times
A battery management system (BMS) monitors a battery to ensure safe operation and track the battery's health. These electronic systems contain various functions such as monitoring the battery's capacity, temperature, charging/discharging status, and its aging. A BMS is required for certain unstable battery chemistries such as lithium-based battery packs; a BMS system contains integrated circuits. These semiconductor chips are used to gather and monitor the data gained from the battery to ensure that the pack is operating within safe limits.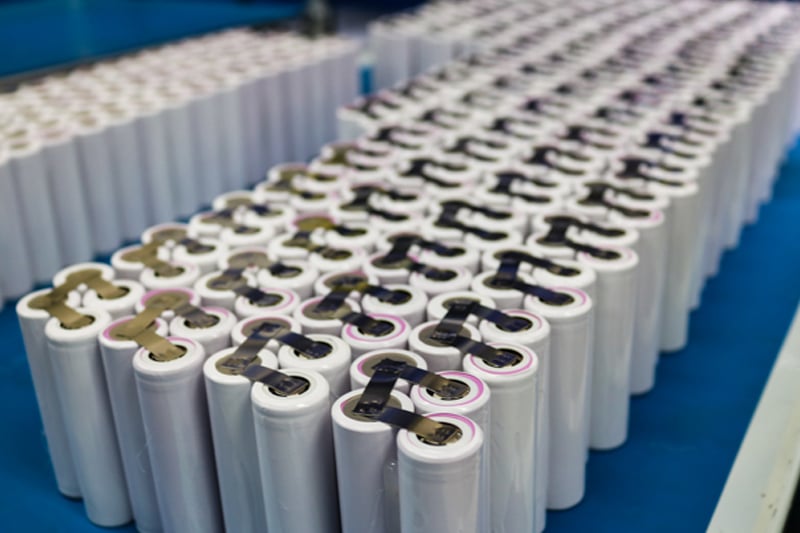 Lithium battery cells, tab welded, awaiting BMS for assembly.
Since 2020, manufacturers around the world have been dealing with a global chip shortage. The semiconductor shortage occurred during late 2020 due to COVID-19 lockdowns, as automotive manufacturers use these chips throughout their automotive builds, including touchscreen infotainment systems. Although automotive OEMs expected that car sales would decline due to the lockdown, demand continued to push steadily higher. In addition, consumer electronics also saw a sharp demand in sales with people working and students learning from home. This constant demand for semiconductors caused a ripple effect in shortages for all industries in need of these chips, leading to longer lead times that could range from 48 to 52 weeks.
The strong demand and dwindling supply of semiconductors has eased in some sectors toward the end of 2022 due to the ramp-up of production, depending on the types of chips required. However, for the automotive industry, these shortages aren't expected to see any relief in demand until the year 2024. The continued strong demand may impact battery manufacturers who require semiconductors for BMS that do not have a large inventory supply of the chips as a safety net when supply chain bottlenecks occur.
Managing Battery Cell and BMS Shortages
With lead times becoming a challenge in creating both battery cells and BMS, customers may be looking to shore up their supply chains to ensure that they receive the battery products they need for electronics and electric vehicles. Forming strong communication with battery cell manufacturers helps customers understand the supply chain lead times and can base these lead times with their own product manufacturing processes.
One method to deal with battery cell shortages is to work with several battery cell manufacturers. If one manufacturer experiences a shortage, the customer can substitute another battery cell manufacturer with shorter lead times. However, keep in mind that the manufacturers need to supply the same quality and capacity of battery cells that are the right fit for the product. Each manufacturer may have slight differences with their cell chemistries, which could impact charging, discharging, and capacity for the battery pack. The customer must ensure that the integrity of the product will not become hampered when using battery packs from varying manufacturers.
When dealing with the BMS design and supply shortages, looking for alternative solutions will be based on what you want the BMS to do. The BMS uses sensors to take readings of the temperature, voltage, and current. It may also detect ground faults, log, and diagnose abnormal events, and prolong the battery's life.
Figuring out the main functions of the BMS may allow you to use alternative components to perform specific tasks, such as an isolation transformer or mode chock to deal with voltage isolation and EMI suppression. You may also discover that certain functions are not required for the battery cell or product, allowing you to cut down on components that are not necessary.
Summary
Lead times for battery cell chemistries and BMS components may take longer than is required for your operations. Contacting a battery pack manufacturer early in the design process will allow you to speak with them about supply chain shortages and learn about possible lead times. It allows the manufacturer to speak with you regarding possible design changes for the cell chemistry and BMS that can shorten lead times due to the availability of materials.
These factors may help you to select the right manufacturer who can provide you with the battery cells and BMS at the right times for a streamlined supply chain.