Silicone is one of the most common materials used for elastomeric technologies today. Silicone elastomer is utilized across numerous industries and applications, from o-rings to cable jacketing, to cookware, to even your child's fidget toy, silicone elastomer is chosen for its exceptional mechanical properties and low reactivity.
Silicone elastomer can be molded and formed into custom shapes permitting its use in customized products functioning as a hypoallergenic, food-safe, and biocompatible part of the final design. Medical and food-grade silicone elastomers are available for applications that must comply with the various industry specifications such as USP Class VI, FDA CfR 177.2600, and ISO 10993. For critical design applications, such as class 1 or class 2 medical devices, silicone elastomer is an ideal choice since it's biocompatible, resilient to sterilization, and chemically inert.
Medical Grade Silicone Elastomer
When designing medical products that include handheld devices, instrument front panels, and body-worn electronics, designers must choose keypad materials that meet the various specifications for the project.
Usually, this means that general grade or medical grade silicone elastomer will be used as the keypad button material. Available in a wide range of Durometer Values, the keypad's stiffness can be varied by using blends of materials with different Shore A values, eventually arriving at the preferred button stiffness.
Medical grade silicone elastomer is available in Durometers that range from 10 Shore A, to 90 Shore A, with 50-70 Shore A being the most common. Usually colorless, the raw silicone elastomer can be colorized to a specific Pantone Code or color-matched using a swatch of the desired material. Aside from the advanced screening required for medical-grade raw materials, the primary differences between the general and medical grades of silicone elastomer are the price and overall material availability. Medical grade silicone elastomer can be difficult to source, is more expensive, and should only be chosen if the project requires it.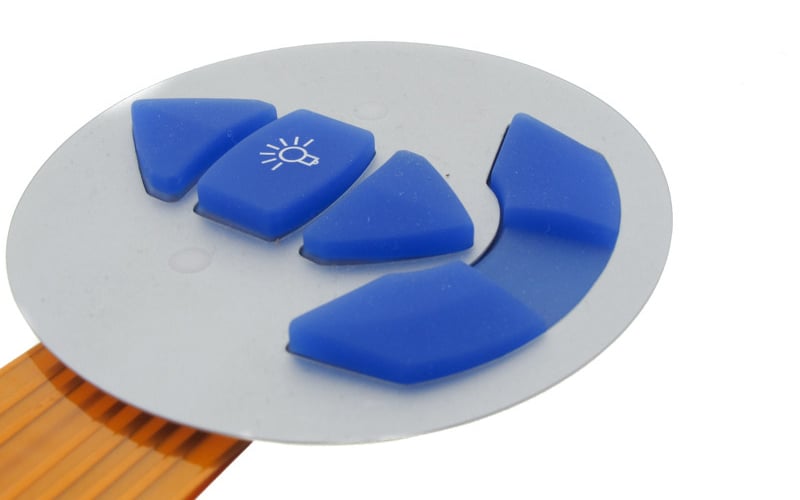 Silicone elastomer keypad with overlay.
Design to Launch
Barriers to entry are high for elastomeric keypad design and manufacturing. First, 3D solid modeling software must be used to create a STEP model of the keypad. This software requires extensive training to properly define the surfaces and solid.
Next, hard tooling must be designed and manufactured which accounts for material shrink rates and the proper draft angles. Once molded the keypad will be semi-rigid and must be able to be removed from the mold. Several post-molding operations are performed in order to trim the excess flashing material that is leftover from the compression molding operation and prepare the surfaces for the next step. Some keypads require pad printing or painted markings on the surface. Other keypad applications may require conductive carbon ink to be applied post-curing as a final operation on the button underside.
Finally, a dimensional inspection must be performed on the finished keypads to verify that they are compliant with all geometric features and tolerances. Measuring soft elastomer with conventional instruments like micrometers and calipers is insufficient since these materials will move and may elastically deform under small loads. The use of a CMM, optical comparator, or laser measurement system may be required to accurately inspect the dimensions of non-rigid members.
Full-service manufacturers like Epec offer mechanical and electrical engineering services to develop keypad designs from the initial concept phase through full-rate production. Epec maintains SolidWorks licenses to support solid modeling requirements allowing for a complete STEP file data package to be created.
Material Selection
With the various types and grades of silicone elastomer that exist, it can be an overwhelming task to choose a specific raw silicone compound. Direct engagement with a medical device keypad manufacturer is one of the best ways to evaluate the available blends of silicone, and any manufacturing limitations that exist. With dozens of types of silicone elastomer to choose from, it's critical to select the most appropriate compound for the application.
Some compounds are only available in one hardness value, others are available in a range that spans from 40 Shore A to 90 Shore A Durometer. Uncolored silicone elastomer can be translucent, milky white translucent, black, white, pale yellow, and grayish colored. Some raw silicone grades can be blended with other silicone grades creating a mixture with unique material properties such as an averaged hardness value.
Industry certifications to comply with the requirements of FDA, BfR, and 21CfR177 are usually performed by the raw material vendor and must be completed well before any compression molded product is finished. Most of the requirements are focused on the impact of silicone elastomer on living tissue and the ability for silicone elastomer to be cleaned for repeated use. Specifications such as ISO 10993 and CfR 177.2600 define the types of tests to be performed for biocompatibility and the FDA requirements for repeated use rubber, respectively.
Available Grades of Silicone Elastomer:
Vibration Control
Extrusion Molding
High Strength
Flame Retardant and Resistant
Hermeticity
Thermally Conductive
Electrical Wire Jacket
Oil Exposure
General Purpose
Fatigue Durability
Tubing
Elongation
Heat Resistant
Electrically Conductive
Steam Resistant
High Voltage Resistant
Temperature Resistant
For specialty medical grade rubbers, care must be taken to avoid accidentally contaminating the raw or finished silicone elastomer. While this may be unintentional, mixing flame retardants, colorants, and other additives could violate a particular industry specification such as biocompatibility or void a food-safety rating. Presenting specific design requirements early in the development process is critical to make certain the eventual keypad manufacturer will build to the proper specifications.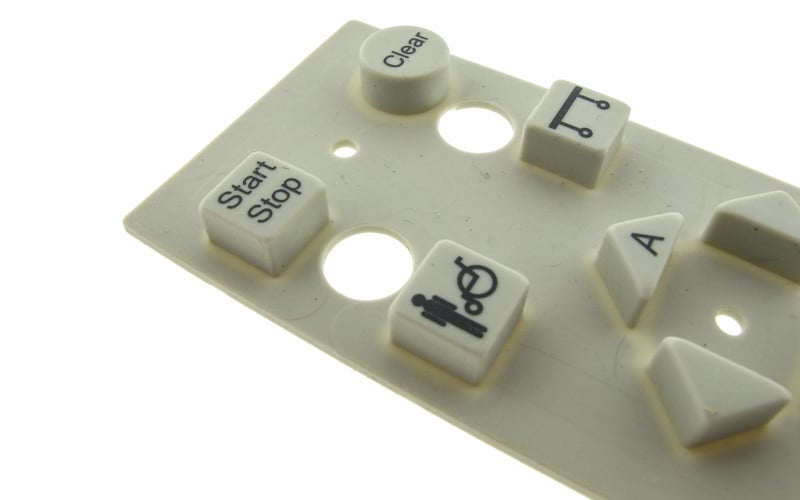 Biocompatible silicone elastomer keypad.
Getting Production Started
Rubber keypads usually aren't actually rubber, they are compression molded silicone elastomer. General grade silicone elastomer is the preferred material choice for rubber keypads and buttons. While readily available and inexpensive, these standard grade silicone formulations are inappropriate for food-safe and biocompatible applications that demand extensive raw material testing and screening. Medical grade silicone elastomer is widely used in both disposable and reusable medical devices, requiring additional compliance to the numerous industry specifications that exist.
Summary
With recent supply chain disruptions stemming from the COVID-19 pandemic, specialty materials such as medical grade silicone elastomers and their biocompatible manufacturing additives are increasingly difficult to source. Some materials may no longer be imported overseas leading to material shortages or even worse. In dire circumstances some manufacturers are being forced to qualify new materials. These issues can have cost and schedule impacts on mature production that would otherwise be deemed low risk. Launching production with a full-service manufacturer like Epec can help support both the design and manufacturing challenges that will be faced when designing biocompatible keypads and user interfaces.