When dealing with requests for custom manufactured custom assemblies, the question that frequently comes up is, "why should a jacketed cable be used in an assembly?" The answer to that question can be determined by looking at three key areas: environment, safety, and cosmetics.
Tougher Cable Assemblies
The jacket which surrounds the cable is also referred to as an overall sheath or covering, serves as the first line of defense to protect the inner components of a cable. There are lots of materials that could be used as a cable jacket, such as an overall layer or sheath of a cable, looms, shrinkable and non-shrinkable tubing, and wraps. For this discussion we will limit the materials to those applied through some form of extrusion process.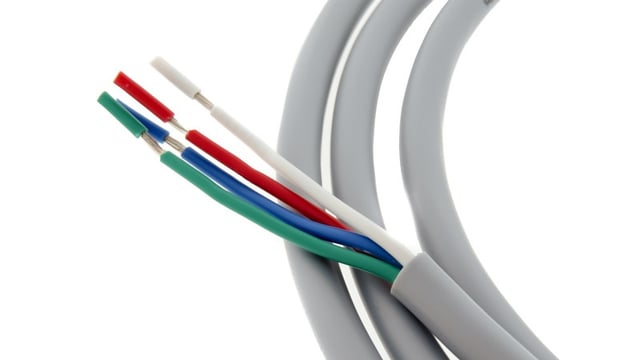 Example of a Jacketed Cable Assembly
Another critical purpose a jacket serves is as a flame retardant. In any installation, whether the cable is installed within a wall cavity, run between floors in a wire chase, installed in a plenum area, or is used in an office/home environment, it is crucial that the jacket provide the correct level of flame suppression and safety protection required for the installation environment.
Design Your Cable To Exceed Standards
To guide manufacturers in the proper design of a cable assembly, products should be built in accordance with current codes and standards. In the United States, the National Fire Protection Association (NFPA) provides guidance through the publication of the National Electric Code (NEC). The NEC is a regionally adopted standard that details the safe installation of electrical wiring and equipment.
Though not a federal law, the NEC is usually adopted by states and municipalities to standardize the enforcement of safe electrical practices. The NFPA, through the NEC, describes the general electrical construction, as well as the physical and operational characteristics that a product should meet in order to operate safely.
Nationally Recognized Testing Laboratories (NRTL) tests products to verify that they meet the physical and operational characteristics outlined in the NFPA standards. Popular NRTLs are Intertek's ETL, UL, CSA, and FM, among others.
The installation environment and compliance to the NEC will dictate the materials to be used in the construction of the cable. An installation in a plenum area will require different jacket materials than an installation in a wire chase between floors, though there is substitution allowed from a more demanding application to a less demanding application.
Outside Normal Conditions
Some applications require cable jackets able to withstand conditions not described in the NEC. For instance, if an assembly is to be used in a medical environment, the jacket material may need to withstand a single sterilization, or repeated sterilizations. If this is the case, the method of sterilization would dictate the type of material that is used for the jacket of the assembly.
Even for assemblies that meet the requirements suggested by the NEC, there are alternative compounds that could be used for those applications. For an example, there are various compounds that meet set temperature ratings but yet offer varying degrees of flexibility. If an application requires an assembly to be flexible, a cable manufacturer can choose from several different compounds to meet the flexibility requirement while still meeting the NEC guidelines.
Safety First!
A cable jacket offers additional safety by encompassing the inner components of a cable. If an assembly did not use a jacketed cable, the inner wires/pairs could easily be caught or pinched in nearby equipment causing premature failure of the assembly.
The jacket of the cable also protects the inner components of an assembly from fluids. These fluids could be cleaning fluids, chemicals, oils, and water, among others. Without a jacket designed to withstand these fluids, the assembly and components attached to it would be exposed to outside influences that would cause failure, corrosion, or electrical shorts.
Cable Assembly Jacket Cosmetics
From a cosmetic standpoint, the jacket that is applied to the core of a cable and the method of how it is applied can enhance the cable assembly's appearance. Compounds are available that can offer matte or dull finish as well as glossy finishes depending on the customers' needs. In addition, a jacket can be applied in such a way to hide minor imperfections of the cable's core such as convolutions.
Most compounds used for cable jackets can be colored to match the equipment the cable assembly will be installed on, colored to match connector housings, or corporate colors. If multiple assemblies of the same type are used in close proximity to each other, the individual jackets can be colored differently to allow for easy recognition.
Summary
A jacketed cable serves many functions, ranging from environmental safety protection to increased durability, or even cosmetic design or just simple identification. In some instances using a cable jacket can be of great benefit, in others situations it is an absolute necessity. If you are ready to design and order cable assemblies that can meet even the highest standards, start working with Epec's team today!