If you were to ask 5 separate people to explain the definition of keypad, likely you would receive 5 completely different answers that all center around the same basic concept. According to Wikipedia a keypad is a set of buttons arranged in a block or "pad" which bear digits, symbols or alphabetical letters (source https://en.wikipedia.org/wiki/Keypad). While this definition is correct, when communicating to a potential user interface supplier the term keypad requires further elaboration.
Which of these items is a keypad?
Silicone Rubber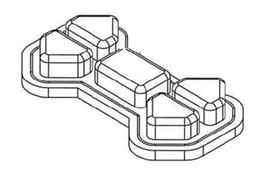 Silicone Rubber + Printed Circuit Board + Dome Switches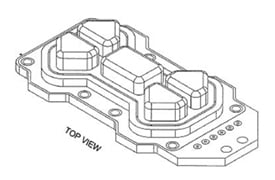 Silicone Rubber + Printed Circuit Board + Dome Switches + Wire harness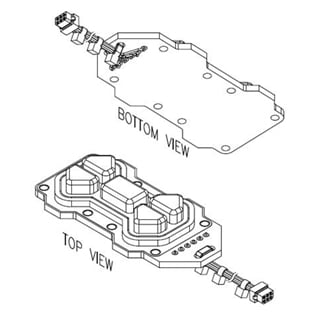 The answer is they are all keypads.
Epec typically receives customer requests for quote (RFQ) with brief explanations accompanied by a sketch or print. All too often these summaries fall short in the detailed explanation that is necessary to properly (and quickly) provide an accurate comprehensive quotation.
For example, a customer recently submitted an RFQ for a keypad to be used in a military application. Some of the information the customer supplied appeared to contradict itself - one drawing showed a silicone elastomer keypad (with no switches, circuits, or connectors). The email received included verbiage about a keypad with a wiring harness. This is important because a silicone elastomer keypad is a straightforward, inexpensive item to quote.
Epec requires definition on the dimensions, material, and color to create a quotation. Without the eventual conference call to review this customer's design and application, it's quite possible that Epec could have quoted this scope of work an order of magnitude too high, or grossly underestimated the project and both scenarios could have been extremely painful for both Epec and our customer. This ambiguity can create delays in your quote or manufacturing process if not properly substantiated.
Examples of Keypads
Buyers, engineers, and sales people are all guilty of either overcomplicating or under simplifying the complexity of keypads during the quoting process. The resultant cost, lead-times, and engineering needs of the multiple types of keypads can vary significantly.
Rubber Keypad/Silicone Elastomer Keypads
A rubber keypad by itself with no switches, circuitry, or housing is a relativity inexpensive item. These are produced using common silicone elastomer molding processes, such as compression molding. A hard tool is created, typically from steel, and a cavity is machined between two plates that are designed to fit together as a set.
Multiple cavities can be designed into the tool to yield a larger quantity of parts. These items are relatively inexpensive, contain no live components, and are considered a low complexity item to produce. The keypads cannot function as a "keypad" unless they are paired with a switch - these are typically dome switches, carbon pills, or board mounted tactile switches. For this type of project Epec is supplying the keypad less any of the active switches needed to operate the device.
Example of Silicone Elastomer Keypads (no circuitry)
Membrane Switch
A membrane switch is a type of keypad and consists of a series of flat laminated layers of insulating and conducting materials to create a custom low cost, rugged, and low-profile device capable of providing a human-to-machine interface.
Membrane switches are typically designed with provisions for panel attachment such as sheet adhesive, or mounting studs. They also have some sort of wiring harness, connector, and active switching technology (typically dome switches). Describing this device as a keypad is not entirely inaccurate, but it can create confusion for the engineers responsible for reviewing the design. An electrical schematic or wiring diagram is necessary to define the function of these devices since they contain active electrical components.
Keypad Assemblies
The term keypad assembly is used to describe an electromechanical system that serves as the user interface for a product; admittedly, this is an extremely ambiguous term. However, these items consist of a keypad, the electronics and circuitry that provide functionality, and also any mechanical members that allow this device to meet all design objectives.
Keyboard assemblies usually contain a wiring harness or flexible cable to provide connectivity to other devices and may even contain embedded firmware or a touchscreen. For example, the keyboard I am using right now to type can be classified as a keypad assembly - it contains numerous switches, the electrical circuitry necessary to function, the wiring harness that connects to my docking station, and the plastic housing and fasters to package the device. All these components work in concert creating a custom human to machine interface.
How to Get Your Project Started?
The first step to launching your new keypad design project is to decide on what type of keypad technology to explore. Are you looking for just an elastomeric keypad with no circuitry? Are you interested in a membrane switch? Does your product need an integrated capacitive touch keypad with a 7-inch LCD display?
If your company is not proficient in the detailed design of keypads, that does not necessarily have to slow you down- engaging with the Epec sales and engineering teams can help fast track this process. But before any engagement occurs it is critical to simply recognize that all keypads are not the same and can have enormous swings in the cost, lead-time, and NRE necessary to bring your product to market.