Cable assemblies used in the medical the industries have to be biocompatible, made of a material that will not cause issues or adverse effects when coming in contact with the body. The material should not cause any type of toxicity (whether it is to the skin or to internal organs, bone, blood, or tissues) that could endanger a person's health.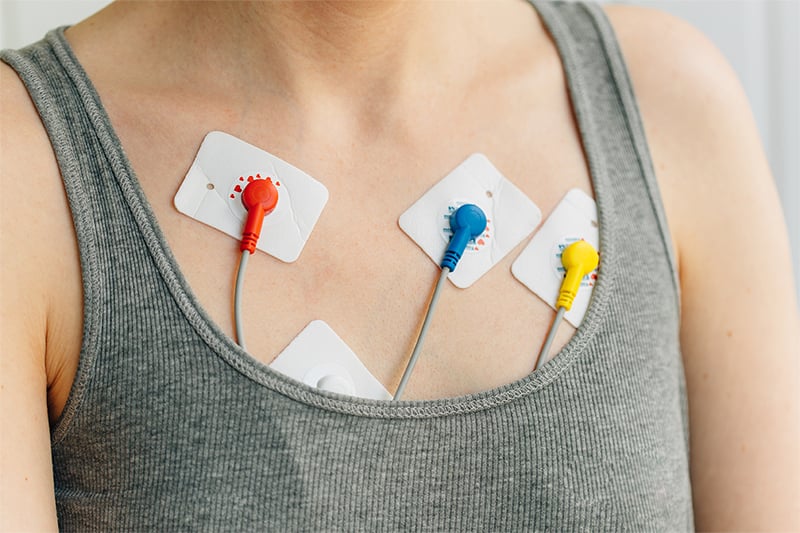 Example of medical device cable assemblies that come in contact with skin.
Electrical Cable Examples
You may be wondering what types of cables would require biocompatibility. The number of cables used in a medical or hospital setting are numerous. Some cable applications include, but are not limited to:
Imaging cables
Dental cables
Power surgical cables
Signal surgical cables
Therapeutic cables
Defibrillation systems
Diagnostic cables
Catheter applications
Drug delivery systems
Patient monitoring cables
Reusable endoscopic assemblies
Miniature camera cables
The jacket of the cable is the most scrutinized material. Since the cable is connected to the device, this outermost jacket that protects the wires inside can come in contact with the body in numerous ways. It may brush up against a patient's skin while the medical professional is performing an examination, treatment, surgical procedure, or drug therapy. The cable may also have to be inserted into the body along with the medical device, such as a miniature camera.
Since these cables and assembles can differ from each other, the devices must be evaluated to determine the amount of toxicity that may be introduced to the patient. Manufacturers are required to figure out the amount of time the device and cable assembly is in contact with or in the person's body and what types of toxicity may be present from the cable assembly.
To help manufacturers with their risk assessment, the Federal Drug Administration (FDA) created the ISO 10993 standards regarding the biocompatibility of medical devices and components to determine the toxicity of the applications.
What is ISO 10993?
In the past, there was no specific standard for testing the toxicity of medical devices and cable assemblies. So, it was difficult for cable assembly manufacturers to determine the level of testing that was sufficient. In 1986, the United States Department of Health and Human Resources released the Tripartite Biocompatibility Guidance for Medical Devices for the United States, the United Kingdom, and Canada. This handbook was a checklist that could be used to determine toxicity in medical devices and components.
However, the handbook did not provide a guarantee that medical devices and applications that were built to the stated specifications would pass the inspection by the Office of Device Evaluation. Due to this issue, the FDA introduced their own ISO standard, ISO 10993 Biological Evaluation of Medical Devices, in 1995.
The ISO 10993 provided enhanced guidance regarding design decisions for medical devices and cable assemblies. A table was included to further drill down on device contact type and the duration of time that the device will be in contact with a patient. It also included additional biological response testing requirements based on the table's category results. It became known as ISO 10993-1.
This ISO 10993 standard was broken down into 20 specific parts:
ISO 10993-1: Evaluation and testing within a risk management process
ISO 10993-2: Animal welfare requirements
ISO 10993-3: Tests for genotoxicity, carcinogenicity, and reproductive toxicity
ISO 10993-4: Selection of tests for interactions with blood
ISO 10993-5: Tests for in vitro cytotoxicity
ISO 10993-6: Tests for local effects after implantation
ISO 10993-7: Ethylene oxide sterilization residuals
ISO 10993-8: Selection of reference materials (withdrawn)
ISO 10993-9: Framework for identification and quantification of potential degradation products
ISO 10993-10: Tests for irritation and skin sensitization
ISO 10993-11: Tests for systemic toxicity
ISO 10993-12: Sample preparation and reference materials
ISO 10993-13: Identification and quantification of degradation products from polymeric medical devices
ISO 10993-14: Identification and quantification of degradation products from ceramics
ISO 10993-15: Identification and quantification of degradation products from metals and alloys
ISO 10993-16: Toxicokinetic study design for degradation products and leachables
ISO 10993-17: Establishment of allowable limits for leachable substances
ISO 10993-18: Chemical characterization of materials
ISO 10993-19: Physico-chemical, morphological, and topographical characterization of materials
ISO 10993-20: Principles and methods for immunotoxicology testing of medical devices
Revisions and changes have been made to the ISO 10993 guidelines several times. Part 8 of the ISO 10993-1, "Selection of reference materials," has been completely withdrawn. The table in the guidelines for the "Endpoints to be addressed in a biological risk assessment" has also been revised. A recent 2018 update has been introduced to lessen the amount of animal testing to be performed and instead focus on in vitro models and chemical constituent testing. The revisions also allow for preexisting information to be accepted and reduces repetitious biological testing.
Another important change is in regard to extractable studies. The FDA now states that: "Description of medical device chemical constituents and consideration of material characterization including chemical characterization (see ISO 10993-18) shall precede any biological testing. Chemical characterization with an appropriate toxicological threshold can be used to determine if further testing is needed."
So, if there are sufficient extractable studies as well as relevant toxicology data that focuses on the type and duration of exposure from a medical device and assembly, then there may be enough justification to omit further biological testing.
What is ISO 10993-5 and ISO 10993-10 Regarding Cable Assemblies?
These specific parts of the ISO 10993 play an important role in the design and material used for electrical cables. The ISO 10993-5 involves tests for in vitro cytotoxicity. The ISO 10993-10 focuses on tests for irritation and skin sensitization.
ISO 10993-5: Tests for in vitro cytotoxicity
Cytotoxicity is where cells in the body are damaged by toxic agents or toxic substances. Several types of in vitro cytotoxicity tests may be used as stated in the ISO 10993-5 standard, such as a direct contact test, an extract test, and an indirect contact test. These tests are designed to assess cell damage by morphological means, measure the amount of cell damage, measure the amount of cell growth, and measure the specific aspects of cellular metabolism.
Electrical cables should be compliant to the ISO 10993-5 as they may come in contact with a person directly and indirectly in a variety of medical settings. In addition, in the case of diagnostic and monitoring devices, or for devices that will be semi-implanted or fully implanted, the cable may be in contact with a patient internally for long periods of time. Understanding what type of cell damage may be caused allows manufacturers to decide on the types of materials that may be used.
ISO 10993-10: Tests for irritation and skin sensitization
The ISO 10993-10 section regarding tests for irritation and skin sensitization focuses on evaluating how chemicals released from medical devices will interact when coming in contact with the human body. Certain materials can cause irritation responses such as redness, swelling, open sores, or even necrosis. Types of irritation that may occur include skin irritation, eye irritation, mucosal irritation, and skin sensitization.
Electrical cables will need to be compliant to ISO 10993-10 to prevent irritation when in contact with a patient. Chemicals that may come from electrical cables will be for cleaning and disinfecting the cables, so they are sufficiently sterilized. The selection of the right cable jacket material should be in consideration based on the types of chemicals it may be exposed to.
Certain chemicals could degrade or corrode the jacket's material and expose the inner wires. However, specific materials that can withstand the vigorous sterilization techniques, such as autoclave cycles, may cause skin irritation, such as silicon. Testing of the jacket's materials in this circumstance is vital to adhere to this standard and to prevent harm to patients.
How Raw Cable Manufacturers Comply with ISO 10993?
Raw cable manufacturers will seek to comply with ISO 10993 by gathering all information about the materials that will be used to create the cable assemblies. This information will consist of material data sheets, certifications, and research results regarding the types of additives and ingredients that are known to be in the materials.
In addition, the manufacturers will ask suppliers and vendors regarding the test parameters and methods that were used to determine biocompatibility. They will also seek transferability of the test results and will seek out clarity regarding the types of materials that were specifically used in the tests.
What's the Impact on UL Flammability Ratings?
Specific additives may be introduced to materials to give it special capabilities, such as flame resistance or UV protection, when raw materials go through injection molding, polymerization, and other processes. Types of additives that improve flammability performance include alumina trihydrate and magnesium hydroxide. These additives are designed into the cables so they will self-extinguish in the shortest amount of time possible.
Flame retardants that comply with UL flammability ratings may not comply with ISO 10993 as the additives may leach from the materials and into the patient to cause adverse effects. New material innovations are being introduced so that flame retardants meet ISO 10993-5 and ISO 10993-10 standards to be safe to use in medical settings.
These materials, such as the Makroblend® M4000 FR PC+PBT, have a flame retardancy of V-0 at 2.0 mm and 5VA at 3.0 mm. Materials such as this will still meet the biocompatibility requirements while being safe for contact with the skin for prolonged periods of time.
Summary
It's clear that as medical device technologies push the limits of the industry, several key factors remain. First, medical professionals will continue to rely on wired technologies to pass power and data to and from sensors on their patients' bodies. Second, these wires will inevitably need some level of biocompatibility to make certain there are no adverse effects while on the patients' skin. Lastly, these cables must remain inexpensive enough to be used in disposable or one-time-use applications. ISO 10993 helps provide guidance on the biocompatibility requirements enabling these types of wired products to be used, helping save lives for generations to come.