Human Machine Interface (HMI) keypads are an essential component of any manufacturing business' operation, but they don't have to be boring or plain. In this blog post we will review how to design and manufacture your own custom HMI keypads in any color your business wants so that you can better connect with your customers and give them the experience they deserve.
What is Silicone Elastomer and What Kind of Products Use It?
Silicone rubber is known for its many unique qualities. While it's often used in manufacturing medical and personal care products, it can also be used in high-performance automotive or industrial applications because of its ability to provide excellent thermal stability as well as chemical resistance. This makes silicone an attractive material when designing user interface components, such as rubber keypads or buttons.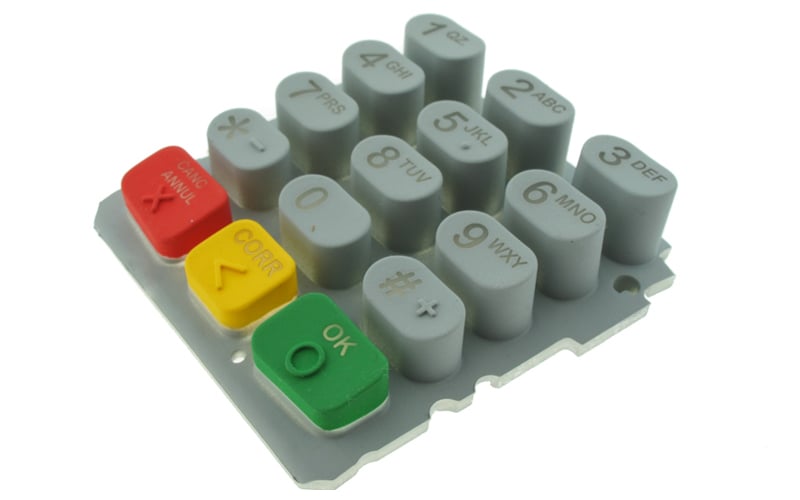 Multicolored compression molded keypad.
Silicone elastomer is a thermoplastic elastomer (TPE) that exhibits both elasticity and toughness. The elastomer part comes from how these molecules flex and bend in response to stress and pressure. Because silicone elastomer is heat resistant and flexible, it's often used as an insulator or sealant in industrial applications. It can also be used to make soft-touch surfaces on consumer electronics like keyboards or remote controls. Silicone elastomer is also an ideal choice for applications that demand biocompatibility and frequent sterilization, allowing it to be used in countless industries.
The Molecular Composition of Silicone and Silicone Elastomer (Rubber)
So, what is silicone rubber, and how does it differ from other materials? Polydimethylsiloxane (PDMS) is a polymerized organic compound consisting of silicon and oxygen atoms bonded together. The molecular weight of PDMS can range anywhere from 100 grams per mole up to millions of grams per mole. In order to make silicone rubber, manufacturers combine molecules of PDMS with other elements such as carbon, hydrogen, chlorine, and sometimes nitrogen. These additives are referred to as organosilicon compounds. Different ratios of these compounds will produce different types of silicones, including EPDM, SBR, and others.
What is a Silicone Rubber Keypad?
The simple answer is that it's simply a set of buttons on an input device manufactured from silicone elastomer; however, how it looks and how it functions differs depending on your business's needs. User interface (UI) plays a crucial role in the design of your product. As such, you need to know what features available and which ones are would best serve your audience.
Also referred to as a rubber boot, keypads serve as the flexible outer casing that seals and protects the switches and electronics within. Rubber keypads can be translucent, colorized, painted, and backlit, offering designers and engineers an infinite number of ways to customize their solutions.
Transparent Silicone Elastomer vs Colorized
The majority of the keypads used in the world today are standard colorized silicone elastomer. They are not transparent and are produced to a specific color pallet, usually called a pantone color. Keypads can be completely customized, and color-matched to any available color.
Multiple colors can be co-molded at the same time creating what appear to be different colored buttons. This does not involve any painting, masking, or spraying whatsoever, it's the material itself that is colored. Trial and error tests are needed to perfect the process and dial in the amounts of pre-vulcanized material that is required.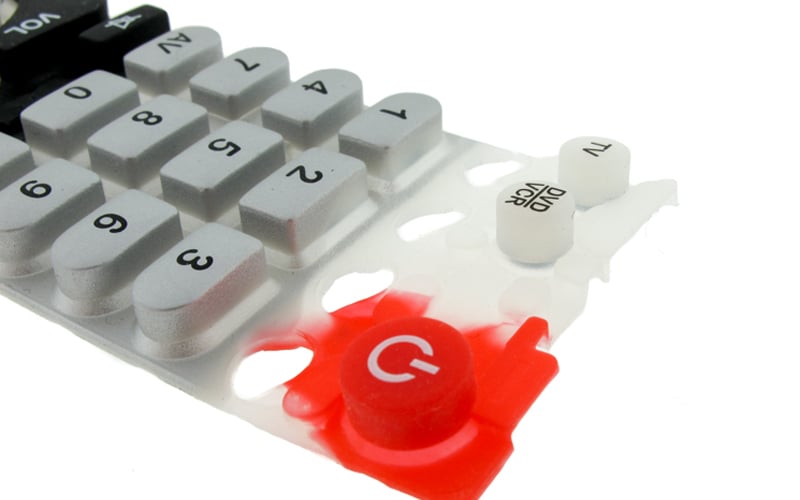 Red silicone elastomer is co-molded using a compression molding process.
But what are the differences between transparent and colorized silicone keypads? The main difference between them is that colored silicone elastomer has color additives whereas transparent silicone elastomer does not have any color additives. In its pure state, silicone is completely transparent and colorless. Raw material suppliers will alter the compound creating translucent blends of silicone for specific backlighting applications, and non-translucent blends for more traditional applications.
By placing a small light-emitting diode (LED) or other low-voltage light source behind the keypad, a translucent silicone keypad will emit light in the desired regions. Usually, in the form of text that is illuminated and shining through, artwork can be backlit and completely customized inexpensively and fast. This is achieved through a common process called laser etching.
Laser Etching and Why is it Important for Silicone Rubber Keypads
One of the final steps in the entire production process is the laser etch operation. Manufacturers have developed complex processes that involve carefully burning away layers of paint on keypads to create custom markings. Also called laser etching, this step in the manufacturing process uses a high-powered CNC-controlled laser to scribe the surface of the keypad. Artwork fixtures are made to hold and secure the keypad during the etching process. All stencils and fixtures are created from vectorized artwork files or standard well-known text fonts.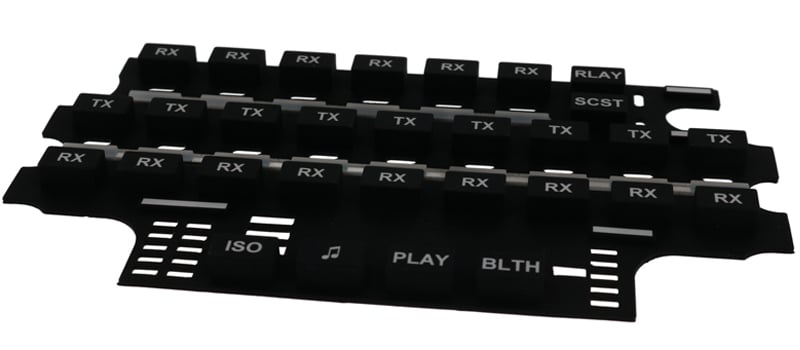 Silicone rubber keypad with translucent material.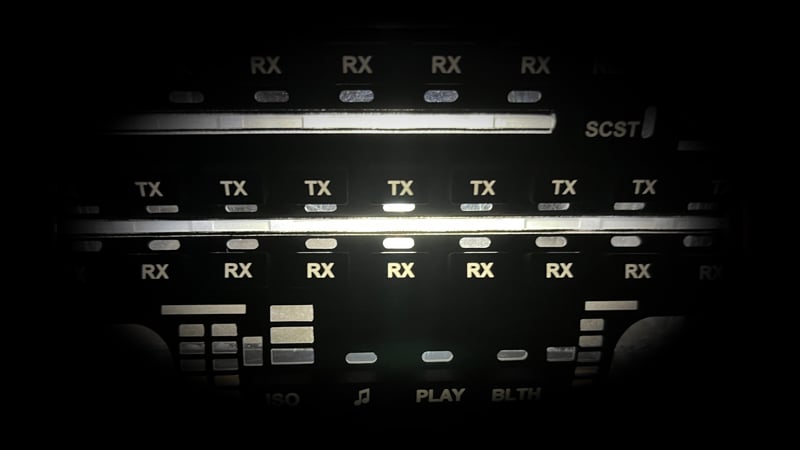 Silicone rubber keypad with translucent material, backlit.
If backlighting is involved, the silicone material must be sufficiently translucent. Then, the keypad must be painted. Complex paint schemes involving layers of white and black paint may be required to properly create the backlighting effect.
Pad Printing and How is it Used for Silicone Rubber Keypads
Pad printing is a popular method of imprinting text and images on consumer products like silicon rubber keypads. It's an inexpensive option compared to other methods and offers some flexibility in design that can be helpful when crafting your custom keypads. Before you begin designing, it's important that you understand exactly what pad printing is, as well as how it can be used for silicone rubber keypads.
In short, pad printing is a process in which ink is transferred from a plate (or pad) onto another surface. The plate has an image or design printed onto it and ink passes through small openings into tiny wells where excess ink collects. The plate with its attached wells is then placed against the surface of the keypad. White and black text are the two most common types of markings for pad printing. Since these markings will wear and fade over time, a urethane or epoxy coating can be added to the printed text to help extend the life keypad.
Summary
When it comes to designing custom rubber keypads, it's all about using your imagination and knowing what will work best. If you want your keypads to blend into your brand, there are many ways to accomplish that goal without sacrificing quality or functionality. Use your imagination, choose materials wisely and avoid cost-cutting measures when creating custom rubber keypads that last over time. That way, you can build repeat customers who come back again and again.