When bringing a new project to market that involves an injection molded enclosure, there will be critical design and sourcing decisions that can have a tremendous impact on the overall project.
In its entirety, stakeholders must consider the total number of R&D hours, the cost of tooling, and the recurring pricing to make decisions on how to source the injection molded enclosure. Assembly labor hours should also be considered during this process to properly account for all direct costs. Once complete, a proper decision can be made on the go-forward strategy of buying an off-the-shelf enclosure or developing one.
Enclosure Considerations for Development Through Production
This decision of buying an off-the-shelf enclosure or developing one will largely depend on where the project is at in the overall development process. Another important question is how far in the future full-rate production will start. For a project to be greenlit, there needs to be some sort of program budget, timeline, and a clear list of requirements or functionality.
Development projects also need a plan for hardware deliverables so that all testing and certification requirements can be satisfied. These tests include development testing by engineers- largely to flush out design quirks, but also testing by third-party entities like environmental test labs or regulatory agencies. Some testing can be performed in parallel, having dedicated test assets planned for specific and separate activities. Increasing the number of test assets available will increase the initial investment costs, but it may help dramatically reduce the overall project timeline.
Benefits of COTS Enclosures vs Custom Enclosures
There are pluses and minuses to each approach with COTS (commercial/consumer off-the-shelf) enclosures traditionally being used for small volumes and one-off applications, and custom enclosures being ideal for higher volume production runs.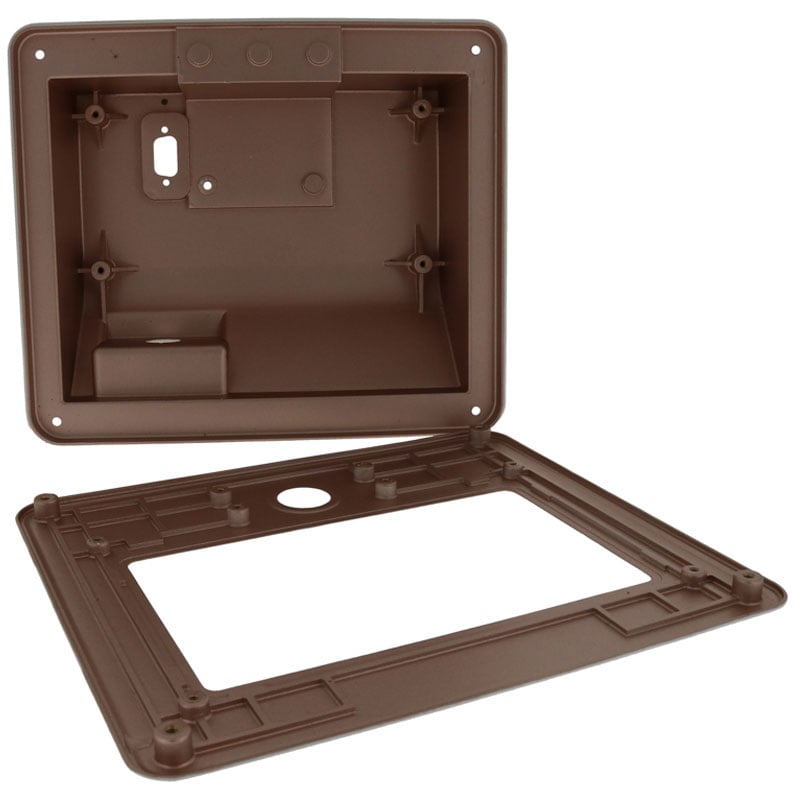 Example of a custom injection molded enclosure.
COTS Enclosures
When it comes to COTS enclosures, the primary benefit to choosing this approach is the fact that the box is already designed. There are zero R&D hours required to make this, and the injection molding tooling has already been fabricated and proven. There are likely data sheets available that can affirm the overall dimensions and other critical information such as the spacing between mounting holes, and other critical user interface details.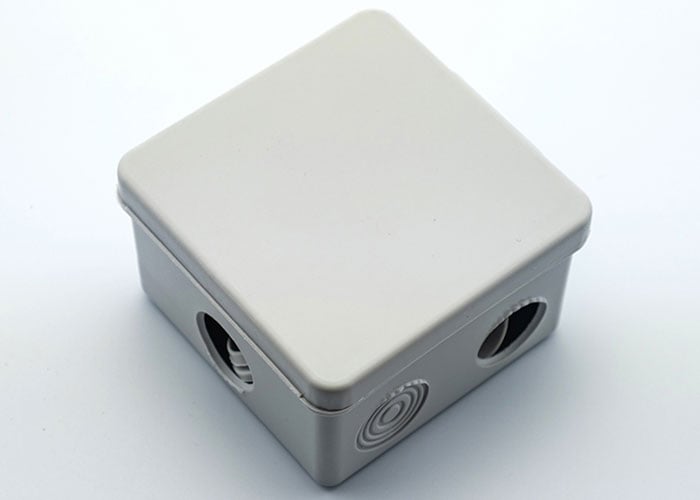 Off-the-shelf electrical boxes can help save time and money for small volume builds.
Another benefit to choosing a COTS enclosure is the fact that many options have an existing performance rating. One of the most common ratings is ingress protection for contaminants such as moisture and dust. Accordingly, COTS enclosure manufacturers have built a product that is waterproofed per IP54 and IP67. These enclosure types usually have a gasket or other sealing surface already designed. Other COTS products may be certified to the broad performance of MIL-STD-810 and able to withstand the harshest of environmental conditions. Any performance specifications that apply are usually noted in the technical literature supplied by the manufacturer.
Custom Enclosures
Custom enclosures are ideal for projects that need a truly unique solution. The sky is the limit in terms of customization. This can include appearance, material, shape, and function. Aside from the endless design options to consider for box builds and enclosures, a custom approach is ideal for projects that are expected to ramp up to high volumes where the cost of R&D and tooling can be amortized across a larger quantity of parts. Spending tens of thousands of dollars on engineering labor and the fabrication of hard tools is unnecessary for small runs, especially since most projects only need a functioning prototype early in the development life cycle. 3D printing is a viable optionfor creating custom enclosures inexpensively for small runs and pre-production volumes.
Investing in the creation of a custom enclosure can have several cost advantages over the long term. One of the primary benefits of a custom enclosure is the fact that when designed properly, there will be an attractive pay-back period for the initial financial investment. By improving the ease of manufacture, the ease of assembly, and increasing the reliability of the solution, the total program cost can be drastically decreased. Additionally, and because of the benefits of economies of scale, direct costs can be reduced as production volumes increase for a given design further helping shorten the pay-back period on hard tooling and R&D.
Solid Modeling is Required
In terms of the COTS vs custom enclosure decision, the custom route is preferred for several reasons. However, one of the primary barriers to entry for creating a custom design has yet to be assessed- the licenses and design experience needed to create a solid model are expensive.
STEP files, also known as .STP files, are a three dimension file format that designers use to parametrically define a widget. Usually generated with computer programs called 3D CAD software, these .STP file formats are easily transferred between design companies and are one of the most common ways injection molded parts are quoted and built.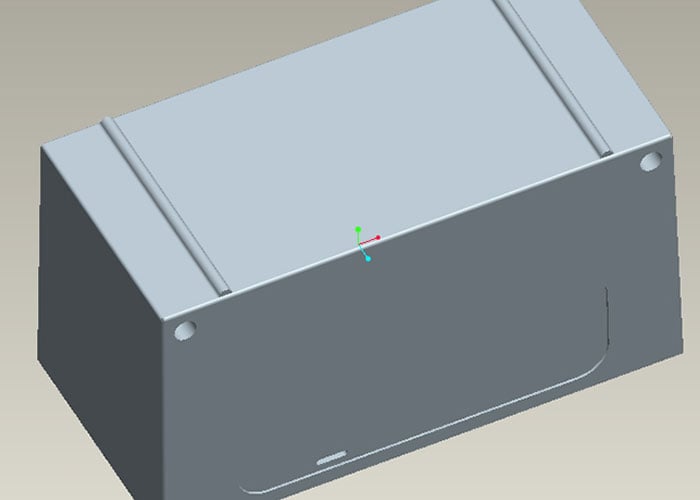 Custom enclosure designed using 3D modeling software.
Once a digital license is purchased and the designer is trained on the use of the 3D CAD software, an experienced engineer will need to model the complex shapes of the enclosure to create a design concept. At this point, engineers will study the geometries of the new injection molded concept to make certain that they are manufacturable and meet the program objectives.
Optimizing Wall Thicknesses
Interestingly there are some design limitations to consider when using some of the most common injection molded materials, specifically ABS and polycarbonate resins. Overly concerned with cost, many engineers fret about making walls too thin and weak, allowing for a stress concentration to form in the part. Engineers may indiscriminately add material to make walls stronger throughout the part. This adds cost since more material is used to shoot the part. Also, thick walls can cause a phenomenon called sink marks where the resin cools too quickly in regions of the tool causing the material to pucker and warp. Visible indentations form in thick regions of the newly molded part which can violate dimensional tolerances and appear as a visual defect. For large features such as handles, slots can be added throughout the handle sweep to help the molten resin flow evenly and cool to minimize the risk of sink marks.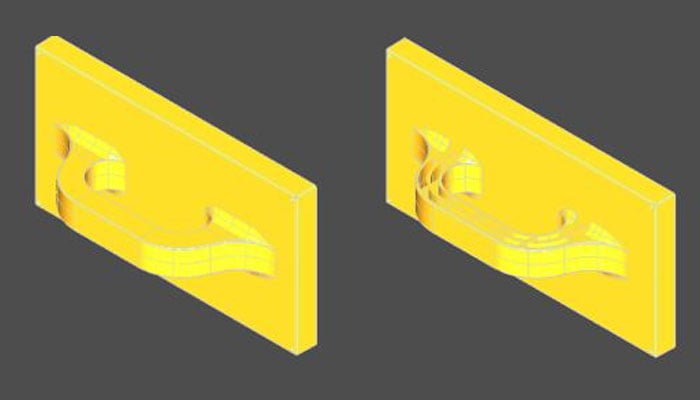 Handle design before and after design optimization.
Summary
Before getting started on a new development project for an injection molded enclosure, there needs to be a thorough review of the program objectives, the required timelines, and the overall targeted costs.
There are times when a COTS enclosure is preferred, and other times where a custom enclosure is favored. For industry-specific requirements pertaining to the medical industry or product safety, there are strict requirements surrounding flammability, biocompatibility, and sterilization that can be difficult to find in a COTS enclosure. Using medical grade resins with a custom molded enclosure is the only way to comply with these requirements. Before starting this journey, early engagement with a full-service manufacturing partner like Epec can help review several key program decisions early on and help make the best decision for your project.