Rigid-flex circuit boards are the integration of rigid PCB technology with flexible circuit technology in one unit that is capable of both interconnect and operating functions in a device.
Rigid-flex PCBs provide the functionality of a rigid PCB while also being able to bend, in pre-defined flexible areas, to fit the packaging requirements of a design. The technology's versatility allows designers to apply the benefits of both rigid and flex PCBs with few limitations. The final assembly benefits from higher performance, greater reliability, and reduced weight while achieving tighter packaging for a reduced overall final assembly size and or functionality. With these advantages, the future market demand for rigid-flex circuit boards is very strong.
Rigid-flex circuits were initially a niche element of both high-end and military applications. This market expanded significantly once mobile cell phone technology developed and introduced a new level of what could be accomplished in a compact or handheld format.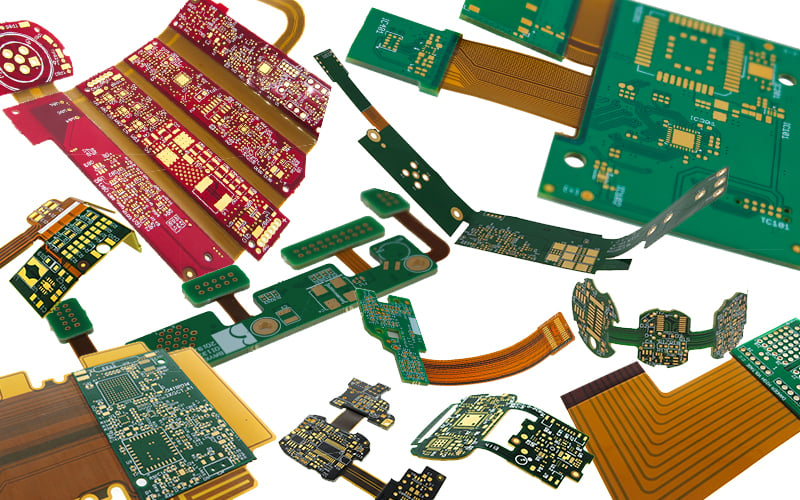 Various rigid-flex PCBs used in medical, military, and portal devices.
As rigid-flex circuit applications continue to grow, the market is expected to grow from approx. $3.8 million in 2020 to over $5.8 million as soon as 2028. These predictions are dependent to a degree on continued growing demand, fluctuating economies, and supply chain capabilities.
In this blog, we'll review some of the more significant market segments and which of the key benefits of rigid-flex PCB technology apply to a greater degree within those segments.
Medical Applications
Medical and healthcare applications are one of the fastest growth areas for rigid-flex PCB-based design solutions. These applications are increasing in sophistication and functionality at an extraordinary rate. Some of the key segments within the medical industry are wearable monitoring systems, implantable devices, and diagnostic devices/systems.
A critical design requirement for the majority of these applications is very high reliability. Any compromises can potentially negatively impact the health of the patient. Rigid-flex PCB solutions improve reliability through integration. This results in a reduction or elimination of many points of interconnect created by connector systems or alternate methods. Each point of interconnect is looked at as being a potential point of failure. As an example, connector systems average between 4 to 6 points of contact for each circuit while a rigid-flex design reduces this to zero. This inherently improves the reliability of the design.
Handheld and Portable Devices
The development of high-energy lithium-based rechargeable batteries has brought with it a large step forward in what can be achieved in a portable handheld device. The range of applications is almost limitless and present in almost all market segments which are driving tremendous growth.
Handheld devices have a very common design requirement of very tight packaging. Interconnecting and integrating multiple printed circuit boards into a single rigid-flex circuit allows for either a smaller overall package size or a higher-level functionality in a similar-sized package. This is achieved by the elimination of the footprint requirements of connectors and the need to route the circuits to the connector location.
These two aspects reduce or free up space in the circuit layout. In addition, the flex circuit interconnect portion of a rigid-flex design has significantly tighter bend capabilities, takes on average 20% or less of the "space" and easily accommodates a much higher number of interconnects than a wired or connectorized solution.
Military Applications
The growth in military applications is a constant. The range of applications continues to increase and is driven by many of the same factors present in healthcare and handheld applications. An additional element, present more so in military applications, is reliability in very physically demanding environments. Many applications must withstand significant shock and vibration forces as part of their normal usage.
Rigid-flex PCB technology improves shock and vibration performance through a reduction in weight over wired solutions. An equivalent flex circuit section, in a rigid-flex design, weighs approx. 10% of the wired solution. This weight reduction has a large positive impact on the shock and vibe performance and improvement in reliability.
Communication Applications
Cell phones evolved into smartphones and with that advanced the communication requirements to very high levels. This need, e.g.: high-speed wireless/USB 3.0/high-speed cellular, can also be found in many areas of the fast-growing market of portable non-smartphone applications. High-speed communications functionality requires controlled impedance signals. Rigid-flex circuit board technology is very good at achieving high-quality-controlled impedance interconnects between multiple rigid areas with or without shielding. This allows for significant design flexibility as the high-speed elements of a design can be distributed between multiple rigid areas rather than localized to only one rigid PCB. This also allows for smaller packing configuration options that could not previously be achieved with a cumbersome controlled impedance wired solution.
Commercial and Industrial Applications
This growing "Catch All" market segment of Commercial and Industrial applications benefits from the use of rigid-flex PCB technology. While all the previously discussed elements of reliability, packaging, and communications are present, in varying degrees and combinations, in any specific design the added combination of increased design complexity and cost-effectiveness has a greater focus. Rigid-flex circuit technology can solve this by allowing for greater functionality and design complexity within the same sized, or smaller, package size while creating opportunities to contain or reduce costs in many areas:
Reduced or eliminated connector/component requirements.
Reduced assembly costs through the reduction in the number of assembly cycles from 2 - 3 down to 1 - 2 required.
Final assembly simplified and elimination of potential sources of error. Rigid-flex circuits install one way only.
Minimize or eliminate costly manual and error-prone wired assembly steps.
Improved device reliability to reduce service/maintenance / customer support costs.
Summary
As discussed, the benefits of rigid-flex circuit board technology have applications in almost all industries and market segments through its ability to advance designs well beyond what is capable with traditional standard technologies of wired or connectorized interconnects. All this while improving performance, reliability, and containing costs.
The result is continued accelerated growth through almost all market segments of the electronics industry. Many of our customers routinely contact Epec to review the requirements of the new and existing designs to map out a strategy for implementing rigid-flex technology to achieve their design goals.