Mil-aero devices live in a special place in the worlds of design and engineering. These are devices that are often subjected to extraordinary environments. They have extreme requirements, and they often must function in the harshest environments of the world.
With such demands, it's easy to assume that mil-aero devices are always extremely expensive and custom, but that's not necessarily the case. Many of these devices are made with components that adhere to generalized principles, and you will find common component designs and design philosophies regardless of the specific use-case in question.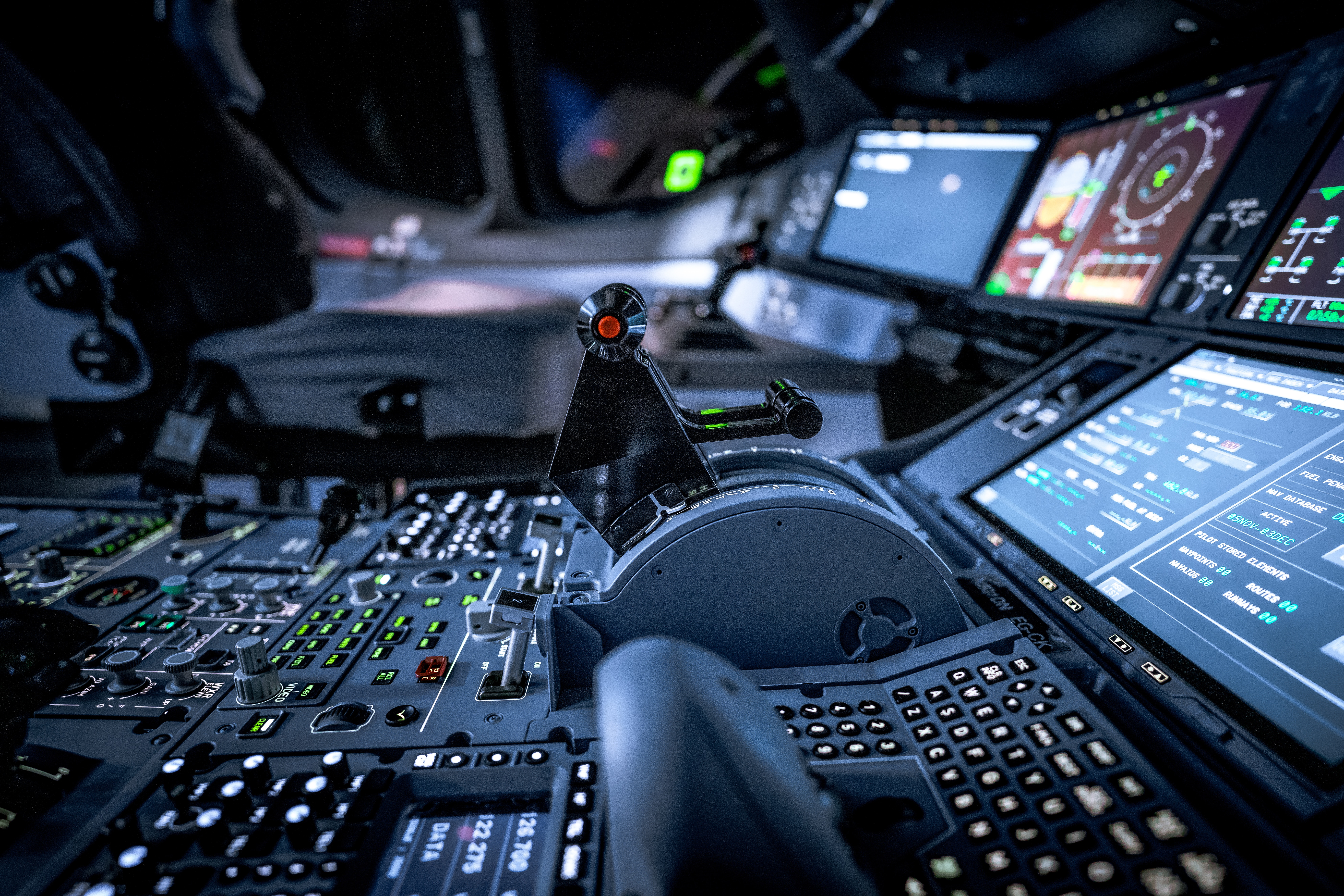 Close up view of helicopter cockpit with controls.
Printed Circuit Boards
One of the most common components found in mil-aero devices are printed circuit boards (PCBs), and in the case of mass production, printed circuit boards are absolutely part of the equation. Many of these devices require digital controls and modern communication components, and the PCBs form the backbone of such equipment.
Circuit boards on mil-aero devices are manufactured in either single pieces or as parts in arrays. An array is either multiple pieces or single with waste material framing the part for ease of production. For large-volume orders, it is easier for your contract manufacturer (CM) to assemble multiple parts within a frame at a time. The wasted area or frame is used as a transport rail for the assembly process. The arrays on mil-aero devices are going to come in many different shapes, sizes, and designs to best function during the production and assembly process. Despite that, a handful of commonalities exist across the spectrum, and it's important to have access to printed circuit boards that can adapt to such a range of applications while universally conforming to the general standards.
Cable Assemblies
Any PCB needs the ability to obtain power or communicate with the rest of the system, and for that, cable assemblies are a critical part of the design. Cable assemblies are required for low-voltage systems, high-power applications, data, communications, and even high-frequency products like radar and electronic warfare systems.
In general, cable assemblies are everywhere in mil-aero hardware, and high-quality cable assemblies are integral for a reliable system. Most military and aerospace wiring harnesses are constructed of materials that are rated for both extremely high and low temperatures, and able to survive exposure to corrosive chemicals, fuels, oils, and cleaning agents. The cable must also survive rough handling, shock and vibration, and years of abuse in harsh environments.
Copper wires are as common in the military and aerospace industries as they are in the ubiquitous consumer products, we use every day. There are differences, however, such as the wire insulation or jacketing and the corrosion-inhibiting coatings applied to the copper conductor wires. Military and aerospace wiring is most commonly PTFE or Teflon jacketed cables with silver- or nickel-plated copper conductors, whereas commercial grade products usually use PVC jacketed cables with tinned copper conductors. The driving factor behind the differences is the high-temperature stability of PTFE insulation and the corrosion-inhibiting properties of silver and nickel.
Polarized and locking connectors are common in both mil-aero applications as well as the everyday cables we use at home and at work. However, military and aerospace applications frequently use 38999-style circular connectors that are highly complex, wildly robust, and usually hard to find. Many of the industry-leading connector OEMs interestingly offer commercial-grade equivalents for many of the tried-and-true interconnect 38999 connector families. It's no problem to use a military-grade connector on a commercial application- it just may cost a bit more.
Custom Battery Packs
Custom Battery packs are more and more common in mil-aero technology with each passing day. As battery technology continues to improve, innovators and engineers find increasingly interesting and creative ways to capitalize on those improvements.
As a result, you will see battery packs in countless mil-aero applications. The sizes, power outputs, durations, and connection types used by these battery packs vary just as widely as everything else in this industry.
But, if we want to look at common design elements across the vast landscape of mil-aero battery packs, then there are a few themes that are obvious.
The first is universal to all design elements in this space. Mil-aero devices need durable battery packs. These are battery packs that can hold up just fine under the extreme stresses and environments that often come up in mil-aero applications.
A second universal design element is battery life. All things being equal, the battery that lasts longer is better. That means that mil-aero devices are going to gravitate towards the most energy-efficient battery designs because they tend to offer longer battery life in smaller, lighter packages.
A third universal design element relates to interchangeability. Because batteries inevitably drain over time, many devices benefit from the ability to rapidly swap battery packs between uses. Hot-swapping is also frequently desirable, so the more interchangeable the battery pack design, the better.
Human Machine Interfaces
User interfaces are a broad range of products that cover everything from complex touch panels, to embedded systems capable of producing sound, lights, and haptic feedback, to the simplest of rubber keypad designs. Human-to-Machine Interfaces (HMIs) are diverse and are used quite literally everywhere in the military and aerospace industries. You have drones that are controlled by joysticks and laptop keyboards, and aircraft that are flown using night vision-compliant buttons, all of which need high-reliability user interface designs to function.
In their simpler forms, membrane switches are a common and cost-effective option for the volume and brightness controls on most narrow-body aircraft. These membrane switches are nearly identical to the commercial versions used throughout consumer and industrial products, with their only differences being the amount and types of shielding added.
Fundamentally, all user interface devices need to work intuitively with a diverse set of operators, in a range of conditions, across the entire globe. Keypads and touchscreens must be configured to be used with heavy gloves, in freezing rain and snow, and in the hottest and dustiest of places on earth. Energy-efficient heaters can be added to sensitive electronics that cannot operate in extreme cold. All of these technologies are wildly common in commercial products, with the mil-aero versions being qualified to a stricter set of requirements for parameters such as operating temperature, radiated emissions, and waterproofness.
Summary
Understanding these common component design elements can help you think about your technology and how to get the most from it. But there's no getting around the fact that mil-aero devices have to be adaptable and have to fill very niche roles.
When you want hardware that meets specific requirements while adhering to universal principles, then you need a supplier that is up to this challenge, and Epec is that supplier. Check out our product solutions or contact us to see that you can access specific technology for wide range of purposes, all in one convenient place.