Emerging from the COVID-19 pandemic has been especially challenging for many electronics manufacturers. As the world's production flood gates opened, deliveries that were on hold for the past year are now being asked to be rushed and pulled ahead.
Just as the toilet paper craze of the early days of lockdown, huge influxes in electronics manufacturing demand have driven up the prices of components, commodities, and other specialty materials. Meanwhile, the global inventory for these manufacturing ingredients is being rapidly consumed shifting the economics of the industry. Tier 3 and tier 4 suppliers have been unable to meet their scheduled ship dates, creating a domino effect of material shortages being felt at tier 1 and OEM levels of manufacturing.
Changes to the Global Supply Chain
Cable assembly manufacturing has been especially impacted by the surge in demand triggering large pricing swings in raw materials. Copper prices have nearly doubled year over year, hitting an all-time high in May 2021.The companies that have taken a proactive approach to risk mitigation and hedged against cost and sourcing risk are able to best respond to the rapid changes in the global supply chain today. With the federal interest rate currently near zero, the cost of money and overall cost of business is expected to continue to rise for the foreseeable future. Many smaller manufacturers and electronics brokers simply do not have the buying power, global footprint, and liquidity to support the pace of business today.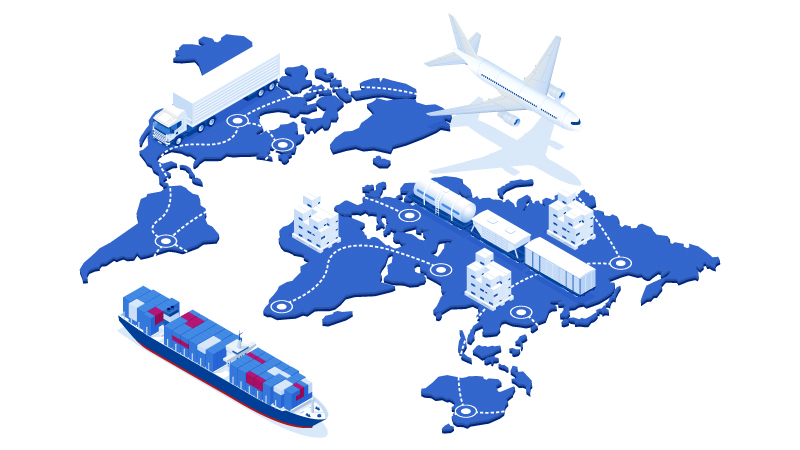 Logistics plays a major role in today's global economy.
With disruptions to the global supply chain, tier 1s and OEMs have been left scrambling to find inventory, expediting partial shipments and trying to dual source critical components. Others are forced to find new supply chain partners that have capacity and are taking on new projects. Shifting one or two cable assemblies to a new vendor is straightforward but what happens if you must move all of your cable harnesses to another vendor? Moving dozens of P/Ns must be done in a calculated and strategic fashion, otherwise scrap and delays can occur compounding the post-COVID-19 manufacturing quagmire.
Cable assembly manufacturers that can rapidly scale from prototype manufacturing to volume manufacturing are best positioned to take on complex manufacturing assemblies and execute in today's landscape.
Manufacturing Assessment
To successfully scale from prototype to high-volume production, wire harness manufacturers must be capable of managing the operations, quality, and technical requirements of the project. Manufacturers must be nimble enough to fabricate samples in a few weeks, but large enough to carry months' worth of inventory.
Effective cable assembly manufacturers have established business processes in place that can accelerate material when it is needed or analyze nonconformances when rework is required. These manufacturers also have large diverse labor pools, global supply chains, and highly experienced technical resources that can offer design consultation to remedy a potential issue before it's too late.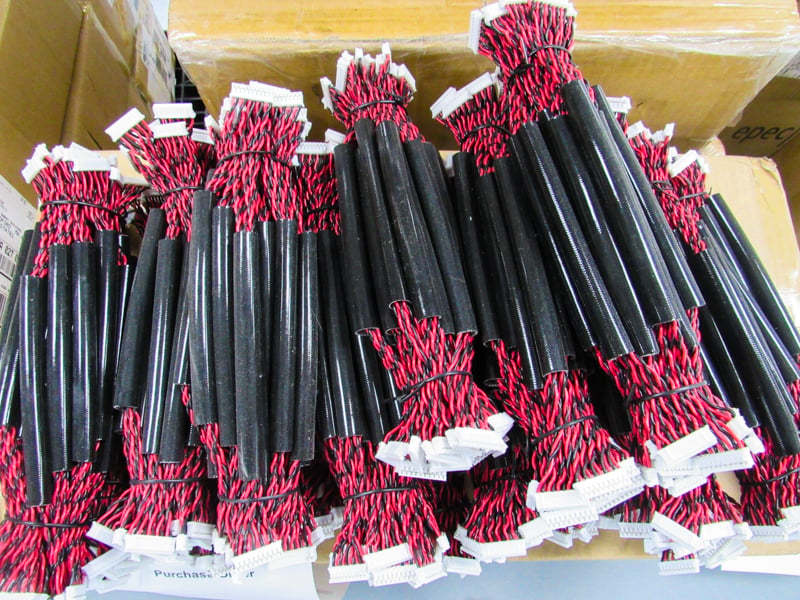 Packaging options for high volume production runs.
But none of these preparations matter if you simply cannot get the material that you need! Taking a snapshot of today's major online electronics distributors, hundreds of common components such as terminals and housings have zero stock available.
Many of these components are crimp terminals that are used in entire families of connectors. This means that all wire harnesses that use a particular manufacturer's family of connectors will have no available crimp terminals on the open market for purchase. Now what if you've spent the last year working to formally qualify a particular 22AWG female automotive connector and you can't buy another 100 to finish your validation testing? This unexpected shortage will have a direct impact on the cost and schedule of your program with few options to recover. Using form, fit, function equivalent wire and components may be an option to recover lost time.
Form, Fit, Function Equivalency
The fast-paced production cycle of cable manufacturing means that if you have a sourcing challenge 3 weeks into your 6-week production lead-time, having the supporting cast in place to quickly mitigate whatever challenge exists can be the difference between making a shipment and missing a commitment. Additionally, having the material you need when you need it (ideally sitting in inventory) is equally as important.
Cable assembly manufacturers that extrude their own UL-approved wire and injection mold their own connectors offer a unique value proposition during times of global supply chain stagnation. This capability allows vertically integrated harness manufacturers to deliver products when others go line-down.
Many basic harnesses use UL-approved wire that meets various electrical and performance standards. Most circuits will function with 300V rated wire that can operate up to 80°C- implying a UL1007 single conductor or UL2517 multiconductor cable will suffice. These UL extruded cables can be further customized into whatever arrangement of conductor size, jacket color, and cross-section that is desired to support the final design requirements. The complexity of the cable can be increased by adding differential pairs or individually shielded legs within the bundle. It's important to note that minimum order quantities can apply for custom extrusions, including specialty shielding and multiconductor arrangements.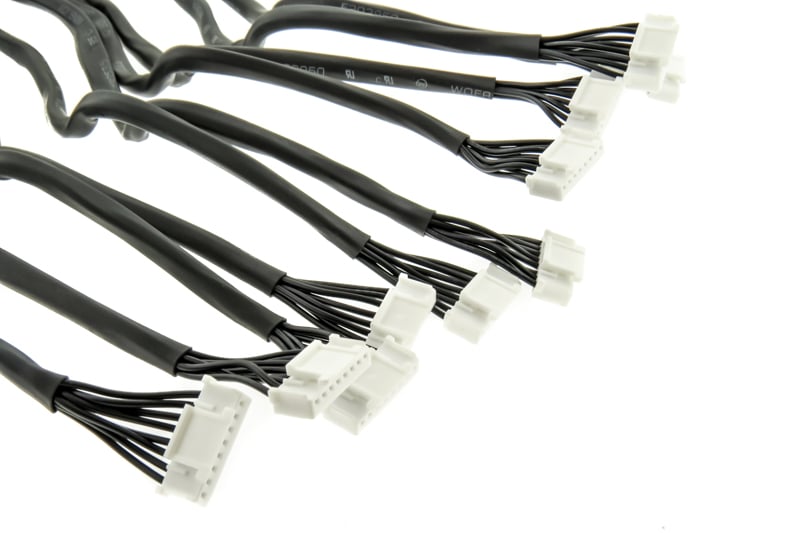 Single row low complexity housings are ideal candidates for substitutions.
If the connector housing or crimp terminal is the critical shortage on your line of balance, manufacturers that manage a vast portfolio of equivalent connectors can offer schedule relief if substitute connectors are allowed. Not all connectors have an existing form, fit, and function equivalent connector, but most single and dual row name-brand connectors have a corresponding cross-referenced equivalent connector. Many equivalent connectors are designed to be a drop-in replacement and can mate directly with the corresponding name-brand plug or jack. Equivalent connectors should be fit-checked during initial development before moving to high volume production. Diversified manufacturers that are vertically integrated with global supply chains can weather today's supply chain challenges and offer solutions when many other electronics manufacturers struggle.
Summary
In the wake of the COVID-19 pandemic, supply chain risk and sourcing challenges are commonplace for all electronics manufacturers. Cable assemblies are especially susceptible to supply chain risk because of their shipping weight, their copper content, and their use of off-the-shelf connectors.
Manufacturers continue to struggle to reach their pre-COVID-19 production volumes largely due to labor shortages since staffing levels at many manufacturers are still less than 40% of pre-COVID-19 levels.
Normal component lead times of 4-6 weeks have tripled and are now 20 weeks or more. Cost risks are pushing commodity managers to accelerate long-term sourcing agreements and pull deliveries ahead to mitigate pricing volatility. Rising transportation expenses and shipping container shortages are expected to have a lasting ripple effect on the global supply chain.
Labor shortages will continue to pressure manufacturing costs and extend lead times, with impacts being felt at all levels of the supply chain. With so many disruptions, many cable assembly manufacturers are unable to support the pace of business today as the world emerges from the COVID-19 pandemic. Diversified global manufacturing partners like Epec offer the engineering, logistics, and warehousing support that is necessary to weather the storm and deliver products on schedule.