There are countless details that must be explored before moving into high-volume production for custom cable assemblies. And, if manufacturing is expected to occur offshore, there are even more considerations aside from the 12-hour time change, geographical distance, and language barrier.
At Epec, we are experts in designing and manufacturing high-reliability custom electronics, especially those produced in Asia. We recognize that not all our customers are familiar with the logistical and manufacturing details for Asian builds, and we can help change that. In fact, for many of our newer customers who are unfamiliar with Asian production, it can quickly become overwhelming or seem risky.
Some common questions we field are: "How can I agree to buy 2,000 cable assemblies when I haven't even performed a fit check?" or "Why did my lead time increase by a month due to a holiday?"
It's natural to be apprehensive when facing something outside one's comfort zone. That's why before we started brainstorming topics for this blog post, we sought perspective from experts in the trenches who regularly help resolve many of the challenges this post describes. That group is Epec's Customer Service Team. These women are responsible for setting delivery expectations for your new order. That's not all. They often are the first to answer an anxious customer's request or field a call when something goes wrong. Their patience under fire, awareness of all steps in the manufacturing process, and enormous pool of experiences on what not to do, made Epec's Customer Service Team the ideal group to engage before writing this blog post. After all, if this post helps just one customer get into high-volume production faster, then it has served its purpose. So, thank you to the entire Epec Customer Service Team.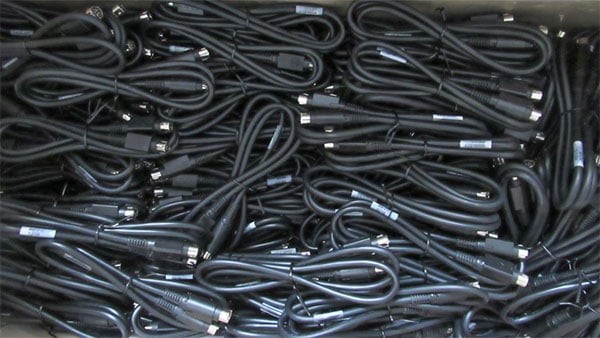 Example of high-volume production of cable assemblies.
Schedule Impacts
The first question one should ask is: "Do I have enough time to build these cable assemblies offshore?" If you need samples next week, there may be a better option for your demand. Not that it takes an exorbitant amount of time for Asian builds, but in a pure geographical sense, these items will be produced 8,000 miles away and involve clearing customs before they can be delivered. Assuming air freight, of the quoted 5-6 weeks manufacturing time which is typical for this type of product, about 1/3 of this time can be just to ship and clear customs. Now consider if these products are heavy or carry air travel restrictions. If an ocean freight shipping container is needed, the 5-6 weeks could turn into months. You should always engage your manufacturing partner or freight forwarder to review the best way to ship the product overseas to make certain the shipping time is accounted for.
Another important consideration is the risk of extreme lead times associated with raw materials, components, or bulk wire. It's not uncommon for specialty PCBA components to have 50+ week lead times. Where possible, consider specifying a more readily available option. Other components may be approaching end of life (EOL) which can further snarl your expected delivery schedule. If your cable design calls out wire and connectors that are readily available in Asia, the production lead time will probably follow that of other similar products. However, if there is an item that must be sourced outside Asia and imported for assembly, take note! Electronics imported to Asia will go through customs and will encounter multiple logistical processes along the way. Don't let that thermoelectric module that is only available from one vendor in Great Britain impact your critical path!
Here in the United States, it's common to experience a brief holiday shutdown around the end of December and continuing into the first few days of January. Some parts of our country will shut down manufacturing around summer holidays like July 4, for example. The same holds true in Asia. Asian holidays will disrupt your schedule if not properly planned. Most factories are shut down about one week for the Chinese New Year (usually the first week of February), and during National Week (the first week of October). While the exact dates will vary from year to year, these holidays will delay production and exportation, so it's best to plan for these accordingly.
Manufacturing Impacts
High-volume manufacturing is an extremely complex process that involves a robust supply chain of material, complex automated equipment, and a skilled workforce. For full-rate production builds, material can be sourced efficiently, and machinery can be level loaded. This is the environment that creates the need for a minimum order quantity (MOQ). But for first time builds, it's equally critical to build a small lot to prove out the design, tooling, and process before consuming thousands of dollars' worth of material. What good are 5,000 cables that don't mate with your assembly?
This is why Epec employs the sampling process for any first time builds. Upon receipt of a production purchase order that satisfies MOQs, we will tool up 5-10 samples that can be used as first articles or for fit checks. Many times, these parts are produced using production tooling. This means these cables will look and perform exactly as the high-rate production parts would, but without a five-figure scrap cost if changes are needed. If the cable overmold dimension needs to be increased, or wire length needs to be reduced, the effective use of the Epec sampling process can drive out cost and lead time risk for your high-volume cable build.
Another important design consideration for high-volume cable production is a clear understanding of who has design authority for these cables. For many projects, Epec can help decide on the form, fit, or function impact on your design if a change is required. But for most of our projects, our customer holds design authority. If a change is needed or an alternate component must be considered, knowing the path to design approval can be just as important as where the cables are made. This is especially important if an equivalent substitute wire or component is to be used. By providing physical samples built with the equivalent components, whoever holds design authority should be able to evaluate and provide the proper approval. Bypassing these samples before moving into high-volume production is extremely risky and not recommended.