With thousands of wire types, cross-sections, and material combinations, there is no shortage of options available to engineers when selecting low-voltage cables for automotive applications. Kicking off any new design project will require a careful review of the program requirements, timeline restrictions, and budget constraints.
Fortunately, there are several low-cost SAE-approved wire types that are resilient enough for the harshest of conditions faced on roads and highways.
Typical Design Considerations for Automotive Applications
For automotive products, engineers design products that must be durable and also need to work across a wide range of temperatures. This includes conditions well in excess of 100°C to well below 0°C. These types of devices and products must operate in direct sunlight, underneath the hood of an automobile, or in some other elevated temperature or freezing section of the vehicle.
Additionally, there is potential exposure to harsh chemicals such as automotive fluids, gasoline, oils, and fuels. Automotive products generally need to be low-cost to satisfy the needs of the end consumer. Design flexibility is a major plus given that automobiles come in a variety of different options, sizes, vehicle types, etc. Lastly, because of the high volumes in automotive production products need to be designed in a way that they can be built cost-effectively and reliably in high volume productions that can exceed production quantities of over 1 million units per year.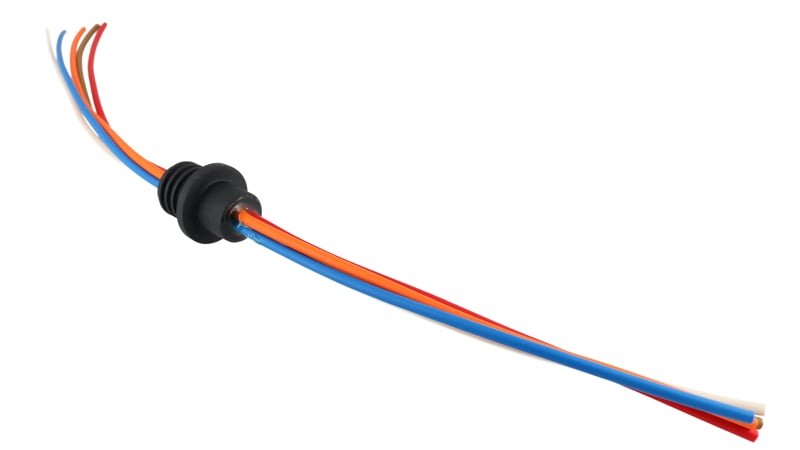 Custom overmolded cable with GXL wire.
Types of Environmental Conditions
One of the most damaging environmental conditions is vibration induced by the vehicle. This can be transportation-induced vibration, such as the rough ride experienced by a truck on a bumpy highway. This can also be the low-frequency vibration from an engine, especially diesel engines. These types of vibrations can be induced by the pavement, potholes, and other things on the roadway.
System resonances within the vehicle can impart high energy low-frequency vibrations on fragile system components. We've all been driving a vehicle that seems to shake around 65 mph on the highway, but then stops when you accelerate or slow down and stay away from that range of speeds that are inducing the shaking. Usually characterized by poor front-end alignment, this type of resonance can induce additional fatigue in delicate wiring systems.
Additionally, automotive harnesses must survive extreme temperature swings. Starting a vehicle in the mid-winter cold will force engine components to operate below freezing and approach the range of their lower temperature limits. As the engine quickly warms and all adjacent materials begin to warm, components and wiring can be subjected to a significant thermal shock event with temperatures rapidly rising creating thermal expansion. If a wiring harness comes into close contact with an engine that is running, the wiring harness can be burned or melted with direct exposure to extreme heat. All in all, there's a tremendous amount of abuse and wear and tear experienced by automotive wire harnesses and their reliability is a major concern for both automotive manufacturers and the end-user.
Preferred Characteristics for Bulk Wire in Assemblies
One of the primary benefits of using an automotive-rated bulk wire is that it has inherent high-temperature resilience. These cable assemblies are designed to survive repeated exposure to temperatures in excess of 125°C. These types of harnesses must also have a tough outer jacket and insulation material that can survive repeated exposures to abrasive parts of the engine compartment and other moving parts of the system.
Wire fatigue, fretting, and abrasion is all concerns for this type of wire assembly. As the wire is run through different portions of the vehicle, it may come in close contact with the chassis, frame, and other rigid members that can over time wear away the delicate insulation on these types of wire harnesses. Because of this, maintaining a flexible wire cross-section while still being tough and abrasion-resistant is another one of the most critical design requirements for automotive wire.
Additionally, these types of wire harnesses must survive occasional exposure to common automotive fluids and chemicals. This does not mean the wire harness must survive prolonged submerged exposures to gasoline or immersed in harsh fluids, but it must survive short-term exposure to these types of materials, contaminants, and fluids. If automotive wire harnesses are subjected to these types of fluids and chemicals, the wire jacket must remain intact with minimal performance degradation. SAE defines the pass/fail criteria for automotive fluids exposure as a change in the outer diameter of the wire jacket. If this dimension swells too much during or after exposure, the electrical and thermal properties of the wire may be compromised, and the wire deemed unsatisfactory.
From an operational voltage perspective, automotive harnesses typically operate within electrical systems that support 50 VDC or less. Some systems within the vehicles such as the USB charging ports may operate at voltages even lower than 12 VDC. Since most vehicles are operated with a 12 VDC primary battery, the majority of electrical systems do not need to operate above 12 VDC. Accordingly, low voltage wiring that is rated for 50 VDC or 60 VDC is suitable for automotive electrical systems.
Appropriate SAE Specs
SAE, which was founded as the Society of Automotive Engineers, has created a specification that covers low voltage electrical wiring to be used in vehicles. SAE J1128 defines several wire types that meet these specifications. SXL, GXL, and TXL wire are among the most common material types and remain the industry standard for high reliability wire harnesses to be used in automotive applications.
These wire jacket materials are cross-linked polymers and have excellent abrasion resistance for their given flexibility. Within the family of cross-linked polymers compliant with SAE J1128, GXL and TXL are the most common wire types. Since GXL and TXL wires are cross-linked polyethylene, these thermoplastic cables are similar to standard PVC jacketed cables but with advanced resilience to temperature and abrasion resistance.
One of the other benefits of using SAE J1128 compliant GXL and TXL wire is the fact that the jackets are resilient to automotive fluids and chemicals. Per SAE, these wire jackets must withstand exposure to heated fluids such as engine oil, gasoline, ethanol, diesel fuel, power steering fluid, transmission fluid, coolant, and even battery acid. After exposure to these chemicals, the jacket material cannot swell beyond a certain allowable amount as defined by SAE.
GXL and TXL Wire Use Beyond Automotive Applications
GXL and TXL wire are not just for automotive applications, but they can in fact be used for any industry that demands a high-reliability product, at a low price, with resilience to engine fluids, high temperatures, and rough handling. This wire type is wildly appropriate for use in marine environments, industrial equipment, heavy machinery, farming equipment, and even offshore drilling and exploration activities.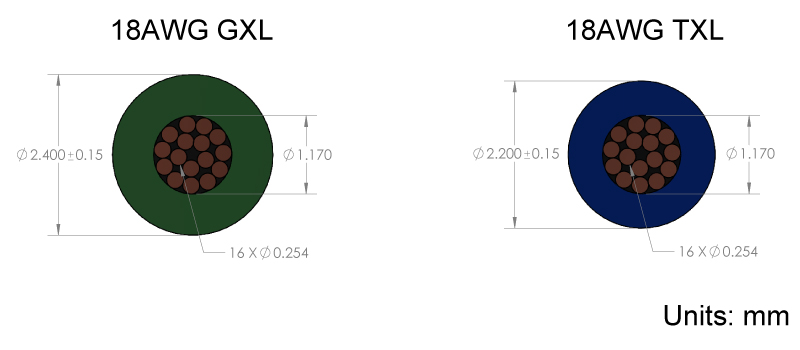 18AWG TXL and 18AWG GXL wire comparison.
GXL and TXL wire types are like other single conductor wires and are easy to terminate and assemble. Single conductor discrete wires can be crimped or soldered to almost any type of connector body style. GXL and TXL wires are similar to ordinary UL-approved hookup wiring that's used throughout electronics manufacturing.
GXL Wire Specifications
Conductor
Insulation
AWG‐No.
Construction
CON. IA
Thickness
Diameter
20
12/0.254
1.02
0.58
2.2
18
16/0.254
1.17
0.58
2.4
16
26/0.254
1.5
0.58
2.6
14
41/0.254
1.88
0.58
3
12
65/0.254
2.37
0.66
3.6
10
105/0.254
2.87
0.79
4.5
Material of Conductor:
Stranded Tinned Copper
Rated Temperature:
125°C
Rated Voltage:
60V
Material of Insulator:
XL PE
Color(s):
Black, Brown, Red, Orange, Yellow, Green, Blue, Purple, Gray, White, Pink
Marking:
No Marking
TXL Wire Specifications
Conductor
Insulation
AWG‐No.
Construction
CON.DIA
Thickness
Diameter
24
7/0.20
0.61
0.4
1.5
22
7/0.254
0.78
0.4
1.7
20
12/0.254
1.02
0.4
1.9
18
16/0.254
1.17
0.4
2.2
16
26/0.254
1.5
0.4
2.4
14
41/0.254
1.88
0.4
2.7
12
65/0.254
2.37
0.45
3.3
Material of Conductor:
Stranded Tinned Copper
Rated Temperature:
125°C
Rated Voltage:
60V
Material of Insulator:
XL PE
Color(s):
Black, Brown, Red, Orange, Yellow, Green, Blue, Purple, Gray, White, Pink
Marking:
No Marking
If costs and timelines support, customized versions of GXL and TXL wire are possible. This can include creating a custom multi-conductor bundle from several GXL or TXL wires and even extruding custom jacket diameters for specific applications to match an existing design. By keeping the same outer diameter, custom wire extrusions can match an existing overmold tool allowing for a reduction in tooling expense and development timelines. In theory, this is all possible by a simple change of an extrusion die during the wire extrusion process. As is true with any custom run within the manufacturing industry, samples are necessary to validate the design before high volume production.
Summary
SXL, GXL, and TXL wire types remain an inexpensive, flexible, tough, and proven design that's not just appropriate for automotive applications but can be used anywhere that a high-reliability low-cost solution is needed. Following SAE guidance for wire jacket materials remains the standard for harness design for many industries outside the automotive industry. Early engagement with a full-service cable assembly manufacturing partner like Epec can help review design constraints before they become high-risk and impact program plans.