In the flexible printed circuit board manufacturing process, a flex circuit coverlay (aka coverfilm) is used to encapsulate and protect the external circuitry of a flexible circuit board.
A flexible circuit coverlay serves the exact same function as solder mask that is used on a rigid printed circuit board. The difference with a flex coverlay is the needed element of flexibility and durability it provides to the flex PCB design.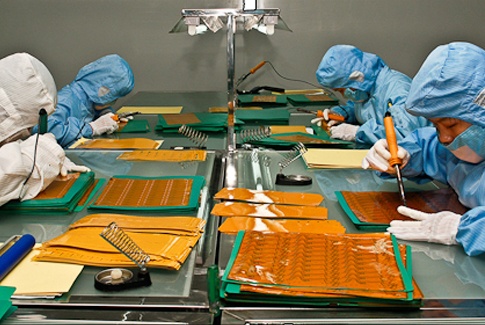 Polyimide Coverlays Aligned and Tacked Into Place On Production Panels Prior To
Coverlay Lamination Process.
The coverlay consists of a solid sheet of polyimide with a layer of flexible adhesive that is then laminated under heat and pressurized to the circuit surfaces. The required component feature openings are mechanically created using drilling, routing, or laser cutting.
Typical coverlay thickness is 0.001" polyimide with 0.001" of adhesive. Thicknesses of 0.0005" & 0.002" are available, but only used as needed to meet specific design requirements. Now that you know the basics, it's time to go more in depth on coverlay considerations!
For more information visit our website to learn more about our flex & rigid-flex PCB manufacturing process or check out our free Flex PCB design guide!