The shelf life of a rechargeable nickel metal hydride (NiMH) battery will vary depending on the storage temperature and the size of any attached load. The battery shelf life will also vary by manufacturer. Panasonic recommends the following for their NiMH battery cells.

Battery Storage Temperature & Humidity (short-term)
You should store NiMH batteries in a dry location with low humidity, no corrosive gases, and at a temperature range of -20°C to +45°C. Storing batteries in a location where humidity is extremely high or where temperatures fall below - 20°C or rise above +45°C can lead to the rusting of metallic parts and battery leakage due to expansion or contraction in parts composed of organic materials.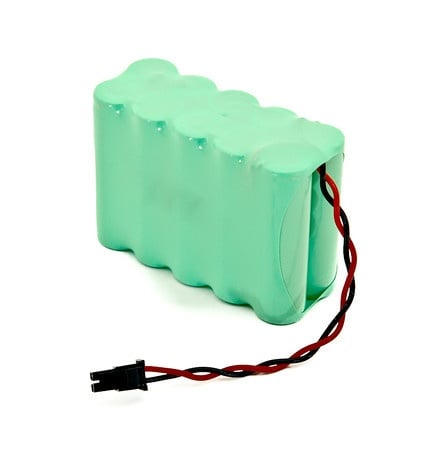 Nickel Metal Hydride Battery Pack For a Medical Application
Long-term Battery Storage (1 year, -20°C to +35°C)
Due to the fact that long-term storage can accelerate battery self-discharge and lead to the deactivation of reactants, locations where the temperature ranges between +10°C and +30°C are suitable for long-term storage.
When charging for the first time after long-term storage, deactivation of reactants may lead to increased battery voltage and decreased battery capacity. To restore batteries to original performance repeat several cycles of charging and discharging. When storing batteries for more than 1 year, be sure to charge at least once a year to prevent leakage and deterioration in performance due to self-discharging.
Visit our website to learn more about custom batteries and nickel battery technologies.