In the modern engineering landscape, computer-aided design (CAD) serves as an invaluable resource for crafting complex systems like custom cable assemblies. Offering an all-encompassing three-dimensional perspective of the assembly, CAD provides engineers with the ability to experiment and iterate on their designs much more efficiently than ever before.
Mechanical features such as overmolds and strain reliefs can be intricately designed to improve the assembly's overall robustness. In addition, CAD opens the door to high levels of customization, allowing engineers to then share the data amongst peers and vendors.
The Remarkable Evolution of CAD Software
If we turn back the clock 25 years, CAD software used to model cable drawings was a far cry from what we know today. Earlier iterations primarily focused on two-dimensional drawings and lacked the integrated, smart capabilities of today's versions. Contemporary CAD software not only supports multi-dimensional modeling but also boasts real-time collaboration features. Today's platforms have the capability to be integrated with other types of software, like simulation and product lifecycle management tools, creating a seamless design experience.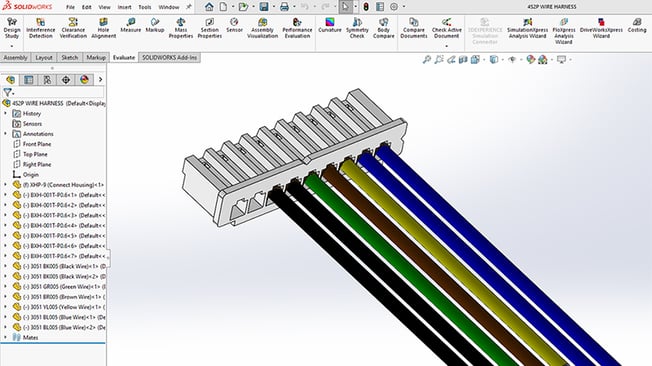 CAD showing isometric view of wire harness.
A Look at Leading CAD Software Options
When it comes to cable harness design options for CAD software, Autodesk's AutoCAD and Inventor are among the most commonly used programs. AutoCAD offers an all-encompassing interface and a comprehensive library of common parts, making it easier to design with off-the-shelf hardware.
Inventor takes this a step further by offering powerful simulation capabilities such as FEA and stress modeling. Another powerful contender is Creo by PTC, which is known for their annual Liveworx Digital Transformation event. PTC offers a broad suite of features that adapt to projects of different complexities. SolidWorks by Dassault Systèmes is another common modeling program, revered for its 3D design capabilities and specialized add-ons that serve a variety of industry needs, especially custom cable assemblies.
PCB Design Software's Crucial Contribution
While CAD focuses broadly on design and solid modeling aspects, printed circuit board (PCB) design software offers electrical schematic and circuit design features that help design the most complex of circuits. Engineers can use these tools to quickly develop detailed engineering data essential for wire harness manufacturing. With a simple design input, the software automates the generation of essential deliverables like the Bill of Materials (BOM), schematic diagrams, and wire lists, leading to quicker turnaround times and reduced likelihood of human errors. The software can even optimize wire routing and pinout assignments, effectively streamlining the production process. The faster an electrical schematic can be frozen; the sooner parts can be fabricated.
Current Favorites in PCB Design Software
In terms of PCB design software, Altium Designer leads the pack with its comprehensive feature set and intuitive interface. On the other hand, Autodesk's EAGLE may not offer all the bells and whistles but has a legacy of reliability that makes it a strong choice for simpler projects. Unfortunately, old faithful software tools must too be put out to pasture eventually, as they and the systems that ran them become obsolete.
Software Can Make a Cable Assembly Engineering Drawing
A manufacturing drawing for a custom cable assembly is a multi-faceted document. Usually produced in some CAD design software, and eventually converted into a PDF, the engineering proof should be able to sufficiently define the requirements and build. It not only lists the Bill of Materials, detailing each component's specifications but also includes schematic or wiring diagrams to outline the electrical connections. 2D drawings give precise measurements of cable lengths, and while not mandatory, isometric 3D views can offer invaluable spatial context.
Additionally, drawing notes, balloons, and other requirements are usually included to guide the manufacturing process and critical requirements.

Drawing notes and bill of materials data are easily managed within the software.
If you're in the business of designing cable assemblies, specialized software tools are available. SolidWorks Electrical Professional is tailored for electrical and cable design projects. AutoCAD Electrical extends the power of AutoCAD to electrical engineering, providing an array of tools to efficiently create electrical drawings. PTC Creo Schematics is also a robust solution, offering a wide range of features suitable for both electrical and piping schematics.
Weighing the Pros and Cons of Specialized Software
Using leading software packages for cable assembly design offers several benefits, including quick and efficient design, ease of modification, and the ability to perform virtual fit checks before actual manufacturing. These software solutions also offer the flexibility to output data in multiple formats that can be used at different stages of the project. Many can even import file formats from other software and convert them into a usable format. These modeling programs can open and manipulate .DXF, .PDF, .XLS, and most importantly .STP format which stands for segmentation, targeting, and positioning.
However, the advantages of solid modeling come with roadblocks and budgeting concerns. The first concern is the high costs of acquisition, with some licenses and subscriptions costing tens of thousands of dollars. And there is the fact that you need a machine powerful enough to run the program, and not be bogged down by insufficient computing power. Then you need to try and decipher the costs associated with the recurring nature of SaaS-based pricing models and other complexities surrounding software licensing agreements. And by the way, don't forget you need hundreds of hours of CAD experience to be fluent. While most available software tools are user-friendly, experience is still needed to be able to effectively design and model products and take advantage of the software's capabilities.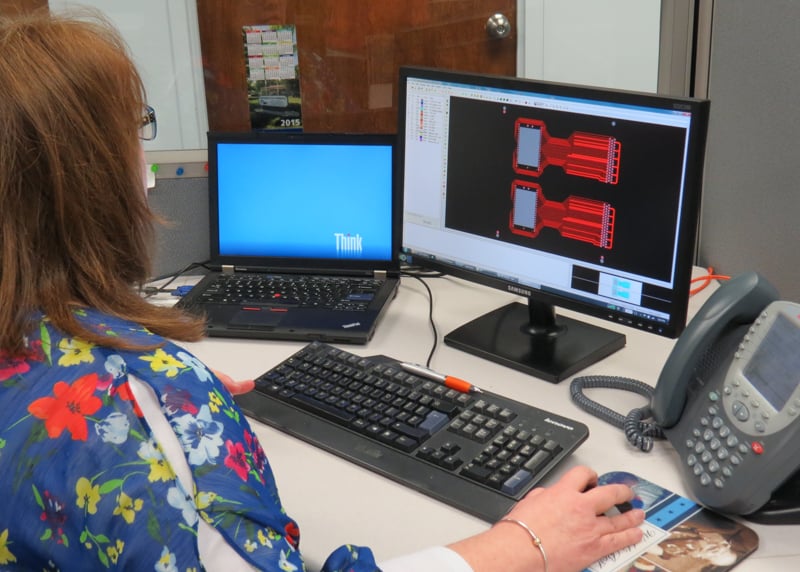 Drafting, PCB layout, and mechanical design are all simplified with the right software package.
When Specialized Software is Out of Reach
If access to specialized cable assembly design software is not possible, there are still ways to produce workable designs. Even basic tools like Microsoft Paint can be used to draft preliminary sketches.
Software like Microsoft Excel and PowerPoint can be creatively employed to generate Bills of Materials and rudimentary diagrams, respectively. And if all else fails, a hand-drawn sketch will suffice. Moreover, full-service manufacturers like Epec can provide comprehensive design and documentation services for custom cable assemblies.
Summary
Advances in CAD and PCB design software have been game-changers in the field of engineering, especially in designing custom cable assemblies. Despite the high entry barriers in terms of costs and training, the advantages they offer are immense. And for those who can't access specialized software, there are always alternative methods and third-party services to fall back on.