Navigating the complex tapestry of cable assembly manufacturing is akin to completing an intricate jigsaw puzzle. At first glance, a jigsaw puzzle can be daunting, a kaleidoscope of colors and pieces. Some are edge pieces, easily identifiable, while others, with their myriad of shapes and hues, challenge even the most seasoned of puzzle enthusiasts.
And while this isn't the 1,000-piece puzzle that sits out on your dining room table for weeks on end, which by the way could be done faster if the puzzle box's cover was used for reference, building a custom cable assembly is very much like a puzzle and the Bill of Materials, also known as a BOM, is among the most important pieces of the puzzle.
Every piece in the puzzle, no matter how small or seemingly inconsequential, plays a pivotal role in realizing the final picture. Similarly, in wire harnesses, components such as crimp terminals, housings, backshells, etc., all have a specific purpose. An incorrectly sized terminal may not fit into the housing rendering the entire plug useless. Think of the missing puzzle piece that fell onto the carpet and is found weeks later. This single missing piece can ruin the 1,000-piece puzzle, and its absence disrupts the entire image. Analogous to a custom cable assembly build, the entire BOM is required to be kitted on the manufacturing floor before the cable can be completed.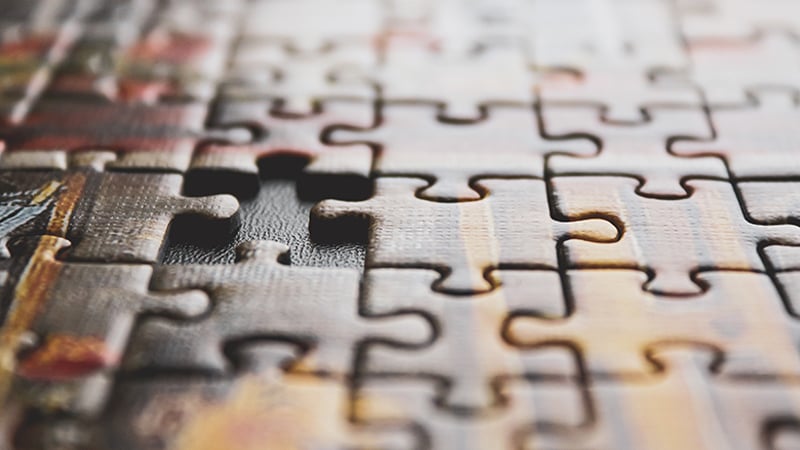 Building a complex wire harness with a bill of materials is akin to solving a puzzle.
Detailed and comprehensive, the BOM lays out each component's specifications both directly and indirectly. With a reliable BOM in hand, the ingredients and recipe of the cable assembly become clear, allowing assemblers to build the harness and complete the puzzle.
Understanding the BOM
The Bill of Materials is more than just a list. It contains useful manufacturing information, just like a recipe for baking cookies. For example, to make a batch you would need 2 cups of flour, ½ a teaspoon of salt, 1 teaspoon of baking soda, 1 cup of chocolate chips, a whole lot of butter, and now even more butter. This recipe for chocolate chip cookies could be referred to as a Bill of Materials, after all, since it provides a summarized list of all items needed, the quantity per batch, and the unit of measure for each. This is effectively what a Bill of Materials provides and allows technicians (not bakers) to manufacture custom cable harnesses reliably and quickly.

A simple but effective BOM should define the wire, connectors, and the number of materials required.
Item Number
The item number, or serial number, is the unique identifier of every component for the build and ensures there is no confusion between seemingly similar parts. The item number is typically listed on the BOM and corresponds to components on an isometric or exploded view drawing elsewhere in the data set. Many detailed assembly drawings include balloon notes that indicate where on the assembly each item is installed. Work instructions and other engineering documentation routinely refer back to the item numbers for additional drawing notes and requirements.
Part Number
Unlike the item number which is a unique identifier of an individual and sometimes sequential item, the part number identifies what the part is and is usually created by the original equipment manufacturer. A complete BOM usually lists out all manufacturer's part numbers as they would be purchased by this unique number. Some companies will create a reciprocating part number scheme where "internal part numbers" are assigned to help mask the true source of supply and orderable part numbers. This is ultimately used to protect intellectual property and is commonly used for builds where several vendors are involved and contribute to the manufacturing of products within the value chain.
Description
Adding a description column within a bill of materials is not always required but is considered an industry best practice. Truly one has the manufacturer's part number then that item could be researched to determine the description. Listing the description on a BOM helps team members quickly refer to the tabulated information and make decisions off this. Usually, the description listed in the BOM is a brief summary of what the item is and may include specific information such as 16AWG-18AWG ring terminal, or dual row housing.
Revision
A bill of materials may be revision-controlled, or list items at their approved revision level. During development engineers plan on making numerous revisions throughout the life of a product. As the design changes over time, proper revision control is necessary to make certain the latest and greatest data is being used. Usually engineering drawings and specifications have revisions, but bills of material can be revision controlled too.
Quantity Per Assembly
The number of widgets per assembly is among the most important pieces of information contained within a BOM. Quite literally this field within the BOM should define the quantity required to assemble one unit. This value is then entered into MRP (manufacturers' resource planning) systems that then plan work orders and help blow down demand for purchase requisitions. Some tabulated BOMs go as far as to indicate the cut lengths of items, and even account for a small overage referred to as an assembly allowance.
Unit of Measure
The quantity per assembly is only one piece of the puzzle. Buyers need to confirm the unit of measure as well before placing supplier POs and kitting components to the floor. What if you need 10 feet of wire and you accidentally ordered 10 rolls of wire? Or what if you need 100m of braided shield and 100mm was ordered? The most common cause for sourcing errors is that buyers unknowingly order the wrong unit of measure for a particular widget. The unit of measure must be clear and agreed upon by all stakeholders from engineering, to planning to the team actually assembling the parts on the floor. This is especially important since many items can be ordered in various forms- packs of 10, each, roll, tube, foot, etc.

Drawing notes can be added to a BOM to articulate details regarding the build.
Presenting the BOM
A well-organized BOM helps reduce errors and communicate the scope of work to other team members, vendors, and customers. BOMs are usually made in table form and are edited and managed using a Microsoft Excel spreadsheet. Its rows and columns, sortable data, and formula calculations make it the industry standard for many production floors. Using Excel (.XLSX) format also helps send editable technical data to other companies within your value stream. In fact, some companies cannot quote unless they are provided a tabulated BOM in Microsoft Excel format.
However, in spaces where consistency across different users is crucial, a PDF offers a standardized view. Yet, the crown jewel in BOM presentation is embedding it into the product's drawing. This synergistic approach means that design and components dance together on a single canvas, offering a holistic view of the product's lifecycle.
Summary
Many projects have stalled or failed because of issues related to a poorly generated and managed bill of materials. How do you know you ordered enough material if you cannot trust how much you actually need? How do you forecast a ship date if you're not sure if you have enough material on hand?
Having a clear bill of materials helps harness manufacturers quote faster and with more accuracy, it helps team members order the right amount of material, and it also enables planners to order a calculated amount of extra material so that if there is a scrap event or the wire is too short, changes can be quickly made allowing the team to recover.
Full-service manufacturers like Epec can help create and manage all documentation leading up to a fully defined production BOM. With a few select pieces of information, Epec can create a complete bill of materials, drawing, and data set to kick off any new custom wire harness build.