Custom medical cable assemblies are critical for today's healthcare system. Many lifesaving pieces of equipment can function because of the high reliability custom cables that are designed to operate in this demanding environment. Medical cable assemblies may be required to withstand exposure to harsh electromagnetic fields and sterilization procedures while also carrying a biocompatibility rating.
The high level of performance required for the medical industry will undoubtedly add complexity and cost. This additional cost is typically the investment in tooling and non-recurring expenses to develop and build the ideal custom widget. Making changes once design validation and verification is complete can be difficult and expensive. This fact is especially true if FDA approval is required.
Steps can be taken to mitigate many of these cost risks, but these steps must be taken early enough in development to avoid costly agency resubmittals. With proper planning and some creative approaches to product development, non-recurring costs can be reduced or even eliminated from your custom medical cable project.
Consider House Tooled Connectors
Many factories that perform cable assembly overmolding operations will maintain a diverse library of tooling and fixtures for common connectors. Called "house tooling," these molds will produce the desired connector shape without the lead time and cost investment that would be required for a custom tool. The factory will reluctantly make changes to any house tool since this may have a negative impacts on other projects that share this equipment. This means there is an opportunity to save NRE costs and lead time, but your design must work with whatever connector shape is produced from the house tool.
House tools are available for numerous industry standard interconnects such as USB, banana jacks, RCA plugs, HDMI, RJ45, etc. House tools are typically for the overmolded strain relief, providing a flexible but rugged union between the backside of the connector and bulk cable. House tools can also be an option for common injection molded connectors. Connector terminals are placed into a locating fixture as thermoplastic is injected into the tool. Once the equipment cools, a completed connector assembly can be pulled from the tool ready for use.
Specific to the medical industry, a select group of factories will maintain house tooling for connectors that are used in specialized healthcare equipment. Many of the major OEMs in the medical industry such as GE Healthcare, Phillips, and Siemens will have their own connector design that is used to throughout their elaborate systems. Epec maintains numerous connector house tools specific to the medical industry that can be used for your new development project. This includes 7-pin, 11-pin, and 12-pin configurations of common medical connectors.
If a house tool does not exist for your required connector design, there are still options. Even for a simple connector, the development activity for tooling can be quite involved. For example, 4 x custom tools would be required to build the 7-pin connector example below.
These custom tools include:
Stamping tool for the contact pins
Injection molding tool for the front connector body
Low pressure molding tool for the inner mold
Overmold tool for the rear connector body and strain relief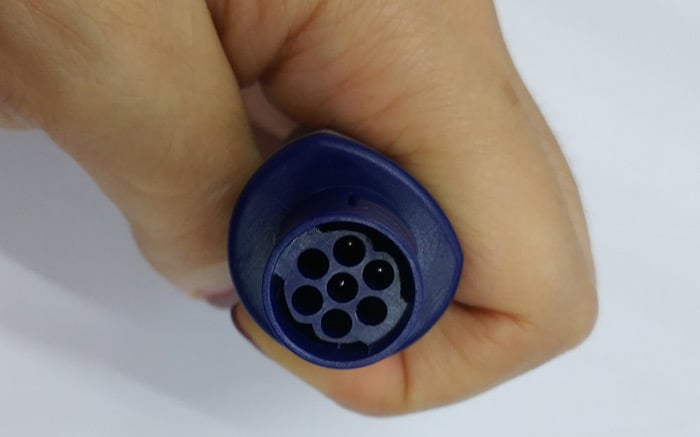 Example of medical cable connectors produced with house tooling.
Leverage Common Components and Wire
Connector, component, and wire manufacturers invest heavily to bring sophisticated designs to market. These specialty items typically offer some type of unique performance that is unavailable in their run-of-the-mill counterparts. For connectors, the unique performance might be a locking, waterproof, and EMI (electro-magnetic interference) shielded connector. For bulk wire, the jacket and shielding could be resilient to sterilization procedures, cleaning solvents, while carrying a biocompatibility rating. While these items can solve complicated design challenges, it is possible there are long lead times, minimum buys, or set-up costs involved. Many of these highly custom components are also single-sourced, creating supply chain and cost risks. By carefully analyzing the system requirements and design intent of your custom cable, it is possible to eliminate or at least manage these types of costs risks.
Connectors in medical applications must support low-voltage electrical signals, DC power, AC power, and even high-resolution video data. Additionally, connectors are designed for countless combinations of wire size, signal type, and pin count. This vast range in options means that if your project requires a 26-pin connector, with biocompatibility, an IP rating, and a polarized locking connector, there may only be a handful of connector options available to choose.
For projects with multiple connector designs, it is recommended to pool together all similar connectors requirements together to assess if 1 single connector will do the job of several in your application. For example, if you have a 4-wire, 8-wire, and 10-wire cable that mates with an equipment panel, can one connector design be used in all three cable bundles? Specifically, can a 10-pin connector be used on a 4-wire bundle (and leave 6 pins vacant)? Can this same 10-pin connector be used on an 8-wire bundle (and leave 2 pins vacant)? Using one 10-pin connector for all three cable legs can provide an overall cost savings to leverage greater economies of scale, and it also helps offset the impact of MOQs (minimum order quantities). If you only need 100 cables, and you preferred connector carries a MOQ of 500 pcs, using 3 connectors per assembly instead of 1 connector per assembly will help save cost, especially if these connectors are expensive.
This same concept of pooling similar connector schemes together can be considered for bulk wire, too. Since the medical industry demands high-performance cable materials, many of these items are built from custom runs of cable upon request. This means that spools of wire aren't typically sitting in stock waiting for demand (like many common UL hook up wires). Instead, wire extruders will build custom wire upon receipt of an order. Each custom run of wire can carry set-up and extrusion fees. Custom runs of wire are also subject to similar MOQ requirements that connectors face, with minimums of 1,000 to 5,000 meters. Can your cable use one 10 conductor bulk cable for your 4-wire, 8-wire, and 10-wire legs? If so, this design strategy can help minimize the impact of NRE and MOQ fees. However, since copper is expensive, this can also backfire and add cost and weight unnecessarily if long lengths of cable are unused and not required. It is important to carefully weigh the design options and their cost impact before it's too late in your project.
Getting Started
During the initial planning phase for any new custom cable assembly, a careful review of the design requirements is vital. This is especially true for medical applications because of the strict design constraints, lengthy certification timeline, and the fact that people's lives depend on this equipment.
Early and often, engagement with a reputable cable manufacturer like Epec can help identify opportunities to reduce or mitigate MOQs. If obsolescence and cost risk is a great concern, will a house tooled connector be a viable option? Can your design work with what the factory has already tooled up? Another option to explore is a completely custom connector development for your application. While the original investment in tooling and NRE is higher, this will eliminate all obsolescence and MOQ risk. The tooling will be designed and maintained for your project, and available indefinitely for your program needs. This helps eliminate the 20+ week lead time and pricey MOQs that come along with custom specialty connectors and wire.
Summary
There are options to address several of these cost impacts in bringing any custom cable to market, but this activity must be a focus early in development. Otherwise, once the design is frozen there really are limited options to reduce cost in your project.