More people are taking into consideration the types of vehicles they use for work, school, and to get around town. Electric vehicles (EVs) are becoming a trend for both individuals as well as commercial operations. Aside from the tax benefits and reduced need for fossil fuels, battery technologies have matured enabling the EVs of today to offer comparable performance to the traditional internal combustion engine.
The simplicity of the electric motor, its increased efficiency, and the raw power and torque of an electric motor all make EVs and plug-in hybrid electric vehicles (PHEVs) an attractive option for new vehicle ownership.
In 2020, global electric vehicle ownership hit 10 million, with United States drivers accounting for 295,000 new electric vehicle registrations. Even with the pandemic continuing throughout 2021, electric vehicle ownership did not feel a significant impact. In the first quarter of 2022 (Q1), sales in the United States were still moving forward at over 200,000 vehicles delivered.
When looking at the near future for electric vehicle trends, many OEMs plan to only offer electric light-duty vehicles (LDV), and between 35-50% of their vehicle offerings in the United States will be strictly electric LDVs. Still, all these vehicles will rely on the same fundamental battery and charging technologies to power the fleet.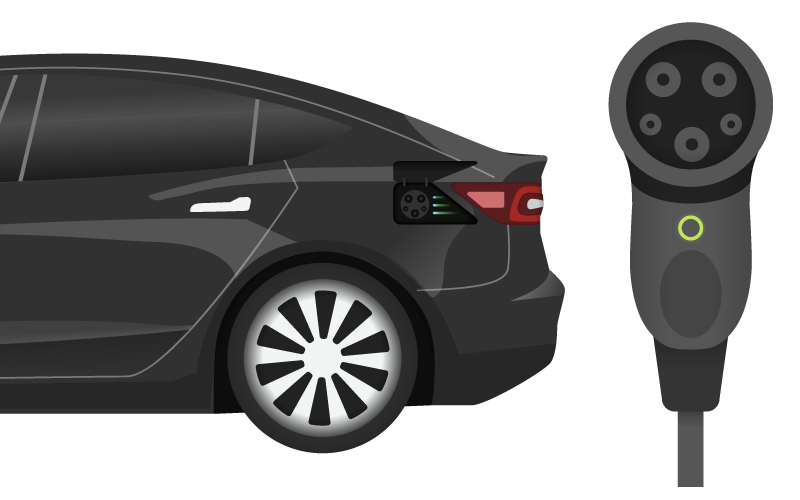 Charging port on electric vehicle.
With the continually increasing demand for more electric vehicles, this aspect has led to a growing need for more electric vehicle charging stations. In the first quarter of 2021, there were 100,000 electric vehicle charging stations located across the United States. In the second quarter of the year, there was an overall increase of over 4% in electric vehicle supply equipment necessary to power the growing fleet of EVs.
When developing these electric vehicles and charging stations, manufacturers must keep in mind how to successfully charge the batteries. While electric vehicle manufacturers develop a range of vehicles based on their specific design specs, many of the charging devices need to be uniform to allow any make or model of an electric vehicle to hook up and become charged. Electric vehicle chargers fall into two categories: Level 1 and Level 2.
Level 1 chargers come with the vehicle as they have adapters that can be plugged into a standard 120-volt outlet. These chargers are common for home charging ports. Level 2 chargers are separate from the electric vehicle and have adapters that plug into a 240-volt outlet. The chargers may be found at parking garages, offices, grocery stations, and other locations. Homeowners may purchase these chargers separately. Electric vehicle charging stations may be level 1 or level 2.
The SAR J1772 plug is the standard charger connector for level 2 chargers. In addition, all the newer plug-in electric vehicles out on the market today have the standard SAE J1772 plug.
SAE J1772 Plug Overview
Also known as "J" plugs, most charger connectors out on the market have SAE J1772 adapters. SAE was once known as the Society of Automotive Engineers. Today, they are simply known as SAE International. This professional organization provides a forum for companies, research institutions, and government agencies to come to a voluntary consensus regarding technical standards applied to the automotive, aerospace, and commercial-vehicle industries. When government, research organizations, and companies design and develop automotive components, they may come up with recommended practices that become standard across the entire industry.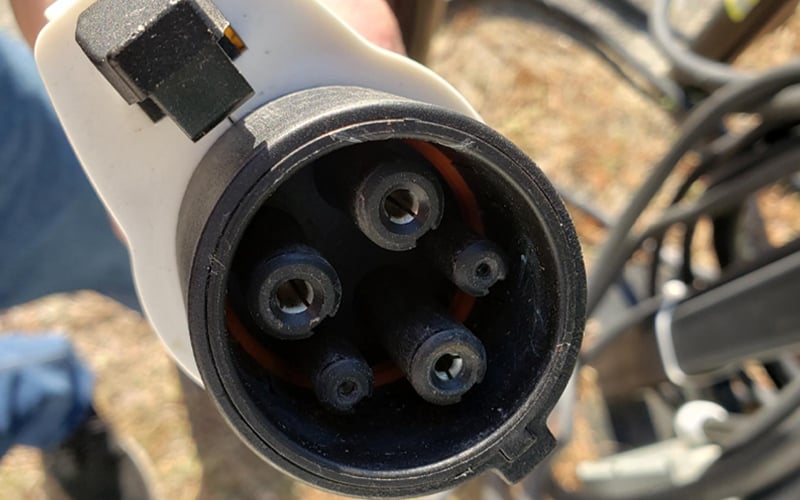 SAE J1772 Plug with 5-pin interface.
In the case of SAE J1772 "J" plugs, automotive companies and government organizations came to the agreement to standardize connectors so no matter which automotive manufacturer that a customer may purchase an electric vehicle from, they are able to charge it using the same electric vehicle charging connector.
Most public electric charging stations come with SAE J1772 chargers. These chargers are compatible with most vehicles. Other car companies, like Tesla, do come with a different type of charger yet have the SAE J1772 adaptor.
Standard SAE J1772 Specs
Product specifications for the SAE J1772 include all the performance, test, and quality requirements for the connector. The documents include the design and construction of the mate, the operating voltage rating, and the testing requirements.
Some tests for the coupler include accelerated aging tests, electrical current cycling, insulation resistance test, and mechanical tests - among many others. The coupling will go through a variety of testing procedures to evaluate the quality of components and whether they meet quality standards. The most current revision to the "J" plug specification is the J1772_201710.
A standard coupler control system consists of an off-board AC/DC high power stage, AC and DC residual current detector, an auxiliary power stage, energy metering unit, an isolation monitor unit, two-way communication over single wire, relays, and contactors with drive, and service and user interfaces. The cable used with the J1772 connectors for electric vehicle charging stations is rated as EVE (600 volts) or EVJE (300 volts).
The EVE/EVJE cable has a jacket made of thermoplastic elastomer along with thermoplastic elastomer insulation around a copper center conductor. One example of an EVE/EVJE compliant cable construction consists of 2 conductors of 18AWG, one conductor of 10AWG, and another conductor of 16AWG. The construction of the cables can withstand minimum temperatures of -58°F to a maximum temperature of 221°F.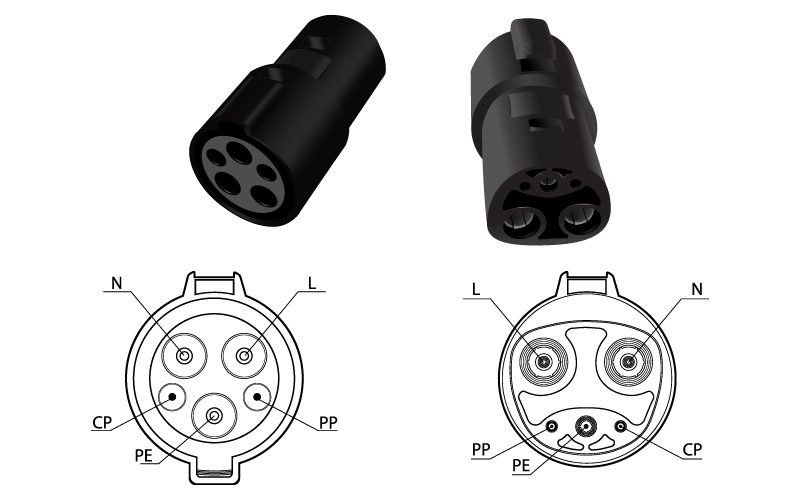 Standardized EV plugs.
SAE J1772 Operation and Safety
The SAE J1772 standard defines how the charge station connects with the vehicle, charges the battery, and communicates with the systems. The electric vehicle charging equipment forms the connection to the vehicle with the SAE J1772 as it performs a "handshake" communication. This handshake communication is to ensure that the charging will be safe. The vehicle's onboard AC/DC converter featuring smart technology will either step up or step down the AC voltage output so that the right level of charging reaches the onboard battery pack.
To protect against the harsh environmental conditions that outdoor EV charging stations experience, the cables themselves go through an overmolded process. Overmolding involves covering the wire and connector with a protective yet supple shell. This process is performed by placing the cable assembly and connector into a mold and injecting the mold with molten thermoplastic.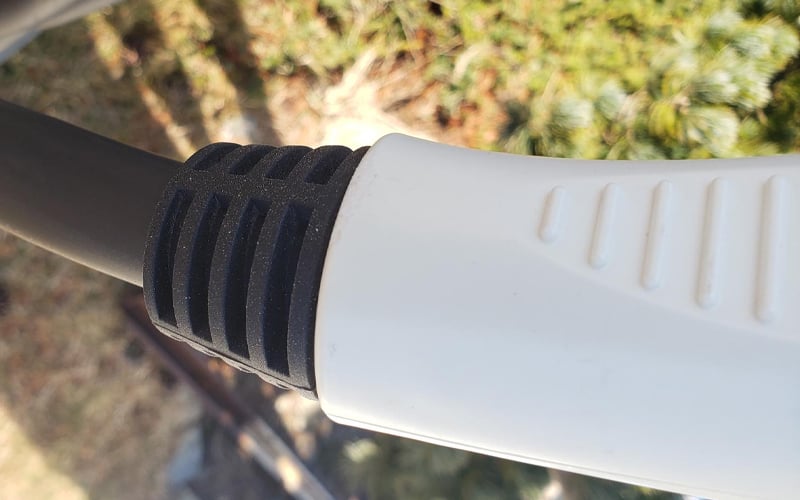 Overmolded strain relief on SAE J1772 J plug.
Overmolded cable assemblies help protect the delicate components within from all types of outdoor conditions including rough handling, moisture, salt, dust, sand, heat, cold, and the sun's ultraviolet light. relief processes help prevent the cable from being pulled out from where the cable ends, which may occur for a variety of reasons such as vibrations, when the cable becomes flexed, through repeated motions when moving the cable, and from tension. The majority of SAE J1772 "J" plugs feature an overmold to help provide strain relief and protection from the elements.
Summary
The electric vehicle market continues forward at a rapid pace. Market conditions and the rise of gasoline prices may become factors for people to pursue electric vehicles for residential and commercial use.
With more electric vehicles out on the road, manufacturers will see an increase in electric vehicle charging equipment and stations that follow SAE standards. Currently, manufacturers accept the SAE J1772 connector for chargers to provide power to onboard battery packs for all current electric vehicle models. For support in designing and sourcing high reliability overmolded cables that are compliant to SAE J1772, early engagement with a full-service manufacturing partner like Epec can help save both cost and schedule.