Solving solderability issues for printed circuit boards (PCBs) can be a real hassle. Nothing is more frustrating than having lined up all your materials for an assembly, only to start running the package through reflow and discover that the solder paste is wetting poorly to the pads. Immediately, the profile is checked to confirm proper parameters.
If all looks good with the profile, then the problem must be the PCB, and we are at a standstill until we get resolution from the PCB supplier. At this point, we have a line down, a deadline in jeopardy, and are at the mercy of our PCB supplier's response time. However, there are actions that can be performed which could assist with an early path to root cause and quick recovery.
Verifying the Circuit Boards Date Codes
All PCBs should have a date code. It is usually a four-digit system that represents week/year, though companies can specify any format they want. If a PCB is exhibiting solderability issues, record the date code of the part. Determine if there are other date codes in stock. If there are other date codes to select from, try them out under the same parameters.
If they perform as expected, then we have just determined the issue to be date code specific, and more likely a bare board issue. If the different date code exhibits the same poor solderability, then a hard look needs to be directed at the assembly process, especially if a date code showing poor results ran fine with an earlier assembly.
Where Was the Bare Board Stored?
Another option is to determine bare board storage.
When were the parts received?
Have they spent considerable time in storage at the assembly end?
What was the environment they were stored in?
Were they removed from original packaging at one point and then repackaged?
Bare circuit boards should remain in their original packaging in a dry storage environment of less than 40° C and 90% relative humidity. If opened and exposed to a production environment, printed boards should be protected from moisture uptake, contamination, and extreme temperature.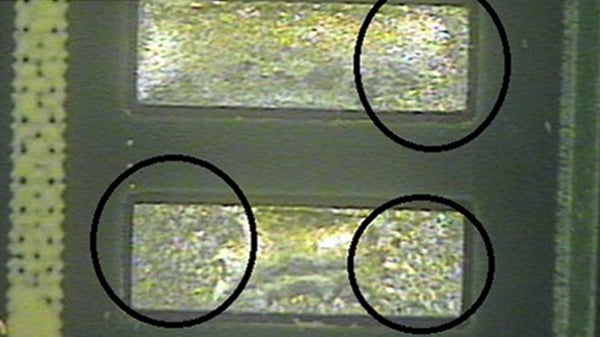 HASL De-Wetting on Improperly Packaged PCBs
If the parts that are exhibiting the solderability issues have been removed from original packaging for a period of time, pull parts that are still in original packaging, and run through assembly. If they also solder poorly, then the bare board is a likely candidate for root cause.
If the original packaged parts wet properly, the storage condition of opened parts should be analyzed thoroughly. A close look at the surface finish of a previous opened part, and a part just removed from original packaging, may offer some clues.
A darker surface finish could be evidence of tarnishing or contamination, that could affect the solderability of the part. Handling of exotic finishes (immersion tin, immersion silver, immersion gold, OSP), without gloves, can cause contamination of these surface finishes by human oils evident in the skin.
Changes in the Previous Process
Finally, one other area that may go overlooked in the error checking process is a possible unrecorded change in the process.
Has the brand or type of the solder paste changed recently?
Has the brand or type of flux changed recently?
These seemingly minor changes could have very negative effects on the assembly solderability, which may require parameter revising to adapt to the change.