As custom manufactured cable assemblies have grown in complexity, it has become far more common to see various electronics integrated directly into the finished design. The inclusion of electronics into a cable assembly design can consist of adding a switch, PCB, LED, or a multitude of other components. Once added, these components offer a much higher level of sophistication to the cable assembly while allowing the included electronics the ability to withstand a much more rugged working environment.
Cable Assemblies – The Forgotten Component
In the past, cable assemblies were usually the last component to be designed when a new electronic system was being created, or an existing interface being re-configured. This created problems for electrical and mechanical engineers when they realized they hadn't left room for the interface or they couldn't purchase an assembly that could meet expectations at a reasonable cost.
This realization led to the understanding that a cable assembly is truly a system's lifeline. As with any chain, a system is only as good as its weakest link and if an assembly operates at a transmission speed that is less than what the system was designed for, the assembly will hold back the overall performance of the entire system, leading to wasted performance. Additionally, they realized if the assembly failed because of poor design, the entire system failed.
Until recently, an assembly was typically designed with a "good enough" mentality. This meant that the assembly was designed with a basic understanding of the stresses that the assembly would be exposed to – from the environment of operation to the necessary performance levels – with no thought given to the future performance of the assembly. In most cases the designer would look at readily available "off-the-shelf" components and make them work rather than investigating the best component to employ in the assembly to meet the demands of the application.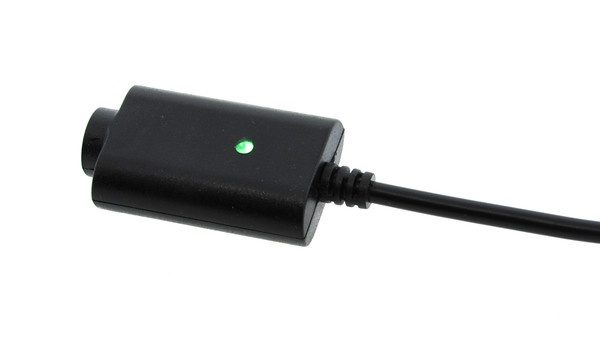 Cable Assembly with LED Overmold and Strain Relief
Total Cost of Ownership
In today's ever-changing world, thought should be given to the "total cost of ownership" of a system. This thought must include concerns such as how much revenue, how much downtime, how much of a loss of productivity will an assembly failure cause, and is an organization willing to take that risk for a "good enough" designed assembly?
Designers need to give thought to what electronics can be included into a cable assembly - not just what electronics the cable assembly will be connected to. By including electronics in the assembly, the termination points are controlled better, the assembly can be used to protect the electronics from environmental stresses and the assembly can be used as a contributor to the overall performance of the system.
Cable assemblies are used in almost every environment imaginable, from space to the deepest oceans and everything in-between. These environments create different situations that cable assemblies need to be designed to withstand. Both designers and engineers need to understand the installation environment of the cable assembly and any electronics included in it.
For cable assemblies designed for aerospace, they need to be built as small and as light weight as possible but still rugged enough to withstand high amounts of vibration and shock, temperature cycles of extreme heat and cold, as well as exposure to radiation. For any electronics included within an assembly, the design needs to protect both the assembly and any electronics included with it.
For cable assemblies designed for use in a medical environment, they must withstand exposure to repeated sterilization using steam, pressure, and high heat. It needs to be able to withstand bodily fluids, cleaning agents, and other types of chemicals and solvents. All materials used in the design of an assembly used in the medical industry need to withstand these conditions, while the finished assembly must be moisture-tight and protect the termination points and any electronics included.
If an assembly is designed for use in an industrial application, it must withstand exposure to different fluids such as petroleum products and chemicals, as well as be sealed against intrusion by dust, survive varying levels of abrasion, be able to withstand different levels and angles of physical impact - as well as extensive flexing and other forms of abuse.
Why Add Electronics To Your Cable Design?
Including electronics into your cable assembly design allows for electronics to be in a protected environment. With the connections also being protected, there is less chance of problems due to connection failure.
There are many ways to protect electronics included within a cable assembly or at the termination areas of the assembly. One of the most efficient methods of protection is to incorporate an overmold into the design. A properly designed overmold will provide a fluid, dust, and tamper-proof seal to the electronics, termination points, and junction of the cable shields with the connector body, if there are any. Including a strain relief into the overmold provides both mechanical protections for the connector and the electronics as well as eliminating any stress points at the termination area.
An overmold provides superior performance when compared to a slip-on boot or a pre-manufactured back shell. Done properly, an overmold application isolates the components from the outside world as well as isolating them inside the overmold cavity. This protection eliminates any possibility of wear damage to any of the components.
Here at Epec, we recently worked on a design where the assembly was to be used in a marine environment. This assembly included two printed circuit boards with the ability to withstand the rigors of installation in an unprotected area on the outside of marine vessels. The assembly obviously had to be water tight, as well as operating at extreme temperatures while remaining flexible, and be able to repel growth of fungi.
The degree to which electronic components can be included with cable assemblies varies. Technologies such as RFID tags and locking software can be put on paddle cards terminated to the connectors. Battery charging electronics and fuel gauges can be built into the overmolds as well as any type of LEDs. Switches of varying designs can either be included in the overmold or attached to the end of the cable. The greatest limitations you might encounter are based on size constraints from either a molding machine standpoint or the area associated with the equipment where the assembly will be mated.
Summary
Including electronics in cable assemblies improves reliability, frees up real estate on the equipment the assembly would be connected to, and allows electronics to be fully protected from almost any environment. As cable assemblies become more of a key component in an interconnect, including electronics with them will provide for a more reliable interface. When the electronics are sealed and protected they can withstand almost any environment as well as saving space on the equipment.