As the benefits and capabilities of vendor outsourcing continue to grow, it becomes more important to know what to look for before committing to outsourcing. Developing a sound evaluation approach while knowing what questions to ask of potential suppliers helps maximize efficiency, saving time and money down the road.
As customers demand more and more frequently that we become faster and cheaper, often the first place we look to improve is our supply chain.
What costs can we cut out?
How can we save on freight?
Where can we find the next lower cost manufacturing zone?
These rapid adjustments help keep us nimble, but they frequently lead to vendor management practices that can end up costing far more than just scrap product.
Too often when attempting to move quickly to either develop or replace a supplier, audits either don't happen or can be outsourced through a third party. Both choices present risk as you are starting a manufacturing relationship with a company where you have never even set foot on the ground. Not only does being present early in your relationship with your supplier allow you to see the process with your own eyes, it also demonstrates your commitment to forming a true partnership.
Audits, especially when conducted in China, are expensive and time consuming. However, audits will pay for themselves within hours of your arrival at the facility. Why you ask? The cost of not understanding what your supplier is outsourcing goes far beyond the cost of the product, extending all the way to your customers' customer wherever that product ends up in the field.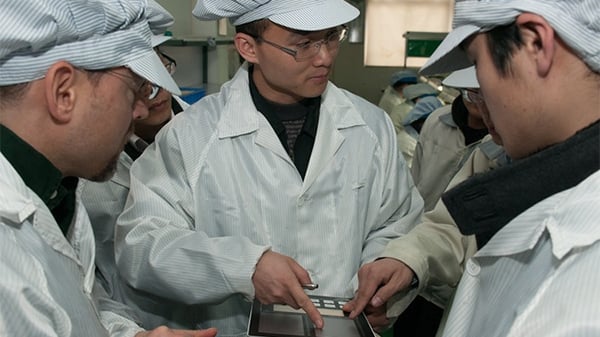 Audit of Manufacturing Facility in China
Challenges of Vendor Outsourcing
Vendor outsourcing represents several unique challenges that need to be considered:
We build electronics in a sub-tropic climate. This is hard enough to manage within one building and/or factory complex. When you add outside sub-contractors you face even more challenges.

How is the material being transported?
How often per day does the transport happen?
Where in the process does this happen?
Is the transport in a company owned vehicle, or a courier?
How long is the trip between locations?
If you don't even know outsourcing is happening, it is impossible to fully understand the risk of exposure to your product.
There is always risk when building custom build-to-print electronics.
When you are dealing with a supplier who is subtracting a key process within that manufacturing process, how do you still produce at high quality?
What level of care is taken when the product is being transported to the sub-contractor?
What quality of the workmanship are you getting at the subcontractor level (do they have all of the certifications you require)?
How high is the quality of the inspection at your vendor when the product comes back?
When there is an issue with quality around a subcontract process, how do you determine not only who is responsible, but how the parts will either be reworked or rebuilt?

How long does that process take?
While everyone is trying to be faster, having a supplier with a weak supply chain is a challenge most of us don't need or have time for.
Why doesn't your supplier have a particular process?
Is it a key process to the product you are building?
Good Outsourcing vs Bad Outsourcing Practices
Depending on the product, certain processes being outsourced is a beneficial practice. For example in the printed circuit board (PCB) process, depending on the geographical location of the supplier, it is common to only have one surface finish in-house because there are several subcontract options within close distance. Outsourcing surface finishes is a sound business decision that helps the manufacturer stay flexible and profitable.
On the other hand, if there is a key piece of equipment for your product that a supplier just doesn't have, there may be cause for concern. Cutting edge equipment is extremely expensive. A lack of equipment can often be an indication of either weak credit or a lack of commitment to invest in the business. Both are concerning for a long term supplier.
Growing Your Supply Chain
The strength of our supply chain is critical to our ability to continue to respond to our customers cutting edge needs. As our customers continue to push the envelope in their industries, they expect us to be right there to support them.
The only way to meet that need is to continue to push and evolve our supply chain. By having our own office, with over 20 employees in Shenzhen, as well as having someone from our senior management team on the ground in China every six weeks, we can better understand all of our suppliers' limitations and capabilities as though they were an extension of our own limits. At Epec, we pride ourselves on being able to continue to not only expand our supply chain with our current product lines but continuing to break new ground on related projects as well.