Overmolded cables are full assemblies that seamlessly combine the wire and the connector into a single part. The process of overmolding a cable involves injecting a molten material into a mold cavity, which conforms to the desired shape when cooled. The mold cavity can be built as a simple design with no markings or as a more complex design if you wanted to include a company name, corporate logo, flanges to be used as attachment points, or an extended strain relief area.
Added Value for Your Cable Assembly
Overmolded cable assemblies can add value to your application by providing 360 degree strain relief, increased pull strength, and flexible support at the cable exit. The overmolded cable assembly also offers protection from harsh environments, abrasion resistance, and increased EMI (Electro Magnetic Interference) performance. Overmolding requires tooling, which can be designed in straight, right-angle, or any exit required for a custom application.
The material used for the overmold cable assemblies can be color coded to match the cable jacket or the equipment color the assembly will be used on. Examples of the types of material that can be used for an overmold include PVC, rubber, santoprene, ABS, polycarbonate, and macromelt.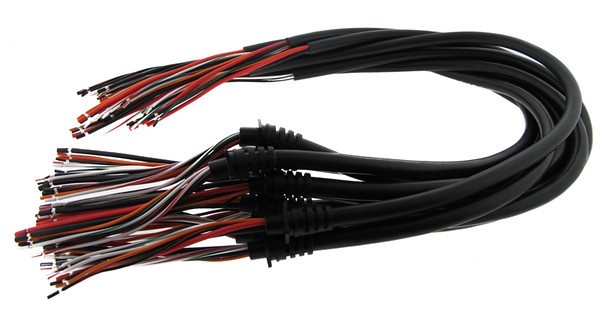 Overmolded Cable Assembly for Marine Application
Prior to production of a cable assembly, the entire assembly is reviewed to make certain the assembly meets customer expectations. The review determines the best process for each stage of the manufacturing cycle. The production steps involving premolding, potting, and overmolding are carefully reviewed to determine the correct mix of waterproofing, abrasion resistance, and electrical performance necessary to surpass our customer's expectations. Meeting IP67 and IP68 standards, if necessary, is also part of the review at this stage of the production process.
Summary
If your product requires an overmolded cable assembly, be sure to get Epec involved early in the design! We can do a full application review and determine the best course of action for your needs. Everyone has unique constraints with their cable assembly projects, so we know how important it is to work with an experiences and flexible manufacturer.
To learn more about avoiding the biggest cable assembly cost drivers, please check out our free eBook below. If you are ready to let Epec bring your design to life, request a cable assemblies quote today!