Whether used in the aerospace industry to de-ice equipment, or the food industry to bring ingredients up to a suitable temperature, flexible heaters provide the right amount of generated heat based on the application. These types of heaters can be attached to smooth, bulky and curved equipment in different sizes and functions.
Selecting the right type of flexible heater ensures obtaining consistent and stable heat without causing damage or failure of the application. Let's look at the best uses of three common flex heaters: polyimide heaters, silicone heaters and polyester heaters.
Polyimide Flexible Heaters
Polyimide flex heaters consist of an etched foil element layer that is sandwiched between two layers of polyimide film using a FEP adhesive or an acrylic adhesive. The flexible heater is extremely thin, as it can reach a thickness as low as 0.007". The heater has a watt density of 2.5 up to 50W/in2. Benefits of polyimide heaters are:
Low temperature threshold of -320°F
Can handle temperatures up to 395°F
Resistive properties as it cannot crack or tear
Resistant to chemicals, radiation, and fungus
Minimal outgassing in vacuum environments
Uniform thermal distribution and stability
Good thermal transfer capabilities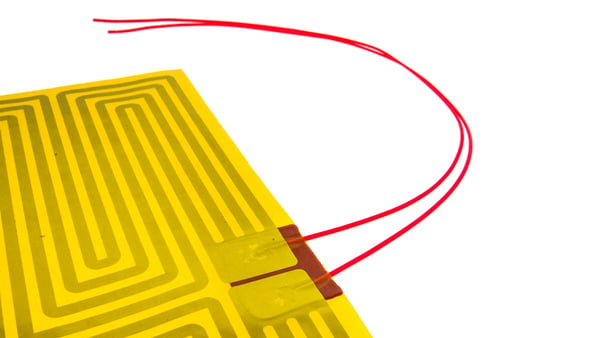 Example of a polyimide flexible heater.
Uses of Polyimide Flexible Heaters
Due to its thin and lightweight capabilities, polyimide flexible heaters can be used on applications where extra weight can be an issue to working parts. It can also be placed on equipment where there is minimal space available. So, there is no need for any design finishes for the application to accommodate the flexible heater. The flexible nature of polyimide makes the heater suitable for curved and irregular surfaces without worrying about the heater being rubbed off.
Another reason that a polyimide heater may be desired, is when a manufacturer does not want any trapped gasses escaping from the molecular structure of the created heater materials during extended use. These trapped gasses can impact the use of sensors in a closed environment. Polyimide contains very little trapped gas.
Possessing good heat transfer, polyimide heaters are often used for applications in rugged environments where durability is required. They are found in aerospace, food service, military, and medical industries. The heater can also be used for both indoor and outdoor environments.
Silicon Rubber Flexible Heaters
Manufacturers turn to silicon rubber flexible heaters for general application purposes. The element consists of wire wound or etched foil that is vulcanized between silicon rubber insulating materials. This heater is thicker than a polyimide flex heater, as a wire wound silicone heater can be 0.03", while an etched foil silicon heater can have an average thickness of 0.056". The watt density of this heater can reach up to 60 W/in2. Some benefits include:
Maximum temperature range of 455-500°F
Wards off mechanical damage and abrasion due to thicker silicon material
Can be vulcanized onto components
Suitable for wet and outdoor environments as it acts as a moisture barrier
Appropriate for flat surfaces
Used when needing multiple watt densities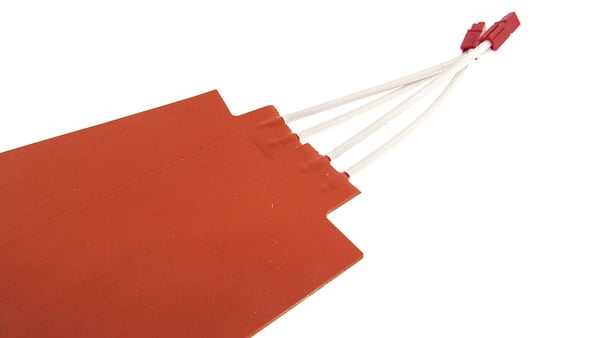 Example of a silicon rubber flexible heater.
Uses for Silicon Rubber Flexible Heaters
A silicon flexible heater can be placed on flat surfaces as well as for applications where a large heater is needed that offers multiple watt densities. It can also handle higher temperatures while in humid and outdoor environments.
The thickness of the silicon rubber provides added durability and dimensional stability, although the thermal transfer is delayed. Lower watt densities are not suitable for applications that require a faster thermal ramp up, as a manufacturer must select a higher 10 W/in2 or more if a quicker thermal transfer is required.
Silicon rubber flexible heaters provides cost savings, as they are most often used for general and industrial applications. It is also suitable for applications when vulcanization of the heater is desired when attaching the heater directly to the component.
Polyester Flexible Heaters
Polyester flex heaters are custom made for applications that require lower heat transfer. They possess elements made out of etched foil, indium titanium oxide inks, or wire wound as the elements are placed within polyester layers that can be transparent for certain applications. They can have a watt density of about 20 W/in2 (0.3W/cm2) and can have a thickness as low as 0.007". Here are several benefits of polyester flexible heaters:
Low temperature applications of 220°F
Uniform heat transfer capabilities
Flexible and lightweight for applications
Sometimes more economical than silicone rubber heaters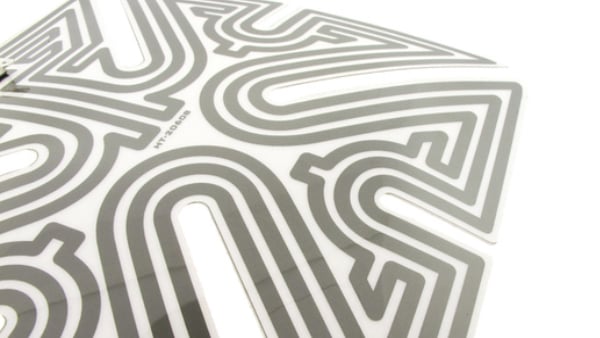 Example of a polyester flexible heater.
Uses of Polyester Flexible Heaters
Polyester heaters are often used for smaller applications where a lower heat temperature is desired. These flexible heaters typically provide a temperature of 221°F. Manufacturers often use these heaters where the application would be damaged at moderate to high heat or to remove a buildup of moisture or ice that may accumulate on components, such as de-icing mirror surfaces, warming batteries, keeping food ingredients at a desired temperature in restaurants, warming fish aquariums, and inside coffee makers to warm up cups.
The flexibility and lightweight nature of polyester flex heaters makes them suitable for applications where increased weight and irregular curved surfaces would be major issues. The etched foil polyester heaters possess a maximum element width of 590 mm, making them a good choice for smaller applications. In addition, this heater can be customized so that it is transparent when an aesthetic appearance is desired for the application.
Recap: Selecting the Right Flexible Heater
Applications can vary based on their operation, size, surface structure, and environmental conditions. When trying to decide on the right flexible heater, manufacturers will need to perform a comprehensive evaluation of the equipment's functions at the design phase or review existing equipment when it is in use. Then they will be able to match the right heater based on their specific requirements.
Here is a brief breakdown on the types of applications each heater is suitable for:
Low heat temperature requirements: polyester heaters
Offers highest maximum temperatures: rubber silicone heaters
Used in environmental temperatures of -100 to -300°F: polyimide heaters
Uniform heat transfer: polyimide and polyester heaters
Good heat thermal transfer: polyimide heaters
Suitable for outdoor and wet conditions: rubber silicone heaters
Lightweight and flexible heaters: polyester and polyimide heaters
For large, flat surfaces: rubber silicone heaters
For curved and irregular surfaces: polyimide and polyester surfaces
Aesthetically pleasing appearance is necessary: transparent polyester heaters
Resistant to chemicals: polyimide and rubber silicone heaters
Vacuum settings where outgassing is an issue: polyimide heaters
Can be vulcanized into place: rubber silicone heaters
Most cost effective: polyester heaters
Here at Epec Engineered Technologies, we provide polyimide, silicon rubber, and polyester heaters in the materials, heat settings, and sizes that will work for the application. To learn more about our customization capabilities for flexible heaters, contact our technical staff today.