This blog post is intended to reinforce the design support we offer at Epec for our flex and rigid-flex PCBs. Technical design and engineering is one of our core foundations which allow us to best help our customers meet their product requirements. Within the post, we'll cover design areas that require special consideration.
Initial Rigid-Flex PCB Concept Design
Getting involved in a design at the conceptual level can be beneficial for both the manufacturer and the OEM. When it comes to flex and rigid-flex circuits it is vital to understand the full project requirements up front.
The process starts with a discussion, typically a call with the customer's project management and engineering teams to help develop a broad understanding of all the details.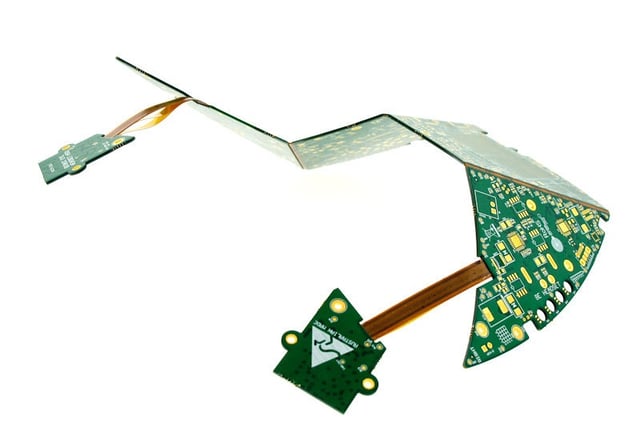 Unusually Shaped Rigid-Flex Circuit Board
PCB Design Factors We Need To Know Include:
What is the functionality of the flexible PCB?
What are they trying to achieve and what do they need to achieve?
Is the design a point to point interconnect or an active component?
How many interconnects are there going to be? More interconnects increases the complexity.
Are there any special signal requirements such as impedance control and or current carrying requirements?
What is the general part size and shape?
Are there any other factors such as a radio frequency design (RF)? Is shielding required due to the environment it will be operating in?
Answering all of these questions help us paint a clear picture of your requirements. During this process we also start feeding information back to you to give you a clearer understanding of flex and rigid-flex technologies that may pertain to your needs.

In attempting to identify additional levels of functionality, we also look for higher levels of integration between the separate parts. In some cases, it actually helps to eliminate unecessarily complex levels of integration, creating greater cost reductions.
Taking everything into consideration helps determine if a flex based solution is valid for your application. If we conclude flex PCB is not best suited for your design, we'll find more applicable alternatives to get your project running at maximum efficiency!
Mechanical Design
Once we have completed the design concept phase and determined that a flex and rigid-flex PCB is the correct solution, we then move into more specific details of the mechanical design.
How Do We Determine Your Mechanical Design?
What are the minimum bend requirements?
How are you going to be bending the flexible PCB into position?
What are the flex section lengths required to meet the bend requirements? These are needed to prevent trace breakage once the part is being used in the end product.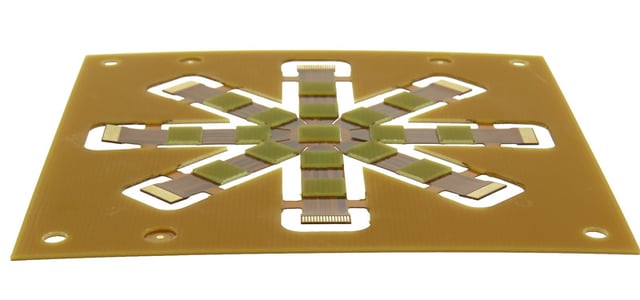 Flexible Circuit Board With Various Stiffeners
For the manufacturing phase, we need to determine if shape and size of the flex part are viable to reproduce during the unique processes encountered in flex and rigid-flex manufacturing. Unfortunately, not all sizes are available. Very large parts can create technical challenges due to the dimensional stability of the materials along with manufacturing equipment tolerances. Again, should any such problems arise, we will advise alternatives.
Additional Mechanical Design Factors Include:
Stiffeners, which are required to support soldered connectors and components to ensure reliability.
PSAs (essentially double sided tape used to attach the flex within the enclosure)
Are there any special PSA requirements such as a high temperature environment? Do you need the PSA to be thermally conductive to dissipate heat? Does it need to be electrically conductive to ground the part to the enclosure?
Are there any shielding requirements if the design is an RF or EMI sensitive application? This can be done with different methods such as copper layers, silver ink layers, or special shielding films. Each of these has their own strengths and weaknesses which should be reviewed depending on the project.
Does the flex circuit need any epoxy strain reliefs, which come into play if there is going to be a bend close to a stiffener or to the rigid PCB section? This might require a bead of epoxy at that interface to prevent to circuit traces to break.
Summary
Not all flex and rigid-flex designs are created equal. Understanding all the factors that go into manufacturing will help determine the best possible solution for your end product. For additional flex PCB resources, please feel free to contact us to request more information on our flex and rigid-flex design services.