There are several considerations a purchasing manager must review before selecting a cable assembly supplier. As corporations move toward a matrix organization structure, buyers can be unfamiliar with the various programmatic details required to make critical sourcing decisions fast.
This challenge manifests itself as a program risk in the form of potential cost and scheduling impacts. This fact is especially true when it comes to entertaining the idea of substitute connectors and components for custom cable assemblies.
In order to better assess whether substitute connectors and components can be used in your custom cable assembly, these five tips will help you understand the various considerations involved when making these decisions.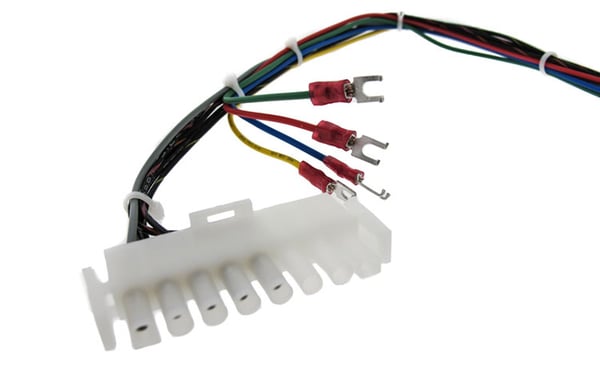 Example of Custom Cable Connector
1. Understanding the Industry, Application, and Point in the Product's Life Cycle
Each industry has different requirements in order to bring a product to market. These factors drive the ability to use substitute connectors and components. Industrial, commercial, and consumer product type applications can readily benefit from the cost and lead time improvements from locally sourced substitute components.
Highly regulated industries such as medical and defense require lengthy qualification testing where the complete bill of materials is documented. Changes to a minor component such as a 2-pin connector can require additional verification and validation.
For development and low rates of initial production, substitute connectors and components can be considered to better lead time, thus improving your time to market.
2. Some Products Can't Be Substituted
Specialty components and connectors often contain proprietary design features, materials, or installation techniques preventing the ability to cross. If your connector is single sourced, it's doubtful that an equivalent substitute connector exists.
Specialty mil-aero and medical connectors are typically developed for specific performance requirements without the ability to cross.
3. How Do I Know If an Equivalent Connector Exists?
If the component you are trying to cross is made by one of the major industry players (Molex, TE AMP, Tyco, Amphenol, Hirose, JST, etc.), and if your required connector is inexpensive (for the sake of discussion, less than $25), there is a high probability that substitute connectors exist.
Low voltage connector systems for discrete wire from 12AWG-28AWG applications are the most common types of substitutes.
Household A/V connectors usually have available equivalents, such as:
USB/Micro USB
HDMI
RJ45 (Ethernet cable jack)
RJ11 (telephone jack)
RCA
Barrel jacks
1/8" and 1/4" audio jacks
A full-service cable assembly manufacturer such as Epec reviews each quote request for the ability to cross components and connectors. When in doubt, ask your supplier.
4. Several Manufacturers Building to The Same Industry Standard Is Common Practice
Analogous to off-brand household goods and groceries, it's common for manufacturers to tool up and develop their own version of a standard interconnect. This offers both cost and lead time benefits.
Like mil-spec hardware and other industry standards such as NEMA, manufacturers develop their own design that meets an existing industry performance standard. This includes the same material, dimensions, flammability rating, etc.
Employing substitute components can be perceived as cheap or inferior, but this is far from the truth. These components are manufactured to the same design specifications and performance standard as their name brand equivalents.
5. The Devil Is in the Details
Be sure to clearly understand the application and requirements before committing to using substitute components.
End customer approval may be required. If so, request samples for fit checks and component data sheets to confirm subtle details like plating thickness, polarization, and mating requirements.
During the quote state, request RoHS and UL material compliance to safeguard against design changes after production is launched.
Most equivalent components and connectors come in a vast array of sizes and configurations, but this does not guarantee that the gold-plated crimp terminal you need is available. Exotic materials and finishes are numerous and expensive, which limits available substitute component options.
Sometimes it doesn't make sense to use a crossed part since the name brand component is readily available or offers little cost benefit. Review these options with a full-service cable assembly manufacturer such as Epec early on to avoid delays and make the best programmatic decision.
Summary
Some say you can't have your cake and eat it, too. I would disagree if instead you need a 10 position 1.25mm pitch single row housing that is RoHS compliant with a UL94V-0 rating and is in stock at your Asian manufacturing location.
It's clear that substitute components and connectors are not ideal for all programs, especially highly regulated industries such as the military and medical industries. Conversely for industrial and consumer product applications the use of form, fit, and function equivalent components is largely encouraged.
As long as you are considering these types of crossed parts early on in your program, and allowing for time to evaluate these offerings, substitute connectors and components can offer a significant reduction in supply chain risk and reduce the overall product cost.