The reason printed circuit boards (PCBs) require a surface finish rather than being left as simply bare copper is because while copper is an excellent conductor, leaving it exposed will cause it to oxidize and deteriorate over time. The increased exposure will cause the PCB to fail much sooner than expected.
The outer layers of the PCB require a surface finish not only to protect the underlying copper, but also to be made solderable for the added components. Some boards that plug in to devices or components may require a specific or unique type of finish based on requirements of the device. Most PCBs have only one surface finish, but in certain circumstances boards may require multiple types of PCB surface finish combinations.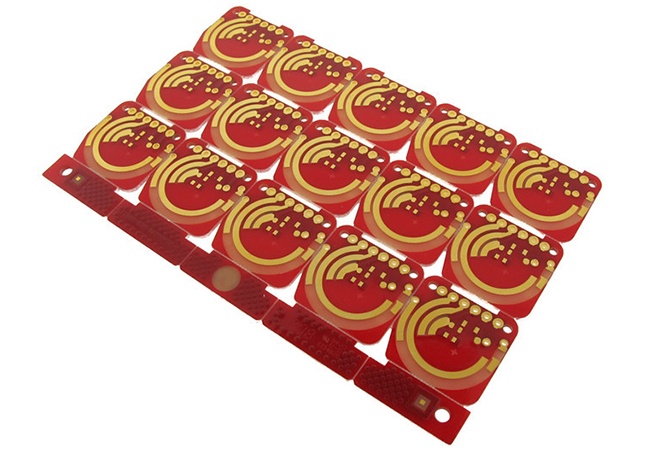 PCB with hard gold surface finish
Multiple Finish Combinations
Here are a few of the common multiple finish combinations:
Hard Gold and Immersion Silver
Hard Gold and ENIG
Hard Gold and HASL
ENIG Plus OSP
As PCBs are sometimes exposed to different and more demanding environmental conditions, they may require these different finish combinations. Cost can also vary by finish types and can become a contributing factor for your final preference.
For any areas on a circuit board that will require wire bonding or touch pads, ENIG is often a good choice. Organic solderability preservative (OSP) is good match for the ENIG finish, as it is lower in cost and will not harm the gold. The process of combining OSP and ENIG is referred to as "SENIG" or selective ENIG. The problem with using the ENIG and OSP process for manufacturing is the potential corrosion of the nickel used in the product. The nickel used must be highly resistant to corrosion, as the processing of the OSP finish leaves it vulnerable.
Hard Gold and Immersion Silver, ENIG, or HASL
The reasons for considering hard gold for all the PCB finish combinations are numerous. Hard gold is very durable and commonly used for edge fingers that plug in, or keypads that receive constant use. Hard gold does not contain any lead; therefore, it is fully RoHS compatible. It has a very long shelf life as well. Hard gold thickness can be well controlled as well unlike any immersion process finishes. It is, however, relatively expensive and not ideal for soldering.
ENIG finish used in the OSP combination is also RoHS compatible as it has no lead. It has a flat surface and the thin, less expensive, covering of gold still protects the nickel underneath. ENIG is re-workable, which is a plus for manufacturing. Also being an immersion process, it can be easier to use than an electrolytic product.
HASL and lead free HASL are very common finishes. Its use with hard gold has been for a long time. HASL has a long shelf life and is re-workable as well. HASL is widely available so it can be very cost effective when pricing becomes a concern. With HASL, solderability is excellent.
ENIG Plus OSP
OSP is a thin covering which preserves the copper beneath from oxidizing. It also has a flat surface, is re-workable, and less expensive. As mentioned above, it can be paired well with ENIG.
Immersion silver is nearly pure silver. It has excellent solderability and also has a flat surface. This should be used if one needs aluminum wire bonding.
Summary
These finishes when used together can solve the environmental or component assembly issues needed for a complex PCB. Each surface finish has advantages as noted above, as well as disadvantages. The unique requirements of your PCB, such as what environment it will ultimately end up in, or what device it will be used in, should help determining the finish combination choice. If you need more information on PCB surface finishes, check out some of our additional resources, or fill out a request for quote or info form to see how Epec can help optimize your circuit boards!