Over the course of the last 10 years, e-commerce has gone from something that very few people did to something that is part of our everyday lives. The rise in e-commerce has made many of our lives easier and more productive. The unseen side effect for most people is the strain that this dramatic increase of the "casual shipper" has caused to the existing Air Freight model. With companies like Amazon and Apple leveraging their supply chain management to get product to the U.S. in as little as 2-day standard shipping, it highlights the importance of your suppliers' relationships with their freight suppliers. Hopefully this gives you insight of why freight supplier management is critical to growing your business.
Investment in Shipping and Supply Chain
For the past 15 years we have invested in growing our partnership with UPS. The ability to provide supply chain solutions to our customers is just as important as the parts themselves. When evaluating a new supplier relationship, we always look at what the terms of sales are but how often do we dig deeper to find out about the specific relationships a supplier has with their freight team? How often do they ship and from how many locations? How many average pounds per shipment? How many freight forwarders are they using? Are they preferred customers with any of their suppliers? It is easy to overlook these types of questions when comparing more important issues like cost and delivery.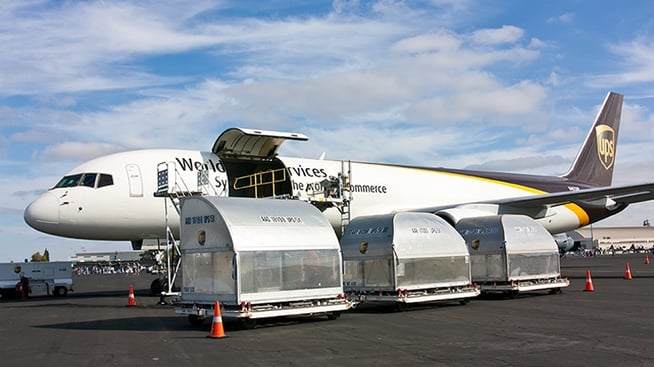 Aircraft Loading Cargo
Our unique engineered product lines allow us to leverage many freight models to be able to provide different services to our customers that are specific to their product and needs. Typically, shipments range from 40'ocean containers to 2-day small-package shipments from Asia. By having a team of logistics coordinators both here in the U.S. and in our Shenzhen office, we are able to consolidate freight to eliminate many of the hidden costs that come with shipping internationally.
Managing Air and Ocean Freight
When we are talking about how we are managing freight, we need to look at air and ocean separately as they are very different. First, let's take a look at shipping ocean freight and the specific challenges we need to address with that product. Currently, the cost of ocean freight is much lower than what we have traditionally seen. With the cost of the freight being as low as it is, much of what we are paying for is the compliance and coordination of cargo hand offs between different parts of the supply chain. One of the largest challenges surrounding ocean freight at the moment is a consolidation that is happening across the industry. The industry is dealing with an oversupply of vessels that contributes to keeping freight costs low for the shipper. At the same time, shipping companies are establishing alliances to cover trade routes and consolidating in so-called "mega deals".
The challenges we are currently facing with air freight are significantly different. We have created a long term partnership with UPS Small Package. These past 15 years our partnership has grown to the point where we have a shipment in the air with UPS every day of the year outside of the Chinese New Year shutdown. This volume of work allows us to have guaranteed access to space on cargo planes, even in the peak seasons so freight is never delayed. Working directly with freight forwarders to negotiate air space at the last minute is costly, time consuming, and could result in days of delays for your shipment. The main focus is getting product to our customers as quickly and cost effectively as possible, which is why we utilize the small package product.
Uncommon Freight Challenges
Aside from capacity, the other challenge that a lot of people don't see are the costs associated with customs clearance, as well as the responsibility associated with that process. The relationship with UPS allows our products to be imported from Southeast Asia through Anchorage Alaska, then onto Louisville KY for final clearance. The UPS advantage that passes onto to our customers is that UPS has U.S. Customs on site at their hubs. This allows our product to clear customs while it is still in the air, getting rid of any potential clearance delays. UPS Customs House Brokerage is the single largest customs house broker in the world and that operation is what allows us to seamlessly bring product from Asia in 2-3 business days. After product clears customs, U.S. customs can request an audit of your import for up to a year after the initial clearance.
Summary
At a point when a lot of companies are combining resources and all employees are wearing multiple hats, it is critical that you have a strong understanding of your supply chain and logistics. The hidden costs, legal repercussions, and time delays that are associated with moving commodities across boarders could have significant impact on your bottom line. As companies like Amazon start participating in logistics services and much of the industry continues to consolidate, freight management will be a vital part of all organizations.