As a leader in user interface technology, we frequently get asked the question, "What kind of user interface is the best option for my application?" User interface, or Human Machine Interface (HMI), assembly designs are dependent on the application, housing, and the environment they will be used in. Choosing the right option and material is a key component.
In the past, user interfaces, also commonly referred to as membrane switches, were dependent on utilizing separate circuit boards. For greater reliability, you can now incorporate the circuit board into the full user interface assembly. There are multiple options for your application and why one in particular may be a better choice for your project.
Basic Membrane Switch Panel Interfaces
Everyone is likely familiar with microwaves and dishwashers and their control panels. These are perfect examples of a basic membrane switch panel. While this type of user interface is low cost, it also has some design restrictions that others HMI types do not, including requiring a hard surface to mount onto in order to function correctly. They also have limited capability for embedded components and the connection is limited to 1mm pitch spacing.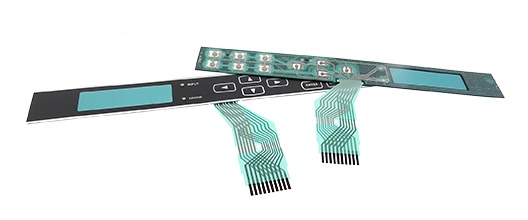 Basic Membrane Switch Style User Interface
Advanced Membrane Switch Panel Interfaces
An upgrade to the microwave control panel example is the printed circuit board (PCB) based user interface assembly. In these PCB backed style designs, embedded components are only limited by the overall size. In the past, PCBs were much thicker, but as technologies increased, we now have circuit boards as thin as 0.010". This allows for more design options while keeping a low profile and helping to lower the cost of the overall project. Using a PCB backed option also allows for more flexibility in trace width and can achieve a connection of 0.5 mm or less. If a tail is required it can be used as a connector or it can be soldered to the PCB. The housing in which the circuit board will mount into must allow for the final assembly to lay flat with clearance for the user interface.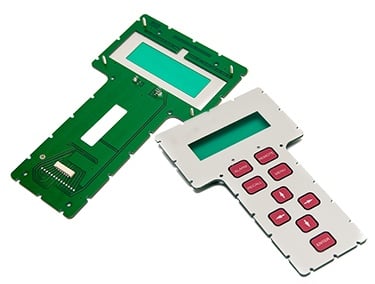 Advanced Membrane Switch Style User Interface
Flex Circuit Board Style User Interface Assemblies
If you're looking for a solution that allows for flexibility similar to a basic membrane switch then a flexible PCB based switch may be for you. Using a flex circuit board allows for embedded components much like the rigid PCB based designs. Additionally, this design allows for the ability to form to your housing and the tail is an integral part of the circuit.

Rigid-flex PCB HMI designs have fundamentally changed the industry by combining all of the value of a printed circuit board and flex PCB based options. It also allows for the incorporation of multiple switches on the same circuit located all over the housing which helps make the design smaller and more cost effective.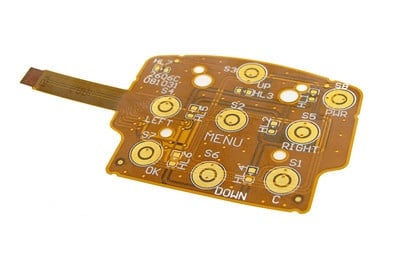 Flex Circuit Board Style User Interface Assemblies
Don't Forget About the Graphics!
Graphic overlay, or top layer, of your switch also merits important design consideration. Utilizing robust designs will give the appearance and feel customers desire to achieve through digital or screen printed overlays as well as plastic and rubber buttons. Backlighting or luminescent paint options can also be incorporated into any designs as well as touch screens and LCDs.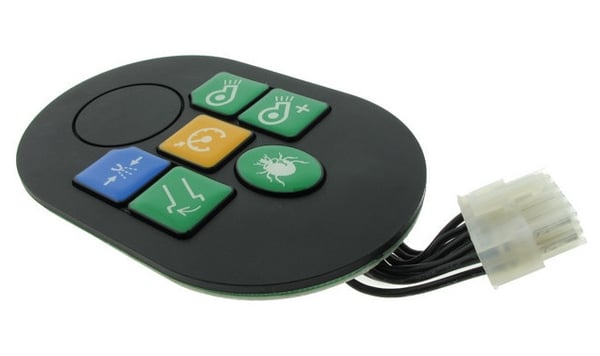 User Interface Assembly with Graphical Plastic Buttons
Summary
Deciding which user interface type should be used can be difficult depending on your application and cost factors. Take advantage of Epec's expect advice from the start of your project, as the human to machine aspect can sometimes be the most important component.
Our state of the art facilities offer a complete range of high reliability HMI technology with the ability to manufacture your entire product from design, prototype, to production. If you're ready to get started, request your quote today!