Cable pre-molding, sometimes associated with potting or encapsulation, is used to protect the termination points from the surrounding environment. Pre-molding involves the application of a material around the back section of a connector where the termination points are located.
Cable Pre-mold Materials
The material used for the pre-mold fully encapsulates the individual conductors, the termination area, and the cable into a single solid mass and protects the termination area from moisture, corrosive agents, dust, contaminants, vibrations, and impact damage.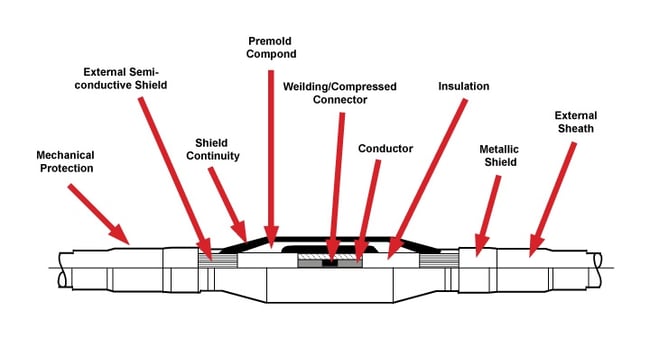 Diagram of Inline Pre-Molded Junction
benefits of Cable Pre-Molding
Pre-molded cable assemblies or encapsulated areas provide a significant bond between the components of the assembly while effectively sealing the terminations. The sealing of the termination point captures the contacts and does not allow them to back out or dis-engage from the connector housing, providing for electrically reliable connections throughout the expected service life of the component.
The cable assembly pre-mold also provides a surface to apply metallic coated tapes for full EMI shielding if necessary and to act as a base for an overmolded cable assembly for additional protection and cosmetics. If you're interested in more information on cable assemblies, download our free eBook below!