For customers and suppliers along the PCB manufacturing process, non-conformances will, unfortunately, happen from time to time. A non-conformance consists of receiving an order for printed circuit boards that do not meet your specifications or industry (IPC) standards. While dealing with these issues is obviously essential, the solution is sometimes not obvious and can put on-time delivery to your customer at risk. It is imperative that your circuit board supplier can deliver conforming product as soon as possible, which means having the procedures to get there.
What Actions Can Customers Take?
Did you know there are actions you, as the customer, can take to assist your PCB supplier with the return and replace process?
The greatest assistance that can be communicated when returning to the supplier is providing all information possible surrounding the suspected non-conforming product. A detailed problem statement is often the most beneficial way to accomplish this. For example, documenting "a verified short between location J6 and N14" is better than just listing "electrical short", while "missing solder mask tented vias" is better than just saying "built wrong."
Submitting Images of the Problem
If you aren't certain exactly how to describe the issue, submitting photographs of the problem area will greatly help the supplier when attempting to determine the problem. Along with your image of the problem area, a photo of the UL logo on the part, if available, should be supplied. This could help the supplier determine immediately that this is NOT their part and save wasted time returning parts to the incorrect supplier. Including the date code in the photo or communicating to the supplier will help identify the exact lot the parts are from. The quantity is extremely important so that suppliers will have an idea if they have stock to cover replacements, or if they need to order raw materials for replacements.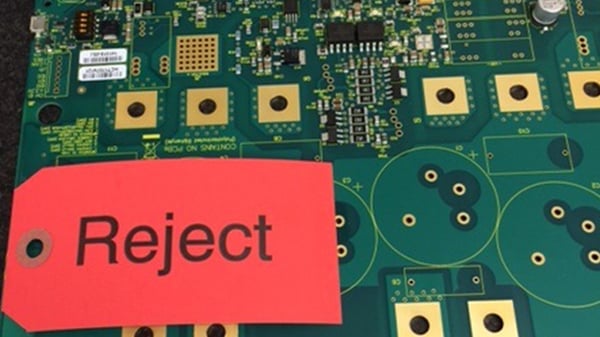 Non-conformances in PCB manufacturing
With this type of information, most suppliers will be able to start quality actions immediately, including taking the following measures:
If there is stock, they can check for the issue and segregate the parts. Work in process can be halted and segregated.
If all parts are not affected, a sorting process can be initiated, either at your facility, or at the supplier.
Part history will be reviewed to determine if this is a repeat occurrence or if other lots may be at risk.
Production timelines are reviewed to determine if a process is suspect.
Inspection paperwork can be reviewed as well as past approved deviations, which may cover the actual issue being reported.
Communication Review
Technical questions between production and engineering are studied for possible correlations with the reported issues. With good supplied information, all these actions can be started even before parts are returned. This also allows a head start on determining disposition when the returned parts are received. Returned parts can now be immediately forwarded to the proper area for root cause analysis according to the information already received. Engineering might need to review the data against the actual returned parts to ensure the cause did not originate in front end engineering.
Was the correct data or revision received from the customer?
Did production alter the data in error when setting it up for their processes?
Physical Part Testing
The physical lab may need to do destructive testing to verify functionality and proper internal structure. This would provide the evidence needed by production to determine the actual process at fault. If the lab results are inconclusive, a third-party laboratory service could be hired to assist with the investigation. These services can offer the best testing equipment and are able to analyze proper testing methods to confirm the actual problem and root cause.
In some cases, the non-conforming parts may be able to be reworked. This is a disposition that, with the right information, can be determined very early in the return process. The necessary equipment and personnel could be setup to go immediately upon receipt of returned parts.
Summary
When it comes to returning and replacing circuit boards due to non-conformance issues, there are many advantages to assisting your supplier with thorough information concerning the non-conforming circuit boards. While the burden for achieving compliance will ultimately fall on the manufacturer, the customer can help reconcile and resolve all issues in the least amount of time possible. Communicating all information, whether by detailed description or photograph, can go a great distance in aiding your PCB supplier towards compliance for any troublesome circuit boards.