IPC 4101 (Specification for Base Materials for Rigid and Multi-Layer Printed Circuit Boards) was released for publication in December, 1997. It was released as the replacement standard for MIL-S-13949. However, it contained a majority of the exact wording from the military standard. It maintained the "slash sheet" format appendix to the standard that specifies the resin and fiber system of different PCB laminates, along with testing parameters and properties. Initially there were 41 slash sheets, but as the industry opens up to "Lead Free" and "Green" processes, the slash sheets have increased to 66, the current revision.
With all the different slash sheets, understanding what they entail will be beneficial with selection of correct laminate properties for your specific PCB design.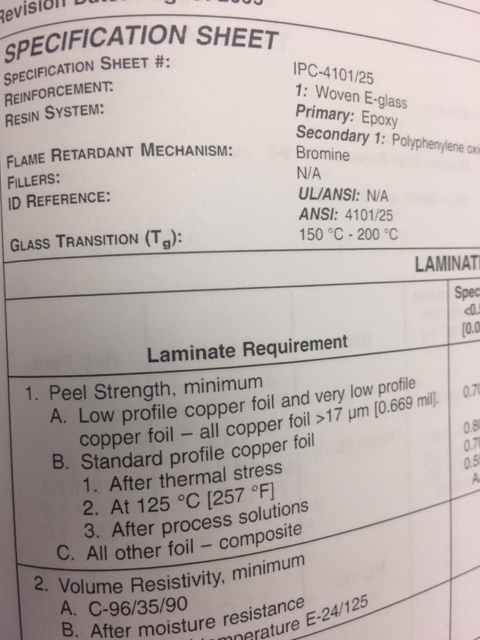 Example of IPC 4101 Slash Sheet
IPC 4101

Laminate Specification

All slash sheets begin with the laminate specification. This includes the reinforcement type, resin system, flame retardant mechanism, fillers, and glass transition. The reinforcement type tends to be woven E-glass (fiberglass) but, it can also be cellulose paper and exotic fiberglass types such as unidirectional and aramid fiber. This is the structure component of the laminate. Resin systems tend to be a mix of epoxy types to meet the requirements of the laminate type. The primary epoxy will be listed, followed by the secondary, or even a second secondary.
Using Exotic Resins
There are also exotic resin systems such as polyimide and polyphenylene. The resin system is what binds the structure layers together. The flame retardant mechanism is usually bromine or RoHS compliant bromine, with phosphorous as a choice also. Fillers tend to be not applicable or Inorganic, with a few laminate types using kaolin fillers. Fillers help to reduce resin shrinkage, thus minimizing crack formation in filled areas.
Glass Transition (Tg)
Finally, glass transition (Tg) is given. The glass transition is the temperature range in which the molecules of the resin transition from rigid and brittle to flexible and pliable. Tg was highlighted in the specification area due to the fact that many designers based their laminate choice for RoHS compliancy on the material Tg. There are many other factors that should be considered now, besides Tg, when selecting laminates.
Additional Characteristics To Be Aware Of
The remainder of the slash sheet will list laminate requirements for material characteristics that are tested per IPC-TM-650 Test Methods. A few of these characteristics are mentioned below.
Peel strength determines the bond of metal cladding when tested under "as received", after thermal stress, and after exposure to processing chemicals.
Volume and surface resistivity determines cross-sectional and surface electrical resistance of the dielectric material under humid conditions.
Moisture absorption determines the rate of absorption for the epoxy composite used in the laminate structure. All resin systems absorb some moisture when exposed to high humidity environments.
Dielectric Breakdown is a measure of an insulator's ability to withstand the stress of high voltages placed across it.
Loss tangent is a measure of how much of the electromagnetic field travelling through a dielectric is absorbed or lost in the dielectric.
Flexural strength can be determined with laminates of 0.51mm thickness or greater, by applying a specific load to a specific size and shaped specimen.
Arc resistance is a measure of the time required to make an insulating surface conductive under a high voltage / low current arc.
Thermal stress determines the thermal integrity of unclad or metallic clad laminates using short term solder exposure.
Summary
IPC 4101 is the industry guideline for base laminates of printed circuit boards. Understanding its content and structure will lead designers to choose the laminate that best supports the final product requirements.