Shipping of lithium batteries is a very important process that requires significant investment in training and equipment. In April of 2016, new lithium battery shipping regulations were passed that forbid lithium batteries from passenger aircraft and limited the SOC (state of charge) for any battery shipped via air cargo to 30%.
Additionally, there were new labeling and packaging requirements instituted for all shipments of lithium batteries. All these new changes add cost and time to companies that manufacture battery packs and OEMs that use these batteries in their end products.

In January of 2017, even more regulations went into effect that will require OEMs who ship their end product with a lithium battery to label their packaging to identify that it includes a battery. At the speed these new regulations are coming out, a lot within the industry are speculating that it is possible that lithium batteries may be banned from all aircraft in the near future.

If that does happen, it would change the dynamics of developing and manufacturing custom battery packs for the entire supply chain.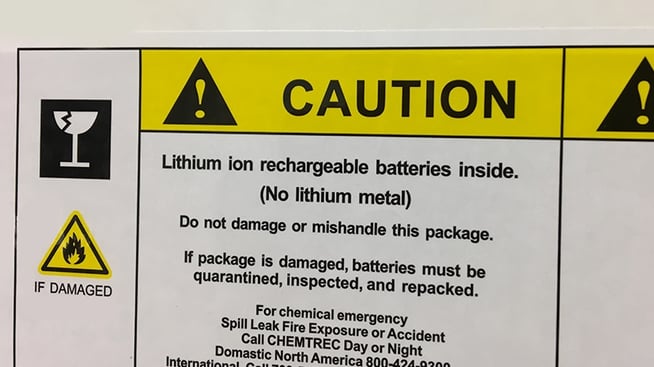 What State Of Charge Should I Ship Batteries In My Equipment?
With the new regulations that came into effect in April of 2016, Epec made the decision to ship all of our batteries at 30% SOC regardless if they shipped air or ground to our customers. Recently, there was a discussion with one of our customers (a Fortune 100 medical device company) which led to how they should ship batteries when they are installed inside of their equipment. After reviewing all of the pros and cons, the customer agreed that it would be a sound decision for them to use the 30% maximum SOC even when installed in their equipment.
Much of what is shipped gets shipped via ground transport, but what happens once it leaves your control? Even if you have UN 38.3 certification and have done everything right, what is your liability if your product finds its way into air cargo with over 30% SOC?

At Epec (and now with our customers), we have made it our policy to ship all batteries at 30% SOC. This means that if one of our batteries is ever found with a higher SOC, it had to be done by someone other than us.
Liability is a big concern for battery manufactures as there is enough that can go wrong if there is a design or manufacturing issue. Taking this stance helps us reduce some liability for us and our customers.

It sounds easy but it does add cost to us, our OEMs, and their end customers. Most products will not work for very long with only 30% SOC so the end customer will need to charge before first use. Not to mention that OEMs need to change their internal procedures and have the battery discharged down to 30% after final test.
Conclusion
At the end of the day, the new lithium battery shipping restrictions are all manageable by companies that have invested in the right people, processes, and equipment. However, we are only at the beginning of this process and expect more lithium battery regulation changes to come. For even more information view the Lithium Battery Regulations and How They Affect OEM's Webinar.