When it comes to manufacturing, time is of the essence. Worries about how fast your printed circuit board (PCB) order will arrive and whether it's on time is largely in the hands of the PCB manufacturer, but what can you do to to ensure the process moves as quickly as possible?
Choosing to work with a high quality quick turn PCB services supplier is obviously the first step. As the oldest existing printed circuit board supplier in the United States, not only can we help you construct highly reliable custom products, but we can give you the tips you need to ensure your PCB orders won't get delayed.
A circuit board supplier needs to have a strong supply chain to support your required delivery with the quickest turn times both domestic or offshore. Let's face it, lead time is tight, scheduling is difficult, and any delays are unacceptable. Customers want their PCBs when they want them. Costs drive to tighten lead times and scheduling leaves no room for delays or errors.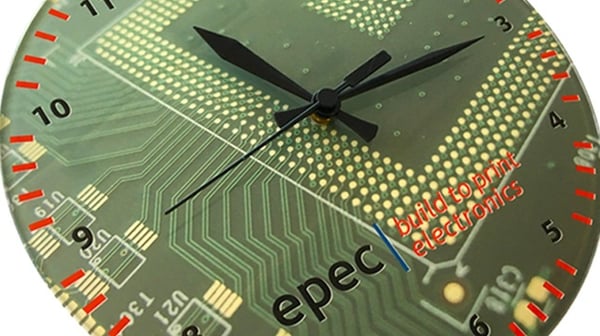 Faster Production Time With DFM Service
An important first step towards improving your time to production is by utilizing a Design for Manufacturability (DFM) service while in prototyping and design phase. Look for companies that provide a free DFM service along with expert engineering support to eliminate front end delays. By utilizing a DFM service, you can be certain to address any hidden critical manufacturing issues before your order is placed allowing for corrections to be made without a change or revision. A lot of times errors are found after PCBs are manufactured, causing revisions to the PCB data, resulting in additional days to the lead time, and a more critical delivery.
What You Need With Your Order!
When submitting an order, know what you need to prevent delays into production. A complete data package consist of Gerber files (preferably RS274X format), Excellon drill data, clean accurate profiles 1:1 of you PCB outline, and a fabrication drawing.
Supply overall thickness, desired copper finished weights for internal and external layers, soldermask and silk screen colors for application and surface finish to be applied.

Make sure fabrication drawings have manufacturing tolerances where needed. All routing +\-.005 are best for ease of manufacturing, +\-.003 on all plated holes, +\-.002 on non-plated

through

holes.

Specify IPC standards for production class II or class III. Call out critical dimensioning and tolerances on your fabrication drawing that must be met. Use common terms such as press fit holes, impedance controls, RoHS compliant to aide in quotation, and the appropriate build.

Provide details for the desired array layout. Do you allow scoring or prefer routing? Be sure data allows for processing both profiles, keeping copper away from the edges of the PCB. When available, supply details in a drawing with clear dimensional requirements.

Know your laminate specification basics, Tg for an example. 130Tg is standard common material used in non-RoHS applications and simpler designed products. Printed circuit boards require several passes through RoHS assembly at a higher temperature require 170Tg. Finally, 180Tg for high reliability, double sided surface-mount PCBs. Remember, 180Tg can be overkill and add unnecessary cost to your product. Specify the laminate by Tg requirement and not by brand for quicker production.
Summary
Submitting a complete PCB data package ensures you will receive your quick turn printed circuit boards on time. Following these guidelines will fullfil important PCB order requirements and eliminate many of the issues that could cause your circuit board order to be placed on hold.