D-subminiature connectors, commonly referred to as D-subs, are a class of interconnects that are widely used in the electronics industry for both commercial and industrial applications. The name "D-sub" comes from the shape of the connector shell which looks similar to the letter "D" when viewed from the front face.
On the rear of the connector, most D-subs are equipped with two threaded male fasteners with a plastic grip on the end. This knurled feature is ubiquitous in all D-subs and provides a quick and robust way to seat the connector allowing it to remain locked and secured. While rarely necessary, it is possible to order customized thumbscrews in any combination of length, overmold colors, or shape.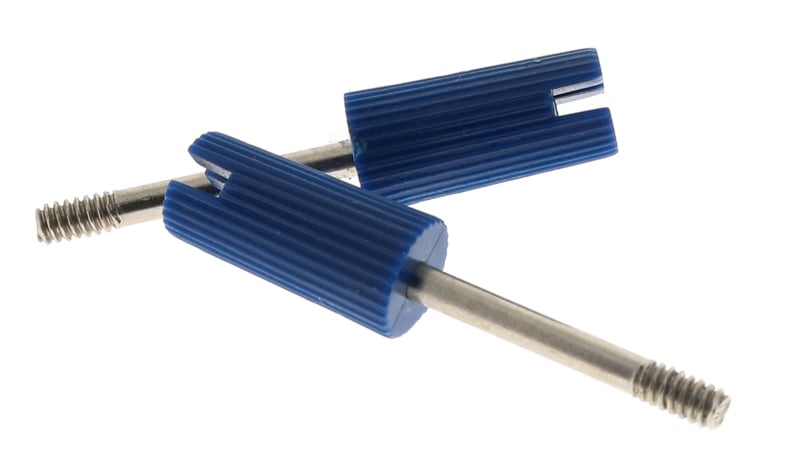 Threaded studs are then overmolded to become thumbscrews.
A D-sub connector has two or more rows of pins or sockets with a metal D-shaped shell surrounding the contacts. These contacts are arranged in a specific pattern according to industry standards, which is usually an odd total number of pins and based on the exact pin count per row.
The most common types of D-sub connectors are the 9-pin, 15-pin, and 25-pin connectors. These connectors are important because they provide a reliable, secure, and versatile connection between electronic devices. They are commonly used in applications such as computers, printers, video displays, and industrial control systems. If you look around your home or office, it's highly likely that there are several types of D-sub connectors being used today.
Benefits Of D-Sub Connectors
One of the key benefits of D-sub connectors is their exceptional durability while also being wildly inexpensive as they are designed to withstand a wide range of environmental conditions such as temperature changes, vibration, and shock. Additionally, they are designed to be easy to connect and disconnect, making them ideal for applications where devices need to be frequently connected and disconnected. Additionally, no tools are required to install or remove the connector, just a few twists of a thumbscrew and a gentle tug.
Another benefit is their versatility. They can be used for both analog and digital signals, and they can support a wide range of data transfer rates. This makes them suitable for a variety of applications such as serial protocols, audio-video transmission, and other types of data transmission.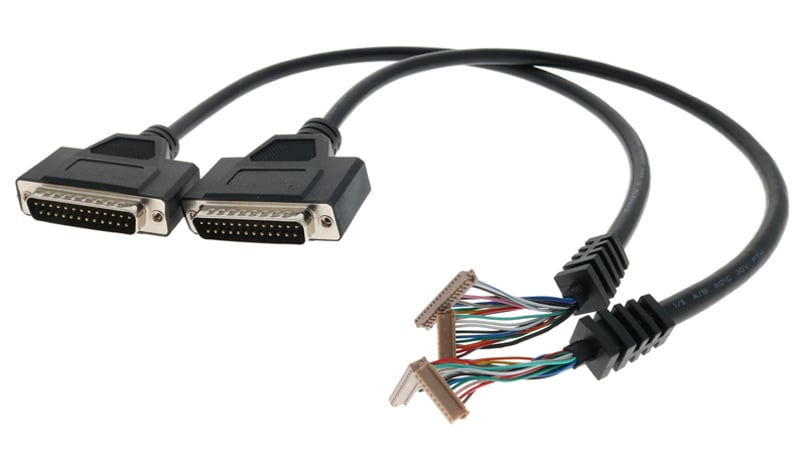 VGA port cables use a DE-15 connector with thumbscrews.
Applications
D-sub connectors are readily available and used in many different applications, ranging from consumer electronics to industrial control systems. Here are some of the typical applications for them:
Computers and peripherals: D-sub connectors are commonly used for connecting peripherals such as mice, keyboards, and printers to computers.
Audio and video equipment: The connectors can be used for transmitting analog video signals, such as VGA, and for transmitting digital signals such as HDMI and DisplayPort.
Industrial automation and control systems: They are widely used in industrial control systems for connecting sensors, actuators, and other devices to control systems.
Telecommunications: The connectors are used for serial communication in telecommunications equipment such as modems and routers.
Medical equipment: D-sub connectors are used in medical equipment such as ultrasound machines and patient monitors.
Military and aerospace: Commonly used in military and aerospace applications due to their rugged design and ability to withstand harsh environmental conditions.
Test and measurement equipment: Used in test and measurement equipment for connecting probes, sensors, and other devices.
Pin Counts
The most common pin counts for D-sub connectors are 9, 15, 25, 37, and 50. These pin counts refer to the number of pins or sockets in the connector, with the 9-pin and 15-pin being the most commonly used. Both types are offered in receptacle and plug configurations supporting both male and female connector genders.
There are also high-density D-sub connectors available that can have a higher pin count in the same footprint. For example, a high-density one can have up to 26 pins in the same size connector as a standard 15-pin D-sub connector. This is achieved by reducing the size of the pins and rearranging the pin layout, reducing the effective pin pitch.
It should be noted that high-density D-sub connectors are not compatible with standard D-sub connectors due to the differences in the hole patterns. For example, a male DA-15 will not mate with a female DE-15. Therefore, it's important to choose the correct type of D-sub connector for your application and ensure that all of the mating connectors are compatible.
Thumbscrews
Thumbscrews, also known as jackscrews, are used in various types of connector schemes and provide a secure attachment method to the mating receptacle. Throughout the industry, these fasteners are also referred to as captive screws, panel screws, and knurled knobs. These positive locking features help prevent the connector from coming loose during repetitive motion events and help provide additional strain relief. If the cable is accidentally tugged or pulled, the thumbscrews will take the force load protecting the delicate pins and contacts inside.
Thumbscrews are typically located on the sides of the connector and can be tightened or loosened by hand. When the thumbscrews are tightened, they apply pressure to the connector shell, which helps to seat the connector in place ensuring all pins are properly mated.
The plastic-coated and knurled knobs of the thumbscrew are especially useful in applications where the connector needs to be frequently mated and disconnected. The thumbscrews provide a simple and secure way to assemble the connector without any additional tools.
Thumbscrew Thread Types
The most common thread type for thumbscrews is the Unified National Coarse (UNC) thread #4-40. The UNC thread is a standardized thread form used in the United States, and it is also commonly used in other countries. The thread pitch for UNC threads is based on the number of threads per inch, with coarser threads having fewer threads per inch and finer threads having more threads per inch.
Another common size of thumbscrews is the metric near-equivalent, which is an M3. Some jackscrews are available in slightly different pitch and thread sizes. It's important to choose the correct mating thread type, and before finalizing your design confirm that the thread size is appropriate for your application.
Thumbscrew Customization
D-sub thumbscrews can be customized for various reasons. Thumbscrew customization can involve changes to the size, shape, or surface finish of the thumbscrew, as well as the addition of features such as locking mechanisms or special coatings. Since these items are simply threaded metal rod, with a hard plastic overmold, virtually all features can be customized by Epec.
One common customization option for D-sub thumbscrews is the addition of a captive feature. Captive thumbscrews have a fixed retention feature that prevents the screw from becoming completely disengaged from the connector. This can be useful in applications where the thumbscrew needs to be removed for maintenance or repair but cannot be completely detached from the connector. Or locking thumbscrews can include a feature that requires a tool or key to unlock and remove the thumbscrew. This can be useful in applications where security or tamper resistance is important.
Thumbscrews can be completely customized with a variety of materials, colors, surface finishes, and other molded plastic features. It's common to have one color main connector shell and have different color thumbscrews for a given project requirement. Some projects will require red thumbscrews, other projects may require blue thumbscrews. This approach represents an inexpensive and simple way to color code D-sub connectors without having to retool or source specialty connectors.
Summary
Developing custom overmolded cable D-sub thumbscrews can enhance the performance of D-sub connectors. The durability and versatility of D-sub connectors make them ideal for applications such as computers, printers, video displays, and industrial control systems. By developing custom overmolded cable D-sub thumbscrews, users can optimize the performance of their D-sub connectors and ensure they are compatible with their specific application needs.