At Epec, engineers are expected to find innovative solutions to problems and develop them quickly and accurately so that customers can get quality product delivered on time. In this blog post, I will discuss how the 80-20 rule can be used in conjunction with our classic engineering design process to reach solutions faster.
We have all heard the saying that 80% of the work gets done in 20% of the time. However, we as designers often forget to leverage this rule and the creative workflow that takes place at the beginning of the design process to create better solutions quicker.
Though there are many different versions of the design process, and they all follow a similar flow like the one below: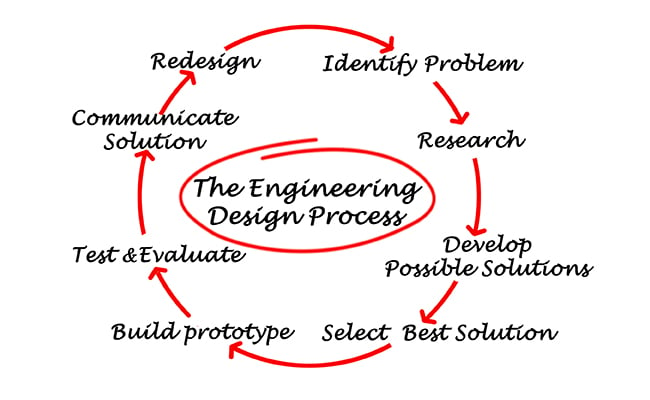 Engineering design process diagram.
This diagram shows a circular pattern to signify that this is an ongoing and iterative process. However, when starting a project, one always begins at identifying the problem and then carries through the rest of the steps.
How Does The 80-20 Rule Come Into Play?
Well, at the beginning of this design process, engineers will be interacting with many different ideas and concepts at a surface level and beginning to understand how they fit as a solution to the initial problem. Then, as they go through the steps, these ideas are narrowed down and developed until eventually there is one production ready idea.
Beginning of the process: Many ideas, not yet developed.
End of the process: Fewer and fewer ideas, each developed further.
This brainstorming and initial development of ideas takes a small fraction of the time of the whole design process. However, this time is very productive to generate ideas and push to an end goal. The rest of the process takes most of the time but involves a relatively slow progress. Every step of the process is necessary for the development of a quality idea but, we are very productive at the beginning of the process, and if a designer commits to an idea too early, they are not taking advantage of that efficiency with idea creation.
Here are a few specific applications where this way of thinking can be used to increase productivity.
More Productive Presentations And Design Review
One of the ways that you can take advantage of this efficient workflow at the beginning of the process is by presenting different options in initial presentations and design reviews. This allows you to get more eyes on your process and to get valuable perspective on your ideas. If you come into initial presentations with only one idea, then the feedback you get will be on perfecting and improving that idea. If you come in with a few ideas, the feedback you get will be to find the most fitting solution to the problem. Moving forward with the right solution is much more valuable than perfecting an idea that doesn't address the problem in the best way.
Example:
At Epec, we wanted to develop a drop tester to be used on some of our custom battery packs and packaging that would experience rough conditions. While coming up with this design, it became obvious that there were multiple different mechanisms that could be used to reach the end goal.
It was at this moment where we had the option to leverage efficient time management practices in order to reach a better solution sooner. Using the rule, we can predict that we can develop three options 80% of the way in a little over half the time it would take to fully develop one mechanism.
Before finalizing details like the stand design, the platform size, and assembly instructions, we presented three different mechanism options to the interested parties. With quality assurance, production, and engineering giving their point of view, we were able to move forward with the right mechanism that would work best for our application. Without this input early in the design process, we likely would have spent a lot of time developing a design that would have been less usable and versatile for our company.

Left to right: "trapdoor" mechanism (winner), "slide" mechanism, "hold-and-release" mechanism.
Iterative Prototyping
Iterative prototyping is another area where focusing on the balance between ideation and perfection can help productivity. With modern prototyping resources like 3D printing, it is easy to get working prototypes for fixtures or products for well under $100.
As the 80-20 rule predicts, most of our design can be developed in a small minority of the time. With a prototype potentially costing less than a couple hours of engineering time, it starts to make sense to pull the trigger when you feel a design has been developed to the point where other members of your team can learn from it or understand it.
Example:
At Epec, we continuously strive for manufacturing excellence. And part of this endeavor means ensuring that our assemblers have the right tools in hand even if we have to make those tools ourselves. For one of our highest volume domestically assembled battery projects, we realized that creating a custom fixture to aid in the tab-welding step would make our assemblers more efficient and more consistent.
We started to develop the design and quickly learned that our concept would only cost $40-$60 to make using 3D-printed nylon. With this in mind, we decided to pull the trigger on a prototype so that we could effectively learn about our design, having only spent a couple hours of engineering time. As predicted, we learned more within the first few minutes of handling it than we could have by looking at it in CAD for a couple more hours. Step by step, here's what we learned:
First prototype: Having this fixture is a clear improvement over the previous method of holding and aligning tabs by hand. However, the tabs had the tendency to shift and possibly fall out unless handled very carefully. From this, we decided to try a design in which we could embed small magnets to hold the tabs in place.
Second prototypes: The magnets were very effective in holding the tabs in place, making loading and tabbing easier. However, the 1mm of added thickness to accommodate the magnets made it harder to see and hit the target. We decided to refine the design to reduce the thickness and make changes to increase the visibility.
Third prototype (production ready): The updates made in this round improved the fixture to a point at which it became a viable and effective production tool.
We were able to take advantage of the 80-20 rule by advancing the design each time to a point at which we felt we could learn from it. Instead of wasting time in CAD, we learned from physical objects that pushed us forward to a better solution quicker and spent just approximately $100 before reaching a production-ready fixture.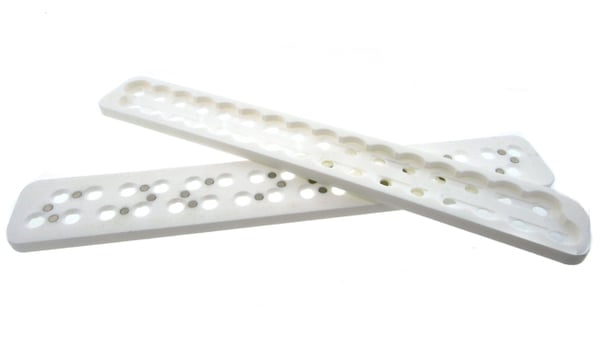 Final iteration of production fixture.
Being Conscious Of Your Efficiency While You Work
Using the 80-20 rule to your advantage takes practice. But the first step is recognizing that switch between creation and the perfections process. This isn't something that can be measured. To begin recognizing this switchover point, take a step back from your process once in a while and ask yourself "Does this idea make sense" and "Is this at a point where other people will understand this design." At this point, you can share and collaborate on your design.
People don't need to see your tolerances or all your fasteners in place to understand the benefits of your idea. This stuff, along with cost-optimizing and fully pricing out your bill of materials (BOM) and narrowing down suppliers, should be done after you get 'buy-in' to a specific idea. The reason for this is that you don't want to go through this refining process multiple times for different ideas that don't make it into reality. Make this work count on solid ideas.
Summary
At Epec, our focus on quickly and effectively finding design solutions to customer and internal problems means that we are very interested in efficient time management. Though it is impossible to fully negate the 80-20 rule, we can leverage it to make ourselves more responsive and effective as a company.