When you are designing a custom battery pack, it is always beneficial to understand the markets intended at the onset of the project. And as you would expect, a battery pack can be designed with several optional features that will ultimately add costs in the end. This blog post provides information on design while helping to keep costs aligned with your needs.
Designing Your Battery Pack With Costs In Mind
Some custom battery pack applications don't require all the bells and whistles and can be designed with minimal features to achieve the results needed for the end device.
Look at the IP ratings for the battery. There are different levels of watertight ratings that to achieve take different approaches with the design that might add unnecessary costs if you are designing a certification level that isn't required.

Another example would be battery potting. Potting is done for multiple reasons. Sometimes, it is to encompass the electronics to provide a level of moisture prevention that might be accomplished with a lower-cost conformal coating option. Some of the potting materials are expensive, and in the process of potting there is a lot of waste involved which adds to the overall costs.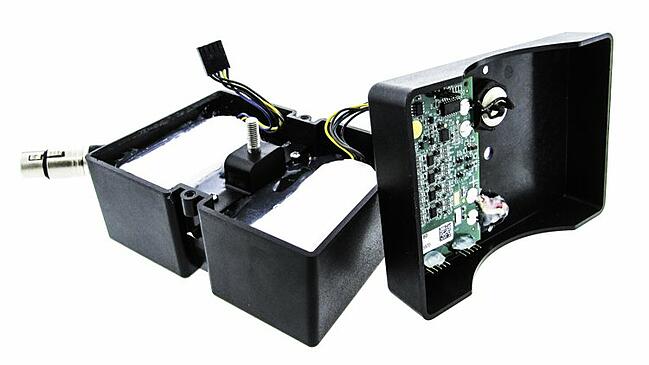 Custom Battery pack with custom enclosure.
Enclosure would be another good example. If an enclosure is required, and an off-the-shelf solution can be used instead of a custom design, the economics would be much better, and you would not be faced with the NRE (nonrecurring engineering) charges or the additional lead time it would take to develop.
On the other hand, there are many applications where you may want additional features as selling points to better a competitor, and a custom enclosure is required to market your device as the best in class. If the battery is intended to be enclosed in the device, and not intended for the user to ever have to change, the design should be as basic as you could make it, which will keep your costs down.
Many times, if an engineer is designing the battery without any marketing or budget input, they will request all the state-of-the-art features not considering costs or manufacturability.
Chemistry Options
When chemistry is an option, there are always trade offs to consider such as energy density, dimensional size restrictions, weight, and temperature limits. Example: if you have the option of NiMH or lithium, the NiMH chemistry is less regulated and requires less electronics and faster development process to market. Lithium has higher energy density and a lighter, smaller footprint, but also requires the electronics to manage the chemistry.
The process to market is longer due to the DOT/UN38.3 transportation certification that will need to be completed, which not only adds to the timeline, but also to the costs. That step requires a submission of 16 samples as the final design that will be used for destructive testing to confirm the battery design is safe for transportation.
For lithium-based products, this certification is required prior to any further level of certification you may require. Along with the timing and costs to produce the 16-piece submission lot, the testing for the certification will take another four to six weeks for the approval. Additional certifications (UL, IEC, CB) cannot be submitted until this safety/transportation test is done and registered. Of course, lithium is the preferred chemistry due to the benefits, but not always the only choice.
Battery Pack Designing Considerations
If your battery requires certifications at any level, you may want to consider dual certifying some of the critical components in your design to avoid having to recertify the battery down the road if one or more of these critical components become obsolete. We have all seen where components become unavailable or even cell models. To completely redesign and recertify is not only very costly, but the timing to do so is never something that is considered once the product is developed and in the market.
If considerations are taken during the design and certification process to add multiple component alternatives to the BOM (bill of materials), you can transition to the alternatives if something becomes obsolete. In some cases, it may be the component lead time has been extended due to availability, and that hard-to-acquire component sets your product delivery back substantially. The additional costs to submit alternative samples to certification agencies at the onset will be much less than having to completely re-certify if you must start over with a redesign.
Also beneficial would be to understand the markets you intend to support to determine what levels of certifications you're going to require. Many of the certification tests overlap each other. So, if you're submitting for several agency approvals, it would be beneficial to have all testing done at the same agency in parallel to reduce the timing, number of destructive samples needed to submit for testing, and ultimately, your costs. This is not always possible, but something that should be discussed before you submit to the test agency for whatever level of certification you need to achieve.
Summary
Doing some upfront research on required certifications and understanding what can be specified for potential dual certifications could be very beneficial in the long run. Also understanding what certifications can be run parallel to reduce costs and required sample submissions could help your timeline and bottom line. Having a team budget approach to include your engineering, marketing, and manufacturing teams is highly recommended.