The development of a battery pack relies on a full understanding of the components that are necessary to supply the right amount of power on demand and at a safe rate, providing adequate recharge times, and providing optimal shelf storage. This step requires fully outlining and providing details regarding the application and power needs of the product.
Since every application is different, a range of varying components and battery chemistries will be used. These aspects will dictate the types of standard materials that will be used, as well as additional components that may be added to perform a specific function or to adhere to industry regulations. In addition, figuring out which components will be necessary also helps to establish battery pack lead times so that production runs and time-to-market deadlines can be established.
Standard Materials and Components for Cells
When considering basic materials, a customer needs to determine the type of battery chemistry that will be used. All batteries will have components such as anodes, cathodes, and electrolytes, yet these components will be made of specific materials based on whether a customer selects a lithium-based battery, alkaline battery, or nickel-based battery.
For example, a lithium-ion battery cell will have an anode made from lithium, lithium-alloying materials, graphite, intermetallic, and silicon. The cathode will typically be made of lithium-metal oxides, rechargeable lithium oxides, olivine, and vanadium oxides. The electrolytes will consist of lithium bis(oxalate)borate, lithium hexafluorophosphate, or something similar that will be a polymer, liquid, or solid state. If the battery chemistry will be alkaline, the anode will be a paste-like gel that is typically made of zinc powder along with a potassium hydroxide electrolyte. The cathode will consist of graphite and magnesium dioxide with a similar electrolyte makeup.
A separator will be used to keep the cathode and anode separate. For lithium-based cells, the separator will be made of a foam material while pieces of paper are in alkaline batteries. Finally, the remainder of the battery cell will have several seal layers consisting of a nail in the center of the can to act as a current collector, a secondary plastic seal, and a metal end cap as a third seal.
Each battery within the pack will have interconnections internally as well as external ones. The material used for these connections will be based on whether the battery pack will be designed to provide high power or low power for the application. For low-power cells, nickel strips will be commonly welded onto the cell terminals to make the internal interconnections while the external circuits will have gold-plated contacts. If using pouch cells, the interconnections will have metal tabs. Flying leads may also be used for lower power interconnections. The high-power battery pack will have braided straps or bus bars made of copper for the internal interconnections and threaded metal studs for external connections.
Electronic and Software Components and Materials
Electronics and software are becoming standard components found in battery packs today. These components may consist of:
Protection circuits
Monitoring circuits
Fuel gauges
Charge controllers
Cell balancing functions
Communication functions
Indicator lights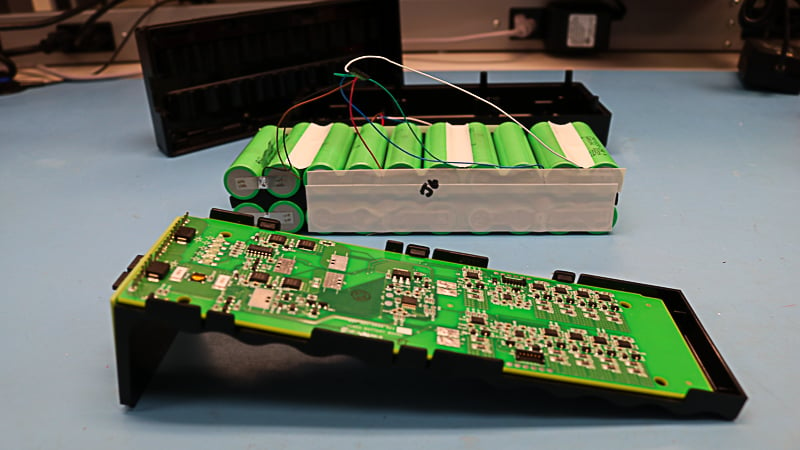 Inside of custom battery pack showing electronics, components, and materials.
Many of these components will be a part of the battery management system (BMS). While alkaline and nickel-based batteries don't require battery management systems, incorporating these features adds greater safety and protection for the batteries, as well as allowing the customer to monitor the battery's status and take the appropriate actions. For lithium-based chemistries, a battery management system will always be required.
The integrated circuits for the electronics will be placed onto a standard printed circuit board. The choice of whether to use a flexible circuit board, rigid-flex PCB, or traditional rigid PCB will be based on several factors such as the available space in the application, the desired weight for the battery pack and the application, and the need for the PCB to withstand shocks, vibrations, or loads. In addition, costs will also play an important factor.
Battery Enclosure Materials and Components
When deciding on the battery enclosure, it will be dependent on how the pack fits into application. For batteries that will be completely inserted into the application, the standard shrink wrapping or vacuum formed plastic will be standard. If the batteries will be mounted into the device, such as on the handle or in a separate housing that will need to be accessible, injection molded plastic is commonly used.
In some circumstances, metal casings will be required for the battery pack. This option is suitable for battery packs that will be used for traction applications. Metals casings will also be used for applications that will go through extreme forces that could damage the battery packs or cause a rupture where the battery cells may catch on fire or explode, as the batteries could potentially injure people nearby.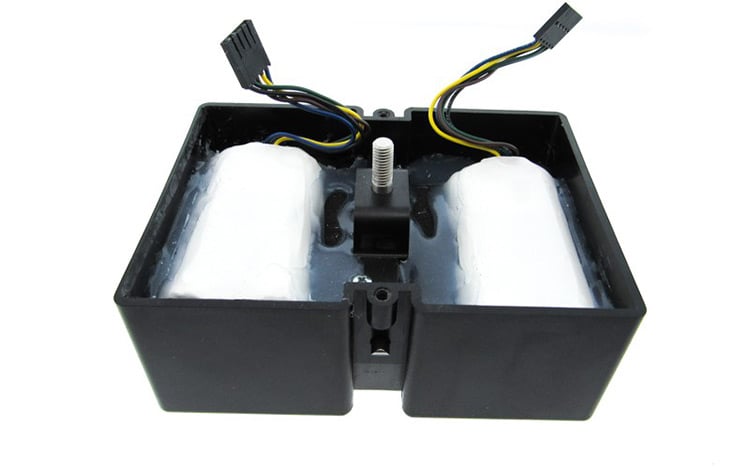 Battery pack inside injected molded plastic enclosure.
When it comes to injected molded plastic enclosures, there will be times when the outer physical appearance will be visibly seen and should match the color, texture, or design of the application. Coordinating the battery pack enclosure design with the application's design needs to be planned out when using different manufacturers for each device.
Having the available designs and relaying changes immediately between the product manufacturers and the battery pack enclosure manufacturer can ensure that the process proceeds smoothly with minimal delays.
Other Materials and Components
Battery cells can experience expansion and swelling due to thermal temperatures and a buildup of gases. This problem is common with lithium-based battery chemistries, as the cells can swell up to 10% during the lifetime of the battery pack. Cooling methods may be designed into the battery pack.
Standard design solutions involve placing vents into the enclosure. If other solutions are desired, fans and pumps can be placed into the battery pack design as well as air cooling or water-cooling methods that use heat exchangers.
On the other hand, heating mechanisms should be a consideration for battery packs that will be used in extremely cold temperatures. Flexible heaters may be one consideration for applications that have size and weight restrictions or for applications that come in curved or rounded shapes.
Considerations When Using Standard Battery Pack Materials
Battery cell chemistries, configurations, materials, and components will have certain materials more available than others. The types of standard materials that are available will be based on customer demand trends and the specific battery packs that the manufacturer may provide, such as a manufacturer who strictly offers lithium-ion batteries or nickel cadmium batteries.
In addition, certain features of the battery pack may need to be custom developed due to the application's power or safety requirements. Application specific integrated circuits (ASICs) for management systems can be a full custom design from scratch down to the transistor level, a conversion design where a PCB base is used and then it is customized for the application or a normal ASIC creation where the custom design will proceed down to the gates.
Selecting standard components and materials can help a customer keep within desired budgets while having short lead times. However, this strategy may not be feasible for every application that requires a high-powered battery pack. Moving to a custom design phase may allow for more flexibility for the components and materials that will be used. In addition, an experienced battery pack manufacturer may be able to suggest components and materials that are more cost-effective and available, allowing the customer to cut down on their lead times and time-to-market deadlines.
When deciding on cells designs and chemistries, industry standards may need to be abide by that will impact what chemistry will be used and the types of certifications that are necessary. For example, medical devices will need to be designed to ensure that battery chemistries meet all international and domestic safety regulations to receive certification. To receive certification, a registration audit may need to be performed or testing requirements must be done. These factors can increase lead times and costs as a certain number of battery packs will have to be created that will undergo both nondestructive and destructive testing.
The one thing to keep in mind is that often the costs for battery pack components and the lead times will be underestimated by the customer. A customer may not be aware about all the components that will be required for the battery pack to meet the desired power levels while having the battery chemistries operate at the right safety levels. Having all the battery pack requirements and details available before contacting the manufacturer will allow us to inform the customer about what standard materials will be used, what components will be customized, and what the costs and lead times will be before the prototypes are created.
Summary
At Epec Engineered Technologies, we provide battery design, creation, and manufacturing work to customers in a range of industries, including medical, aerospace, food service, and military defense. We partner with our customers to learn more about their operational capabilities and the battery pack power needs. Then, we offer design solutions that can keep costs low for our customers while providing a high-quality battery pack. Contact us today to learn more about our capabilities.