History of PCB Manufacturing
When I started working in the printed circuit board manufacturing business 34 years ago, I believed it was a temporary job to pay the bills. Just until I was able to figure out what I really wanted to do. That was in 1982, working at a small PCB shop.
Working the second shift, I had the opportunity to learn the process of building a circuit board. Two words come to mind - manual labor. The equipment we had required you to walk from one end to the other putting a panel on and catching it on the other side. Some of the machines were only five feet long but others were forty feet. If you got the rhythm right nothing hit the floor and you finished the job happy.
Circuit Board Automation
Over the years PCB automation slowly came into play. With new automatic feeders, we would stack the PCB panels on the arms, set the feed, and stand at the end waiting for parts to come out to catch. Most of the time there was never a problem but on occasion the automation would fail or someone on the line would make a mistake. If panels were being dropped crooked on the conveyor belt, or if two panels were dropped at the same time, the machine would end up jamming. Hopefully not breaking anything but either way someone had to go off and running to shut the machine off. Any mistake made on the line was critical as was the result, which often had great effect on the feeder and machine. Not to mention having to shut it down and the time loss for paging assistance to clean up the mess. Worst case scenario involved replacing parts which could cause shipment delays.
The PCB automation equipment did improve as time went on. The company I was working for started linking process machines together to save time. For an example, linking primary clean and scrub through the conveyor belt to dry film lamination and automatic exposure. This original 3-person process was now able to be run by a single person stacking panels on our new and updated auto-feeder. Life was better.
PCB Film Process
Film generation for all exposure process originally was a contact manual process using silver film in a completely dark room and transposing negatives to positives using light. Companies like Kodak, DuPont, and Fuji were our suppliers. Part of the job was to cut and tape the films together into panel sized primary image positives. We operated in temperature and humidity controlled rooms and always tried to keep the momentum.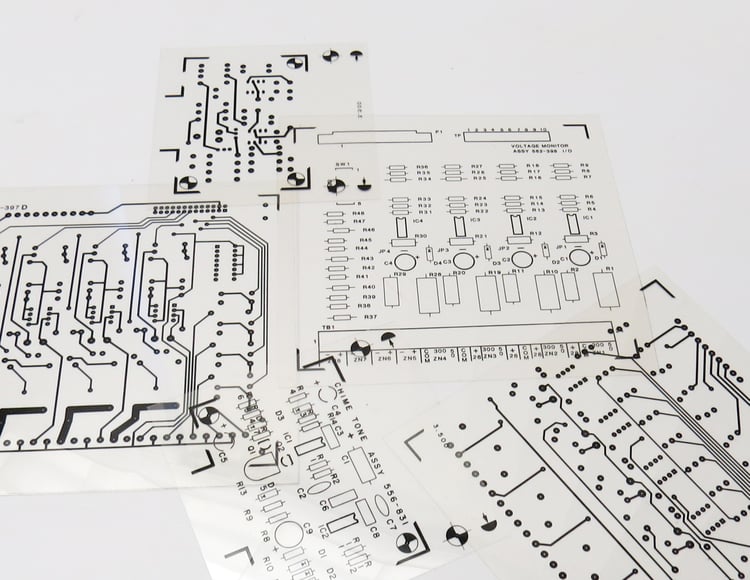 Diazo Printed Circuit Board Film
It could take days to process a single set of film. It was a multi-step endeavor which involved shooting, developing, cutting, taping, and touchup. With the use of final panel film, the imaging became permanent and we were able to transfer a duplicate image onto diazo film. Diazo film was transparent, and we could touch it up with black ink, and then use it to transpose images onto laminate panels. Unfortunately this was not a quick process. Thankfully we now have photographic plotting systems that generate film flawlessly or laser imprint imagery directly.
Now that we have cad software, the ability to process film has been automated. We no longer have to manually cut and tape, but instead can feed data into a program, which significantly reduces processing times. Another added benefit of removing humans from the process is efficiency. We no longer have to worry about defects as we did in the days of manual processing.
Conclusion
34 years since the first day I stepped into a PCB shop, times have truly changed. We now have streamlined automated processes, and minimal print to production times. This allows us to focus on what truly makes our company stand out; the core values that we abide by here at Epec.