Flexible heaters offer a way for commercial, industrial, and mil-aero applications to receive the desired heat at specific places. These heaters can be used for multiple purposes, from keeping food warm in cafeterias and drying up condensation in aerospace control panels to being used to control temperatures in medical equipment.
What makes these flexible heaters unique is that they can be bent without having their heating operations compromised. Flex heaters are also very thin. These advantages allow the heater to squeeze between components without becoming dislodged or rubbed off by working assemblies.
However, there are certain limitations regarding the types of materials used in heating applications, such as the breaking point for the bend radius and temperature limitations. Understanding these limitations allows customers to create designs that are suitable for the application so there is a smoother production process.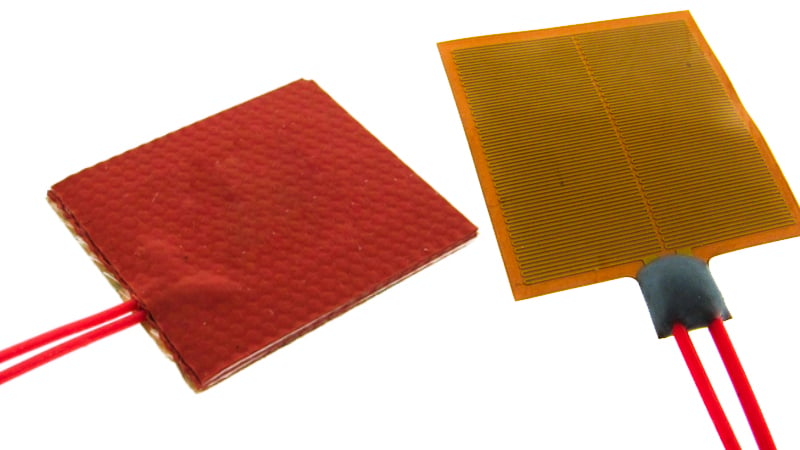 Example of Silicon rubber (left) and polyimide (right) flex heaters.
Bend Radius of Flex Heaters
Many flexible heaters are made from two different materials: polyimide and silicon rubber. How much a heater bends will always be based on the thickness of the materials. Polyimide flex heaters are capable of being as thin as 0.0007" with the etched foil heating elements. This thinness allows the polyimide to be bent around multiple curves in the same application.
However, silicon rubber flexible heaters have a thinness of only down to 0.030" when using etched foil elements and 0.056" for wire-wound elements, while silicon rubber can bend slightly more with the etched foil elements, it has a bend limitation of 1.5 inches. The thicker the rubber gets, the less bend it will have.
For many applications, polyimide flex heaters are chosen for curved and bent surfaces while silicon rubber is more ideal for flat surfaces.
Temperature Limits of Flexible Heaters
Flexible heaters can reach a range of temperatures based on the elements and the types of materials that are used. The desired temperatures for the heater will depend on the needs of the application, as well as the application's ability to pull the generated heat away and disperse it evenly from the heater. This heat transfer can prevent the flexible heater from malfunctioning and overheating.
Silicon heaters have a minimum operating range of -70°F and a maximin operating temperature of 400°F. They are ideal for medium to higher temperature ranges yet will start to experience failures if the application's environment goes too far below the minimum range.
For polyimide flex heaters, minimum operating temperatures can reach as low as -320°F and as high as 392°F. They are more ideal for environments with very low temperatures, such as satellites and spacecraft to keep electronics and instrument panels functioning.
Size Limits of Flexible Heaters
When considering the size of the flexible heater, keep in mind that there is more to the heater than just the outer polyimide and silicone rubber. There are also solder tabs, wire connections, and other electronics that need to be connected. You must also consider the types of elements that are used.
Etched foil elements have a maximum size of 10" x 70" for both polyimide and silicon rubber heaters. They cannot be made larger than this size or the heat will not reach every area of the flexible heater. Wire wound elements can reach a maximum size of 36" x 144". These elements are strictly used for silicon rubber heaters, as they can be made for larger applications.
If a customer desires a heater that is very small in size, the design can become a challenge due to allowing enough space to create a thermal path through the material that will allow the heat to be evenly transferred throughout the heater. Size limits for both polyimide and silicon rubber may reach down to less than 1/2". Yet there still needs to be enough room to make the required connections for the solder tabs and other electronics to power the heater.
For larger size flex heaters, a major concern is having heat losses in specific areas based on cut-outs and other factors that could create heat sinks. Having multiple temperature variances may be undesired for the application and cause it to malfunction. Proper consideration must be taken in regard to how the thermal pattern of the wire wound and etched foil elements are placed to ensure that even temperatures are reached across the entire flexible heater.
Material Limitations of Flexible Heaters
A benefit of both silicon rubber and polyimide is that both materials provide low off-gassing. So, they can both be used for vacuum applications. They also are ozone resistant and moisture resistant. In the case of silicon, this material should be used over polyimide materials for radiation-prone environments. However, silicon rubber is adversely impacted in the presence of certain acids such as phosphoric acid and sulfuric acid. The silicon material should also not be used when there are mineral oils, motor oils, or transmission fluid nearby as these acids and oils can dissolve away the material.
Summary
Every application requires different heating capabilities based on the size of the application, the materials that are present, and the duration of the heat that needs to be applied. Understanding these factors and how the flexible heater will be powered will help customers figure out certain attributes that are required for their heaters, such as whether to use silicon rubber or polyimide materials or use etched foil or wire wound heating elements.
Reaching out to a flexible heater manufacturer during the design stages can help you figure out how to create a flexible heater that will heat the application properly while not experiencing any negative circumstances that will impact the flexible heater's continued use.