Designing medical devices is no simple task. The stakes are higher for these devices compared to most other industries. Because of that, medical device engineers need to think carefully about which design elements should be prioritized.
When you analyze devices across a wide range of applications, you find that there are recurring design themes, and understanding them can help you design or select better equipment for a medical facility.
These themes are particularly emergent when looking at the common components of these devices:
Printed circuit boards
Cable assemblies
Battery packs
User interfaces
Injected molded plastics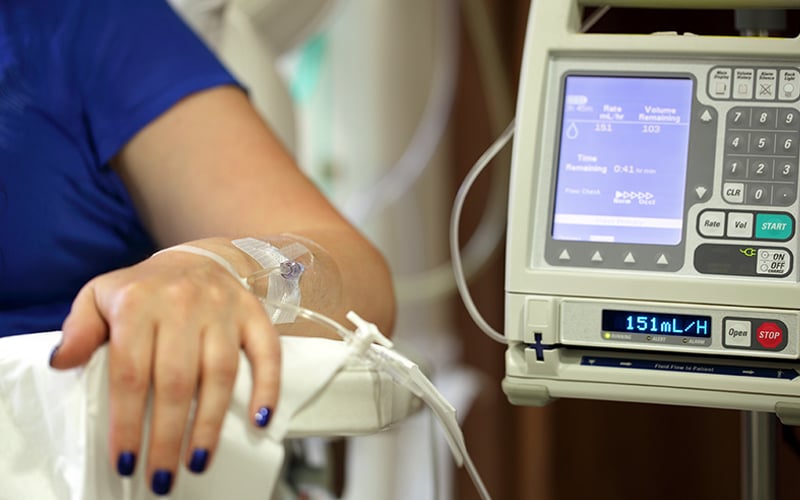 Patient in medical room setting.
Printed Circuit Boards
If we're discussing electronics in medicine or medical devices, then certainly every device will have a circuit board encased within the device. The vast majority of cases, especially with hand-held devices, will use a printed circuit board (PCB) and probably a flexible circuit board or rigid-flex combination. Although the common design elements revolve around reliability and durability, the size and the end product must be considered to apply the correct PCB.
Medical practices can be hard on these devices; handling, dropping, cleaning, and exposure to fluids all must be considered. Lives literally depend on their functionality; reliability is core to the design philosophy.
But that's where the similarity ends. Even in terms of providing durability, the best design methods depend on the device itself. For instance, some devices are better served by flexible circuit boards. Making a flexible board durable often doesn't require the same elements of stabilizing design. On the other hand, a rigid board needs to be secured and protected from unwanted movement within the device. Otherwise, it will be prone to cracks and other kinds of damage.
On top of that, medical devices come in all shapes and sizes, handheld, wall mount or on medical poles with wheels, and the stability and reliability of design elements must account for those size differences and devices.
This shows that while printed circuit boards are common in medical devices, you will see wildly different designs across those devices, and it is why custom board design is so important. Each device is optimized according to its own metrics, rather than following a standard that could never hope to cater to such diversity.
Cable Assemblies
Cable assemblies again highlight diversity even across similar concepts. Medical devices need cables for power and communication, and you'll see just about every type of connector in the industry.
For power, most tabletop medical devices operate using standard 110VAC wall power and a NEMA 5-15 3-pronged wall plug. Many of these cable types also have overmolded connectors to provide a robust low-cost solution. These cables are found on common devices like ultrasound monitors, triage carts, and equipment used for outpatient surgery.
Meanwhile, high-powered devices like MRI systems, X-ray equipment, and surgical lasers require specialized connectors for higher voltage and additional power needs. These cutting-edge medical technologies need to send and receive vast amounts of information that simply may not be possible with standard copper wire harnesses. As a result, some of the world's most advanced medical instruments must use fiber optic or coaxial cable constructions to support the enormous amounts of data required for them to function.
Since most medical device cables are not used anywhere near a human's body or skin, concerns over biocompatibility and sterilization are focused on a small percentage of the total cables and wire harnesses used in the market. For these select few applications, there are biocompatible materials available, but their price and availability must be factored into new projects. For medical device wiring that is found within an enclosure or mounted to a circuit board, everyday hook-up wiring is more than appropriate. But for projects that have direct skin contact, or prolonged exposure to the human body, specialty grades of PVC and biocompatible silicone are a few options that are readily available and cost-effective.
Battery Packs
Battery packs are important for a lot of electronics, but in the medical field, a loss of power can be deadly. The common thread holding many different battery pack designs together is interchangeability.
Safety is as equally important for a medical application battery. A patient-controlled analgesia device is typically designed with dual safety functions to meet strict and rigorous regulatory guidelines. Some batteries are designed for backup power applications for medical equipment, but some are also designed for direct life support, and critical they do not fail in either.
No battery pack can last forever. To cope with the extraordinary consequences of device downtime, battery packs are generally designed for rapid change. If you can switch the power supply with absolutely no downtime, then the medical equipment is better suited for such important work.
Aside from that concept, design is everywhere. Batteries need to provide enough power for the devices they operate, but keeping costs down is as important here as anywhere else. You will see different battery materials, design concepts, sizes, and more as you look through many different medical devices.
User Interfaces
When it comes to user interface designs in medical devices, there are three unifying concepts: durability, biocompatibility, and the ability to sanitize.
Medical devices such as keypads, touchscreens, and other types of hand-held medical devices all need to be designed to meet the harsh environments of an exam room or hospital. These devices must endure daily sanitization cycles, wipe downs with chemicals, and exposure to more aggressive sterilization steps using equipment like autoclaves. These user interface products must be designed in a manner that they can be cleaned and wiped down properly without dirt and contamination building up. Because of the ease to wipe down, hard-coated polycarbonate and polyester overlays are common for many types of medical devices that use touchscreens and embossed keypads. Silicone elastomer is another worthwhile material choice for keypads and button panels.
Medical teams and emergency personnel are trained to respond quickly to an emergency. This means that there will be times that a medical team must be rough with their equipment to provide care, and they will do so without hesitation. Medical device keypads and touchscreens must survive drop tests, function after exposure to solvents and cleaners, and be used in the chaotic environments of an ambulance or emergency room. Instances of surgeons using stainless steel forceps or the butt of a scalpel to press a button are not out of the question during the scramble to save a patient's life.
Some medical device keypads are intended to be used near human skin and as a result, must be made of biocompatible silicone elastomer. These types of keypads are especially non-reactive and help create a smooth cleanable surface. Though one of the drawbacks to using silicone elastomer keypads is that there may be some minor material swelling with direct exposure to isopropyl alcohol before it evaporates.
Injected Molded Plastics
The majority of cases, housings, and enclosures that are used in medical devices are made from one of two materials: aluminum sheet metal or injection molded plastic. Considering the latter, there are numerous benefits to using injection molded plastics. Most injection molded housings are made from plastic resins such as polycarbonate, ABS, or a combination blend of the two. The first benefit to choosing injection molded plastics is that they are extremely cost-effective at production volumes with recurring piece prices approaching a few dollars or less. Another benefit to using injection molded plastics is that the material can be molded into almost any custom shape- as long as it can be removed from the mold. Injection molded plastics are also easily machined, meaning that secondary machining and post-processing steps can be performed with minimal risk on a final assembly. Whether that secondary operation is installing a threaded insert or reaming out a clearance hole, thermoplastics represent a high-strength and low-cost option for many design engineers.
The primary challenge when considering using an injection molded plastic is the fact that these products need to be hard tooled before production can be launched and said tooling can cost several thousand dollars and take weeks to machine. Additionally, if there are any dimensional changes needed once the tool is built, the mold may need to be reworked or even scrapped. Another concern to note when selecting injection molded plastics is to pay attention to the material properties and to verify that they meet all program objectives. Some plastics will yellow and weaken over time with prolonged exposure to UV light. Other plastics have varying flammability and biocompatibility ratings meaning that care must be taken to properly select the appropriate resin for the project long before it's time to kick off the build. Lastly and most importantly, it should be noted that molded plastics cannot approach the traditional dimensional tolerances for machined metals. Specifying a linear dimensional tolerance of +/-0.005" is more than likely impossible to meet considering the way that plastics are molded and the parent material's corresponding shrink rates. Still, when designed properly, injection molded plastics are an ideal choice for low-cost medical devices that need to be built with UL-recognized materials.
Summary
Medical devices serve several functions. Designing around such a variety can feel impossible until you review the unifying principles. All of these devices need to be durable and reliable. They must endure potential abuse and survive repeated sanitization efforts. With these principles in mind, you will see recurring design themes for each major component, and it becomes easier to understand how and why each decision is made. Epec is uniquely positioned to take all the ideas, requirements, designs, and manufacturing challenges into account while keeping costs down.