Navigating through the complex cable industry can be both difficult and time consuming. This is especially true if, for whatever reason, you have to change your cable assembly manufacturers. This blog post is intended to give you a perspective of what to expect if you find yourself in the need of switching an existing cable assembly design to a new supplier.
Do You Have An Existing Engineering Drawing?
Having worked with a cable assembly provider in the past it is likely that you will have existing drawing files. That engineering drawing provides us with a lot of information right from the beginning. There is usually information within the drawing that tells us the length of an assembly, color codes, and in some instances it may even have an attached bill of materials (BOM).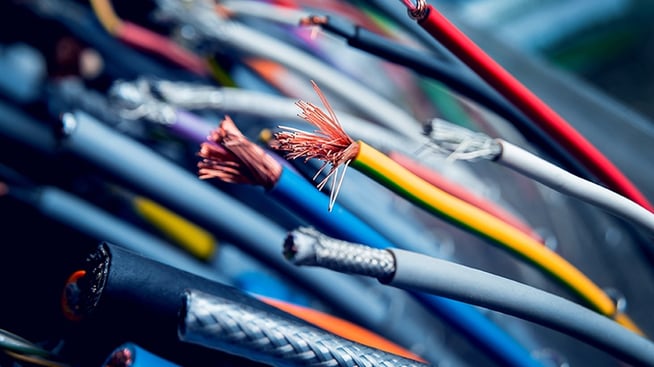 Various Cable Assemblies
The BOM can provide us with exactly the same part details to accurately match preexisting designs. For an example if you were using a specific type of connector, the BOM will provide all necessary info to ensure that same connector is used. The BOM also can show previous revisions. This allows us to see any previous areas of concern and to work accordingly.
Mention Past Issues and Concerns
Now it is understandable that one would proceed with caution if they have ever had a bad experience manufacturing a custom cable assembly. As long as you remain upfront with any issues you have had we will address those and build out actionable measures to counter any problem. The best tactics for switching an existing cable design to a new supplier is to give a bit of leeway regarding the option for substituting parts.
It is likely there would be opportunity for cost savings versus the existing cable design. If the design allows the use of our own internal build cable or our own internal build connectors it is likely there would be even more opportunity to save.
If you decide to contact Epec regarding the change of a supplier, this is what you can anticipate.
Submit Drawing
Quote Match Drawing

Once pricing is determined and approved continue to next step.
Build Manufacturing Drawing

The Manufacturing Drawing will detail every component that will be used and every dimension which you will sign off on.
Build/Provide Samples
These will be form, fit, and functional samples that you will be able to test in your equipment or lab. If you sign off on the samples, the production process will begin. Take note that cable samples are typically tested twice on our end to ensure reliability.

Summary
Make sure you have the UL styles. Check to see if the new supplier has the same or can meet, do not swap out. Is the new supplier ISO approved? Does the new supplier offer complete inspection? What do you want the supplier to inspect to? Can the new supplier meet the inspection requirement?
The main takeaway here is to be transparent with your supplier and to ask questions so you can determine if the answers align with your business objectives. If the new supplier can meet the UL and testing requirements you should be on your way to a healthy relationship with a new supplier.