We've received custom cable assembly requests on a hand-drawn dinner napkin, 8x11 pieces of paper, and even old photos. Regardless of the format, once the request is received it is drawn into a basic design which is sent to our engineering team. We need to have the requested cable assembly design in a particular format in order to be able to manufacture the request appropriately. Otherwise our facility would not be able to understand dimensions, etc., correctly. An official manufacturing ready design drawing would then be returned to you.
Converting Ideas Into a Cable Design
The hand drawn sketch is going to be converted into a standard specification design format. We will also propose a scope of work outlining the cost and build. At this point we'll talk about the specification design to make sure that everything exceeds your expectations.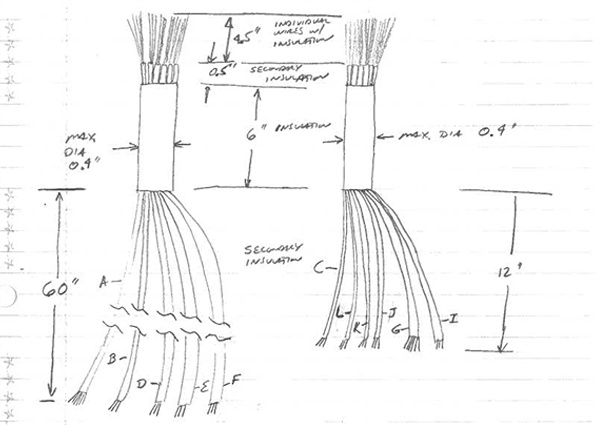 Example of a Hand Drawn Cable Request
Getting the final drawing from our Engineering team is really the first step in being able to have a true specification in regards to manufacturing standards. Everything is laid out on the table and explained in-depth. We walk customers through each relevant step covering everything from connectors, pin-outs, color code, jacket, and discuss the overall process. Going back and forth a couple times to adjust parameters or dimensions is not abnormal. The main goal is always to eliminate risk and improve reliability for each project.
How Long Does The Process Take?
To receive the official specification design format will take about 4-5 days depending on complexity. Typically, for you to receive samples after handing us a dinner napkin mockup expect to be looking at roughly a 3-week lead time. As mentioned before the lead time will depend on the complexity of the cable assembly or wire harness.
Now once you've receives the samples, a similar process will begin, we'll have another discussion making sure to cover everything. In some cases revisions will be necessary, such as changing routing for a better fit. You may realize that the cable is an inch short and won't connect to the application correctly. We would just make the changes and get another sample sent.
End result here is that you have the exact cable design that meets all of their requirements and performance standards. We've have had great success helping customers manufacture cable assemblies.
What You Need to Know
There are a few things that you must know regardless of the format we receive it in. You're going to need to know the type of interface being used. What is the cable going to plug into? When it comes to cables, there is something existing that the cable assembly is intended to mate into, usually on both ends. The information is important in order to be able to tie into the appropriate connector. More information that is helpful to have available is how many circuits/wires you'll need. Below are a few more questions that you can expect to come up.
What type of environment is the cable going to be used in?
Is the cable going to be inside/outside?
Will the cable be exposed to moisture, shock, or vibration?
All of the information will ultimately allow us to build production ready cable assemblies, manufacturing the cables exactly the way they are intended for use in the end application. Getting to the production level will require the sample to the pass required tests, followed by seeking approval from the customer.
Summary
It is understandable that the entire process can be overwhelming, but finding a reputable cable assembly manufacturer is the first step. Regardless of the size and complexity of you project, Epec works to exceed all expectations. With any project all customers are treated equally and are guided every step of the way throughout the process. You always have the final say and we do not proceed until we have your approval.