Creating a custom battery pack requires understanding the basics of how much energy density the application needs, how to recharge the battery pack, and the shelf-life of the battery. When a customer looks for a customized solution, they are concerned about the development costs. Usually, these development costs are factored into the final price of the product that will be sold to end-users.
If the product is priced too high due to the battery pack, there will be little product demand. Also, the initial costs may never provide the ROI to justify the battery pack's feasibility. Understanding the cost drivers for a battery pack allows a customer to select the right components and battery chemistries without breaking their budgets. These drivers include the following:
Battery chemistry selection
Weight, size, and number of cells
Enclosure design and battery potting
Smart battery considerations
Battery certification requirements
Selecting the Proper Battery Chemistry
Battery chemistry selection ensures that the pack can deliver the power safely. It must charge and discharge at acceptable levels when in use. It should also self-discharge at the lowest rates for longevity. The most common battery chemistries out on the market today are nickel-cadmium (NiCd), nickel-metal hydride (NiMH), and lithium-based chemistries.
Typically, NiCd and NiMH chemistries are cheaper cost-effective solutions due to the technologies being available for generations. Since lithium-based chemistries are newer technologies, they are priced higher. Currently, studies are being conducted to show that the costs of lithium chemistries have significantly dropped over the last three decades. A few reasons for this decline may be due to the improvements in lithium-ion battery technologies, although all the reasons for this sharp decline are still not entirely known.
Both NiCd and NiMH chemistries offer 1.2v, while lithium batteries offer 3.6v. If an application requires 3.6v, you may decide to use three NiCd batteries instead of one lithium battery based on the application being able to handle lower densities and lower discharge rates. You may also require a battery pack with more chemistry stability and durability.
Weight, Size, and Number of Required Cells
As mentioned above, each battery chemistry has a specific voltage: NiCd with 1.2v, NiMH with 1.2v, and lithium-ion with 3.6v. You may obtain the appropriate voltage while reducing costs by selecting cheaper NiCd or NiMH batteries over lithium-ion by simply adding in additional cells. However, weight and size are also important factors. The amount of space within the application can greatly influence costs. By adding in more cells of a cheaper battery, the weight of the product becomes heavier.
While this weight may not impact the product's use in the end application, it can increase shipping and transportation costs. You may also have to redesign the enclosure for the battery pack, raising development costs.
As the number of cells impacts the weight, the weight of the battery itself could be an additional cost driver. Battery chemistries come in an array of sizes, however, lighter batteries usually cost more than heavier batteries during production and development, even when having the same energy density. Also, the most lightweight batteries on the market are lithium-based, which cost more than nickel-based batteries. Figuring out the overall weight of the application may help customers save costs by allowing them to select a heavier battery.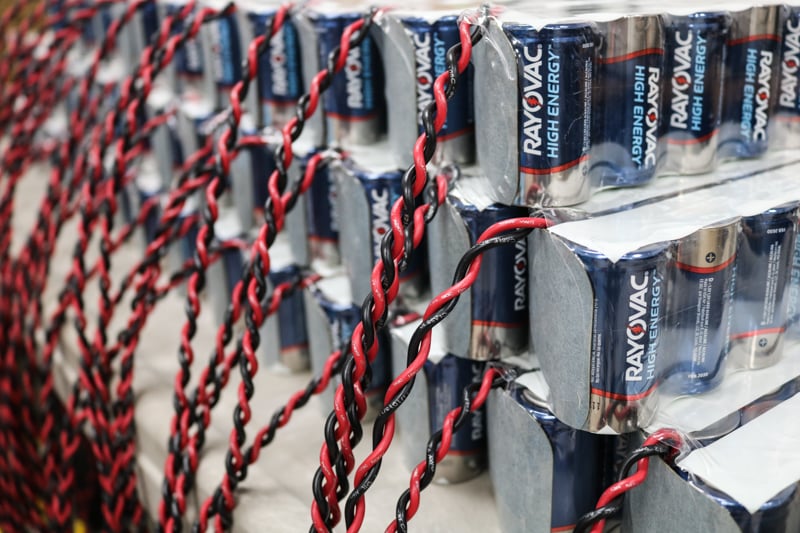 An example of cost-savings when it comes to battery pack manufacturing.
Enclosure Design & Potting
Battery pack enclosure design is dependent on many factors including size in the application, cell type (cylindrical or prismatic), internal components, safety circuits for lithium chemistries, and materials. Customers can select from metal or plastic enclosures based on the environment, temperatures, and need for shock/vibration protection.
To save on costs, plastic enclosures are the more economical route. There are several plastics to select from including the cheaper alternative of ABS. However, keep in mind that some plastics react negatively to different temperatures. ABS plastic, for example, becomes brittle in colder temperatures The use of plastic for the enclosure design will rely on injection molding to create a hardcover. If you are looking for a cheaper enclosure method, shrink wrapping or vacuum-formed plastic are optimal solutions for batteries that will be embedded inside the product.
Another cost driver will be the number of internal components and safety circuits installed into the enclosure. Figuring out whether safety circuits are required for the battery and limiting the amount of unnecessary internal components can help to lower costs.
Keep in mind that some products may have to be used where water, solvents or corrosion is present. The battery pack may also undergo high levels of shocks or vibrations. Battery potting and encapsulation helps to protect the battery components from these factors while optimizing their performance. If the product experiences these circumstances, potting or encapsulation may be required. Yet these processes will add on costs.
Smart Battery Pack Considerations
Smart battery packs offer the product important information regarding the state of the battery pack. Provided information may include the state of charge (SoC) reported errors, operating temperature, run times, current, and voltage status. These components are typical electronics in a smart battery.
There may also be added features to increase the battery pack's functionality. These features may include embedded chargers, GPIO options, remote monitoring, wireless charging, fuel gauging, cell balancing, and communication protocols. These types of value-added components can transform battery packs into enhanced power management systems. Yet, keep in mind that more functionality that is added will play a significant factor in the design of the battery pack. Any complex designs will raise potential costs. If you are looking to cutting your costs, going with the basic smart battery components may help you stay on budget.
Battery Certification Requirements
The use of certain battery chemistries, such as lithium-based batteries, will require certification from regulatory industries such as UN/DOT. For the lithium battery to be handled, shipped, and transported, a required number of test batteries must be shipped to the testing agency. Creating the additional specified test battery packs will increase design and development costs.
To lower costs, it is wise to determine whether your product requires certification and which agencies will perform the certification testing. You may also opt for a battery chemistry that may not require certification, such as alkaline, NiCd, or NiMH.
Be advised that even if choosing a battery that does not require certification, certain industries may have standards where testing and documentation must be done. These industries include medical, aerospace, and the military. So, these costs may not be avoidable.
Summary
The design of the custom battery pack may have many components and material factors that could drive up end costs. While there are the basic cost drivers for battery pack development, there may be other considerations that could increase the price based on the end application and battery power needs.
Working closely with an experienced battery pack manufacturer at the beginning of the project may allow a customer to find instances where costs may be lowered due to alternative design options. Choosing a manufacturer who is proactive in finding the cheapest alternatives without hampering the productivity or longevity of the battery pack offers immense benefits for companies. It is also advisable to learn everything about the manufacturing process for the battery pack. Knowing what is involved with the design, tooling, prototyping, and production operations allow you to make the best decisions for your product.