Traditionally, quick-turn printed circuit boards have been used for PCB prototyping and low-volume production in the electronics industry. Many companies have developed very low-cost, low-option Internet programs to get customers low technology printed circuit boards very inexpensively. However, in today's evolving electronics industry, quick-turn printed circuit boards are now part of every stage of the product development lifecycle, from initial concept development to full working prototypes to getting the production product to market faster than any of their competitors.
What is important to know is not every quick-turn option at every company is the same, so what we outline below is the different services that we offer so that you can best understand how we can effectively manage all types of quick-turns.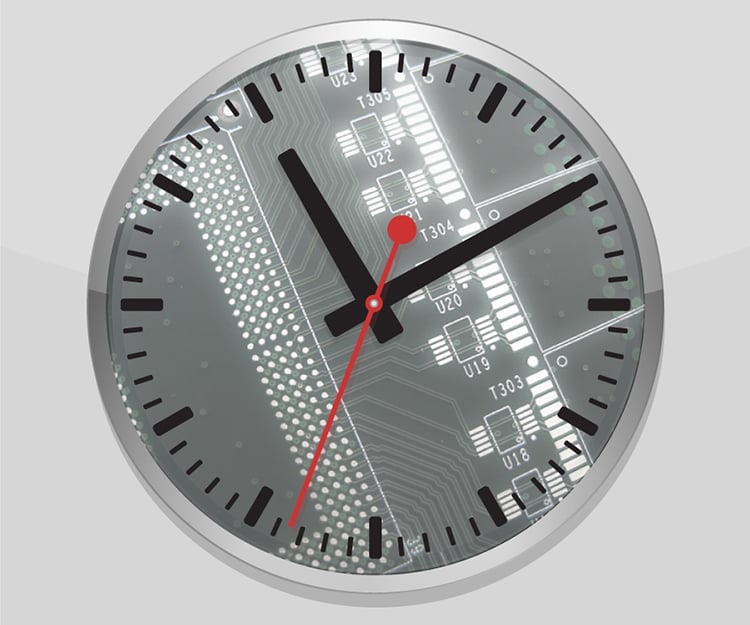 Small Volume Prototype High Technology Quick-turn PCBs
Typically, quick-turn prototypes PCBs are associated with the testing and verification of designs – form, fit, function. In today's marketplace, that is no longer enough to get a quick, cheap, and close enough version of the PCB that you will use in your device. Your design matters, and that means all aspects of your design, so the fabricator has to have the capability to meet 100% of the requirements in your specification along with being able to deliver in the quickest time possible. Things like using the correct stack-up of your layers/pre-preg, or being able to ensure even plating throughout the entire panel and in the holes are critical when it comes to testing the true functionality of your device design. Too many quick-turn PCB prototypes end up being worthless with thousands of dollars of components on them because the impendence, EMI, or other electrical properties are not within your requirements because some substituted a pre-preg layer in the name of speed.
Here at Epec, we can deliver 20-layer circuit boards in 24 hours through our U.S.-based factory because we have invested in the equipment and people necessary to be able to quickly and efficiently get your project from Gerber files to a finished PCB.
To ensure that there are no delays and that it is 100% possible to hit your needed quick-turn PCB delivery, you should consider:
1. DFM Check for Manufacturability
Sending your PCB files to your manufacturing partner while your designing the part for a DFM review. As your moving through your design process, it is easier to make changes to make the part manufacturable while you're still finalizing the concept, even if you have to send it to your fabricator 2 or 3 times prior to submitting the final Gerber data for production. Why is this important? Most PCB manufacturers use "technical questions" or "TQs" to put your order on hold. Many times, the hold isn't really necessary, but it gives the fabricator more time to make your parts as the clock doesn't technically start until the question has been answered even though the parts are already in process. Even if the question is legitimate, it will cause delays in your delivery, which is usually critical in this phase.
2. Understanding How Your PCB Manufacturer Counts Days
If you are paying for a 3-day turn, you need to understand how they calculate this before you place your order. If you place an order on Monday, when will it ship on a 3-day PCB quick-turn – Wednesday or Thursday? If you gave them the order at 10 a.m. on Monday, 3 days or 72 hours after that is 10 a.m. on Thursday. One quick hint on being more successful with 5-day turns and less on your quick-turn PCBs: use the weekends to your advantage. If you want to place a 3-day turn, and you can do it on a Thursday or Friday, you are more likely to get it on time, even if there is fallout due to the 2 extra days of production.
So, for this phase of PCB quick-turn, you need to have made the investment in material stock, high-end equipment, and people resources to not only move quickly, but to give you exactly what you need.
Quick-turn Pre-Production PCBs
Pre-production, or pilot runs, are usually the next step in the device development process, and this also comes into play when revision changes are made to a PCB. In today's fast-paced environment, we deliver a few hundred to several thousand parts in as little as 1 day if needed to help get our customers products to market faster. However, it is a different set of challenges when you're going from making 2-3 panels vs. 20-30 panels of a quick-turn circuit board.
The biggest issue for PCB buyers is to know the fabricator's limitations. Many PCB companies take as many orders as they can and then try to figure out how to get them all done after they are in house. However, there are certain things that are red flags when quick-turns are concerned, such as if they outsource any processes like surface finish or laser drilling.
The other big place that PCB companies fail to plan for is electrical test, as many small PCB shops have older equipment or only one flying probe tester as they are very expensive. We have seen many parts that are so dense that it can take 5-6 hours to test just one panel on older equipment. It is hard to deliver a 3-day turn if you have 12 hours just in ET. Along with that, many smaller shops have small manual plating tanks where they can only do 5-10 panels every 90 minutes based upon the design, and that can cause a serious backup or bottleneck in production.
Our factory in the U.S. is built to do under 5-day PCB quick-turns of small quantities and pre-production quantities. In order to give our customers more options, we have several factories in Taiwan, Malaysia, and China that we have worked with since 2001 that have invested in all of the correct areas to deliver quick-turn PCBs. These factories ONLY do quick-turn PCBs as being able to move quickly from Gerber to finished PCB is an operating mindset that needs to run through an organization.
Too many companies say that they can do quick-turns, but what they mean is that they will try to fit them in between their large production jobs. The risk here for PCB buyers as that if the big customers want something the small, quick-turn orders get moved to the side.
Production PCBs - Quick-turn to Get to Market Faster
This is all about planning, leverage, and being a great partner with your manufacturer. Epec is one of the largest PCB manufacturers in the U.S., and we have been making PCBs in Asia since 2001. Our factory partners are all picked because they have a unique niche within a PCB technology, whether it is in quantity, delivery, or technology. Our 30+ team of people in China has an average tenure with Epec of more than 10 years, and we are usually within the top 3 customers at every factory. This allows us to work with our factories to ensure that we can plan our orders accordingly to get our customers the delivery that they need for quick-turns.
Production factories and quick-turn PCB factories are not the same. Product factories have large automated plating lines and handling equipment moving panels from one process to another. They have 20+ 6 spindle drilling machines and a large variety of electrical test equipment from bed of nails to latest 6-head flying probe system. All of this allows the factory to make repeatable PCBs quickly, but it is a significant investment, which is why many factories in the U.S. are not set up for volume production.
Small Volume Prototype Low Technology PCBs
Low-technology PCB quick-turns are the easiest ones to get produced. Many companies use a technique called "nesting" or "pooling" where they put many different PCB designs on the same production panel to reduce the costs and increase their profits.
While this method has its advantages for many applications, here at Epec Engineered Technologies, we do not use this method.
The biggest reason is that our customers require consistency from production lot to production lot. With pooling or nesting, you will never get the same exact board twice as the production panels are never the same; they nest your part together with whatever they have to produce that day. This means that one time you may get the through holes on the higher end of the tolerance and the next time you may get it on the lower end, as the layout of the panel will be different so the plating profile will change.
One of the newer tricks with nesting is putting 2-layer and 4-layer boards on the same panel where the inner layer is left blank on the 2-layer parts. While this method is viable, and the parts come out in tolerance what variances will your part see when it goes into product and it is manufactured with standard 0.062" material.
Get Costs Out of The System
The other way that Epec prefers to get costs out of the system is through the use of automated online quoting systems, such as InstantPCBQuote. This allows customers to enter the PCB specifics themselves and get quotes for different quantities and lead times along with then uploading their files and placing their orders. Because this cuts out a big step in our process, we are able to pass along cost savings to our customers, but unlike most, Epec still has a dedicated customer service person to answer your phone calls if you have any questions or concerns.