When you're in the process of designing a new product, the last thing you are thinking about is the how the product is going to be packaged for transit. However, failure to prepare for and understand electronics packaging regarding how both your components and your finished unit are going to ship is a costly oversight.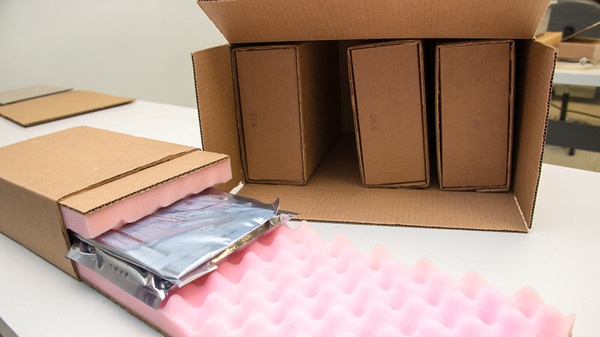 HMI Product Packed Before Delivery
Transporting Your Subcomponents
Let's start with how your suppliers are going to be transporting your subcomponents. With complex supply chains, understanding not only how your electronics are going to be shipped but where they are being shipped from can impact the functionality and reliability of your products.
With so much printed circuit boards (PCB) and other electronic subcomponents being manufactured in South East Asia, there is a higher risk of environmental exposure. For every advantage of manufacturing in Asia, there are challenges that need to be addressed. When you are building electronic subcomponents and PCBs in a subtropical climate, packaging is as critical of a factor as the equipment your supplier(s) use. PCB packaging is one of the easiest area's to save money by using lower cost off-brand materials which makes it even more critical to make sure you know what you are getting.
So we have to ask ourselves:
What are the major factors that we need to consider in our packaging requirements to our suppliers overseas?
What type of PCB packaging boxes are you going to use? This seems overly simplistic but it is often overlooked and creates many challenges to the safe and reliable transport of your product.
Start at the beginning:
What is the material that you are going to use? Depending on what country your electronics are being built in, there are material restrictions. For greater detail on shipping restrictions, check out the IPC 1601 Printed Board Handling and Storage Guidelines.
PCB Packaging Boxes - Strength
This is what increases the cost of your packaging and ultimately is the most important requirement of your PCB packaging. When you are shipping electronics especially PCBs, there are two big factors, weight and shape.
Printed circuit boards are often square with sharp corners. If you aren't using the correct thickness of base material, you are risking damage to the boxes which could then cause damage to your PCBs. Handling is such a critical component of the PCB manufacturing process that no one wants to ship bare boards with damaged corners.
At Epec, we require a double-walled, 200lb burst test with 84lbs per m/sqft. Min comb wt. facing and a 65lb weight limit. These requirements are above what we need and cost more than other box options that are available but they allow for the peace of mind to know that your PCBs are not going to be damaged.
Tape and Straps
Tape is often the area that suppliers will try to substitute a lower grade of product to save money. Which is an interesting theory, as the typical result in using a lower quality tape is that you have to use more of it. So there really is no cost savings.
The other consideration with tape, besides the brand, is how packages should be taped. A single strip of tape down the seam of an over packed box will not hold regardless of the quality of tape you are using.
The secondary issue around the outside of packages is straps. A lot of manufactures want to put straps on the outside of boxes to make it easier to pick up individual packages. However, straps encourage couriers to pick up packages and use the straps as leverage which can lead to packages being thrown into vans/cars/transportation vehicles.
The second issue with straps is that if, like Epec, you have a partnership with a larger carrier such as UPS, straps can cause major problems. When shipping via UPS small package, UPS will be clearing your package through its Louisville, KY hub. At that hub, they have over 155 miles of conveyor belts that your package is going to travel through. Those straps cause problems at the hub as they tend to come undone and clog the conveyor belts.
Internal Packaging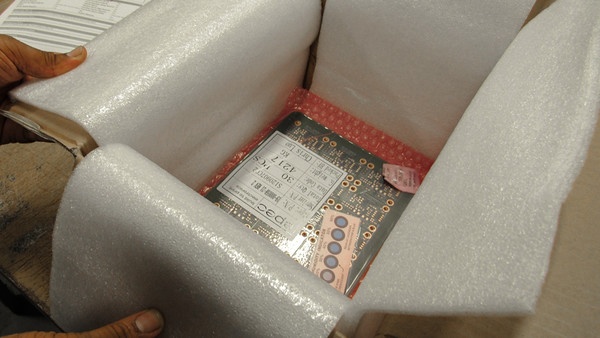 Circuit Boards Packaged Before Delivery
For most electronics, the way they are wrapped is critical to the functionality of the product. That is why we use Moisture Barrier bags and desiccants. What goes around in the box is just as important. At Epec, we do not use bubble wrap or packing peanuts. Both of those materials allow for too much movement within the carton. They also do nothing to prevent moisture leaks. It is always best to use polystyrene high density foam that is placed around the product on all sides of the box.
Summary
It is all too common to spend years developing and testing complex electronics for every industry and then fail to protect those products and components through the supply chain. When we are building high reliability products for our customers, we are putting every check and balance in place to ensure that there is no risk to the integrity of our products.
We are also making sure that we are using the best materials, not only to protect our products, but also to make sure that we are in compliance for any country we may be shipping into or out of. It's this attention to detail that allows us to maximize our supply chain and continue to get our customers to market faster.