Electronic devices requiring custom cable assemblies place our customers into a unique situation. They require a custom cable to ensure that their devices can operate for the desired application, but also require these cables to be manufactured in a timely and economic fashion.
Different processes and materials may drive minimum order quantities (MOQs) in one cable design, while another cable assembly design may be readily manufactured. MOQs should come as no surprise. It is clear both buyers and engineers worry about the high MOQs that are required to get different types of cable assemblies manufactured.
The MOQ is the lowest number of products that a manufacturer will sell within an order. That means Company A wants 200 widgets, but Manufacturer B only sells orders of 1,000 widgets or more. So, Company A will have to place in an order of 1,000 widgets before Manufacturer B begins making the custom order. While some manufacturers are willing to negotiate with buyers for a lower MOQ requirement, many factors can influence minimum buys limiting flexibility. Understanding how the cable assembly's supply chain operates can shed light on what drives cable assembly MOQs so high.
Three Factors That Drive MOQs in Custom Cable Assemblies
1. Purchase Parts and Raw Materials
Cable assemblies require lots of components to be manufactured. Some cable assemblies only have a few components, but others can have hundreds of components on the bill of materials (BOM). MOQs are common for items such as crimp terminals, connector housings, and countless other simple components for your cable. Crimp terminals are often spooled onto large reels to aid in the assembly automation. A single spool of components like crimp terminals can contain several thousand units. Since manufacturers are unlikely to tie up working capital by holding inventory for seldomly used components, it's common for manufacturers to account for this surplus MOQ cost by passing it along.
Components are not the only reason for cable assembly MOQs. The raw materials that make up the wire jackets and overmolds are produced in ways that also drive minimum buys. For common materials like PVC or TPE, raw cable factories can absorb the cost impact of material MOQs since inventory turns fast enough. This tactic is to prevent their warehouses from being with materials that won't move off the shelf as often as more standard materials.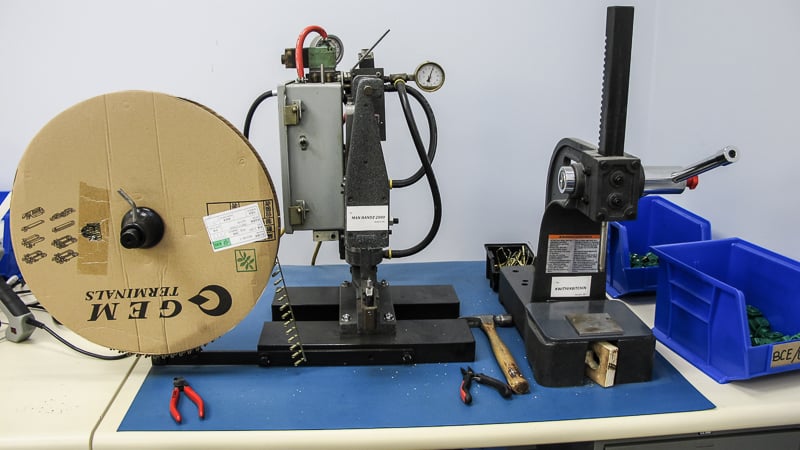 Example of a spooled crimp terminal machine.
2. Cable Assembly Processes
How the cables are actually assembled and the types of equipment that are used is another major reason for cable assembly MOQs. This fact is especially true for manufacturing equipment with high levels of automation. Although a simple cable with a few connectors may seem trivial, that single P/N has likely been through a dozen operations that involve some type of automation. For each machine required, there is wasted time and material at the beginning of the job, and again at the end. Starting and stopping these types of manufacturing lines switching to a completely new job will incur waste and scrap. Because of this, it is important to produce a sufficient amount of final goods before closing down and moving on to the next job.
Specific to wire extrusion, overmolding, and injection molding operations, this equipment will inherently have material waste when changing jobs. Generally, these processes require raw materials in pellet form that is ground and melted into molten plastic. Several additional steps can be performed before the material is forced through an extruder machine, which mixes and melts the plastic as it goes through a die. The molten plastic is subjected to high pressure and heat as it is cooled and shaped when it is pulled from the die as the cable's outer sheath is formed.
For the injection molding process, a thermoplastic raw material is heated and flows into a mold. The material then cools and hardens into the desired shape. This equipment uses sprues and runners for the molten material to travel. The sprue is a channel that connects the nozzle of the machine to the runner. The runner injects and distributes the molten plastic to the mold's cavity. Similar to the wire extrusion process, there is material wasted in both the sprues and runners. Waste in the process ultimately drives costs and MOQs up.
3. Spooling, Storage, and Transportation Costs
The primary building block for all cables is wire. Massive spools of hair-like copper wire are spun together, producing single copper electrical conductors. The wire is then sent through an extruder which adds the insulation jacket. The completed wire is then spooled onto large cable drums or spools operated by a traverse drive mechanism. The size of the cable spool will be dependent on the product specifications. Common wire spool sizes can range from 1 inch to over 36 inches in diameter. Shipping large spools will require palletization, which adds cost and logistics.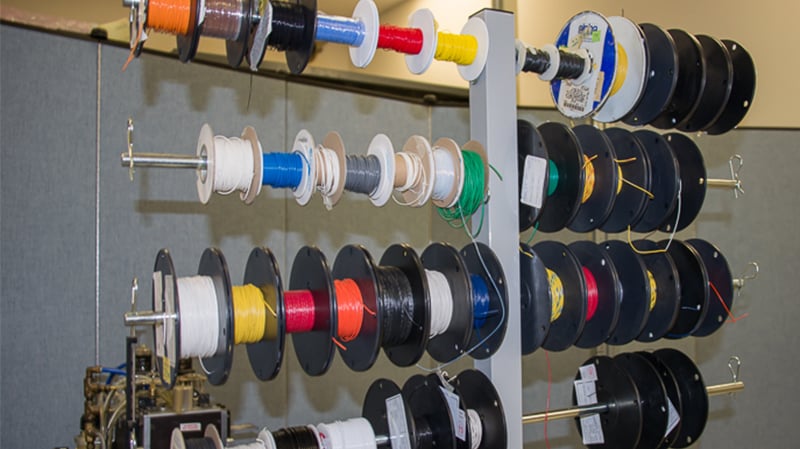 Spools of cable and wire used in cable assembly manufacturing.
Since copper is heavy, as the wire size (AWG) increases, the cables weight increases exponentially. For example, a standard 1,000 ft spool of 10AWG wire weighs more than 30 pounds. Large diameter spools in excess of 30 inches can weigh thousands of pounds and contain miles of wire.
The logistics of shipping raw materials also can influence minimum buys. Typically, in pellet form, raw materials are shipped all over the world. It's not uncommon for the raw material MOQ to be several hundred pounds or more which is enough to yield tens of thousands of cables.
Ways to Manage High MOQ Costs
It's a fact that custom cable assembly manufacturing will have minimum buys, and it's also understandable. There are a few avenues to take to seek manageable MOQs and minimize and impacts to your program. The first step is to learn more about the cable manufacturer's processes and equipment capabilities. If you are looking for 10 pcs prototypes, a high-volume manufacturer may not be best to respond quickly to your requirement. Understand how the cable manufacturer sources its wire and components since these items can have minimum buys. A vertically integrated manufacturer that builds the raw wire and injection molds the connectors in-house is likely a flexible manufacturing partner.
Another option to manage MOQ risk is to eliminate since-sourced items and consider locally sourced equivalent parts. Many name brand connectors have high MOQs and long lead times. As a result, a locally made form, fit, function, replacement should be considered when faced with min buys. This is also true for wire. If a name brand wire has a high MOQ, there is likely an equivalent wire locally made with the same UL specification. If there isn't an option, is this hard-to-find wire actually required, or will something else be satisfactory?
Ultimately, you must work with your manufacturer to understand what is driving the MOQs and what options exist to remedy. This is when companies can differentiate themselves in terms of technical support and customer service to provide roadmaps for options. As always, it's critical to review these sourcing challenges early on in your program, as time is really your best bet.