Advancements in user interface assembly construction methods are often overlooked in HMI applications, becoming an afterthought while too many people assume that the older graphics, adhesive, rubber, and backlighting technologies all stay the same. This is not the case, especially within medical device HMI manufacturing.
Improvements to Adhesive Technologies
3M has long been the leader in developing and commercializing adhesive technology for every type of application. Their line of medical grade Pressure Sensitive Adhesives (PSA) are the most comprehensive in the world but are often misunderstood; not all medical grade products are one size fits all.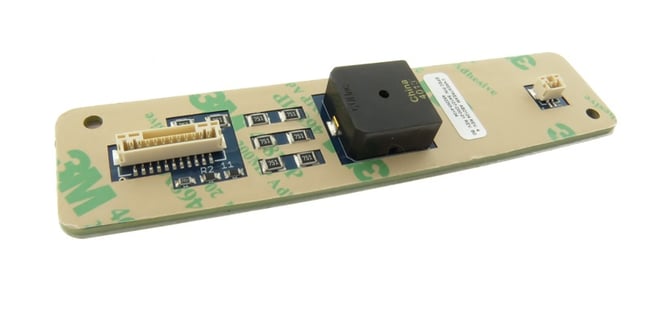 User Interface With 3M Backing
To be classed as medical grade, the adhesive has to undergo and pass biocompatibility testing. In certain instances that is not enough. Human machine interfaces may need to be able to survive wash downs or several different types of sterilization procedures such as Ethylene Oxide (ETO), Gamma, or Steam. This is where the construction of the overall user interface is important, and using 3M's wide array of products, a stack up can now be created to withstand all of these conditions.
Anti-Microbial Rubber Keypads and Graphic Overlays
New anti-microbial compounds that can be added to rubber or silicone keypads can prevent the growth of bacteria, mold, or biofilm on any rubber components of a user interface (and even cable assemblies). These compounds can be permanently embedded into these components without any effect on the color or long term performance. Not only is there reduced risk for the patients using the medical applications, it also can improve the reliability in food processing or pharmaceutical production because a user can wash down the product without having to take it apart in many cases.
For overlays, polyester films incorporate Microban® anti-microbial product protection which inhibits the growth of bacteria that can cause odors, stains, and product degradation. The Microban® protection is incorporated into the top-surface textured hard coat during the manufacturing process, ensuring an even distribution of the antimicrobial agent throughout the entire surface of your membrane switch overlay.
For end user applications where the cleanliness of the environment and minimizing bacteria growth are determining factors, these new technologies allow engineers to cost effectively accomplish both goals.
Conclusion
With improvements to these compounds and adhesives in medical device UI comes the need to understand the compatibility of the materials that it will be used within the application stack-up. Understanding is critical, as materials can react differently under certain circumstances which can lead to delamination, causing the device to not function properly and potentially affect the valuable electronics inside the device. These are just a few of the items that should be addressed with your supplier to ensure that your HMI manufacturing is to the utmost degree of reliability.